Hands On with the BlackBerry Priv
Article Comments 4
Nov 19, 2015, 8:17 PM by Rich Brome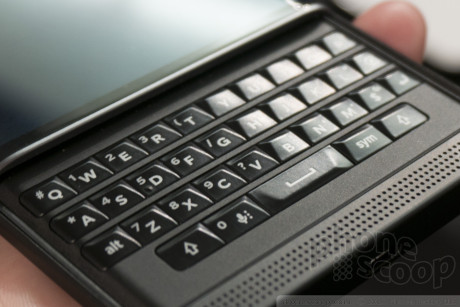 The Priv is BlackBerry's new flagship phone, but it's also much more than that. As the company's first phone to use Google's Android instead of a BlackBerry OS, it represents a major new strategic direction. It also comes as the company is considering whether or not to continue making phones at all, so its success is crucial. The Priv has a premium design with a slide-out keyboard, curved-edge screen, and high-end camera. How is it in person? Read on to find out.
The Priv makes a good first impression. Its curved glass front is sexy and comfortable. It's surrounded by a metal frame that feels premium and inspires confidence in the phone's durability. The back has a carbon-fiber design with a soft-touch rubbery finish that manages to feel smooth, grippy, and luxurious all at the same time. The slide mechanism feels strong and smooth, like the best slider phones of a decade ago. Overall, the phone manages to feel thin, yet solid, with a well-balanced weight.
The hardware is not perfect, though. The side buttons are flat, small, and hard to find by feel. The lock button is especially poor. You certainly won't press it by accident, but it's too difficult to find when you do need it. The three other keys on the right are better, except that they'e small and bunched tightly together.
The screen is so large and low that you pretty much have to press your thumb against the bottom part of the screen to slide the phone open. And as there's almost no "chin" at the bottom, there's not much for the rest of your hand to grip while holding on to the phone. All of this makes it awkward to open the phone without dropping it, and you'll leave plenty of thumbprints on the screen.
The hardware keyboard is not terrible... but not impressive, either. Side-by-side against the Classic and Passport, the Priv keyboard was my least favorite to type on, by quite a decent margin. The keys are just a bit too flat. I assume some compromises were made here in order to keep the phone thin. All the same, it does work, and if you really prefer hardware keyboards, you may be fine with this one. As on some past BlackBerrys, the keyboard doubles as a touchpad for scrolling and moving a text cursor. That's handy and works well.
With the slider closed, you get BlackBerry's standard software keyboard, as seen on the Z10 and Z30. It's pretty great software keyboard.
The software is much more standard Android than most people might expect. BlackBerry hasn't tried to combine its own OS with Android in some FrankenOS, and that's a good thing. The lock screen, home screen, settings screens, and notification shade are all standard Android, for example.
The main list of all apps has a few enhancements, like search. BlackBerry has also brought over its Hub app that combines all messaging functions in one place.
The biggest direct enhancement to the OS is the Productivity Tab, which is summoned by a swipe from the side of the screen no matter what app you're in. (A gesture oddly similar to one employed by Samsung in its new Galaxy Edge phones that use the same curved OLED displays.) The Productivity Tab screen is a sort of "Today" view of time-sensitive info, like calendar events, unread messages, tasks, and favorite contacts.
BlackBerry's strength has always been core business features like messaging and scheduling, and they've given those features appropriate attention with their enhancements to Android. They look promising, although we look forward to a more in-depth trial in our full review.
Maybe its a Renn Faire thing..
But at Renn Faire you learn terms such as privy, aka bathroom. They are often shortened to the word "priv".
I am not saying that is in anyway a reflection of this phone.. I am only saying that I am never going to be able to talk about this phone without making that connection.
Harsh and Bias
Quite a harsh review, but you were able to cough up a couple of complements(backhanded of course). Are you familiar with BB10 OS. It has a full swipe UI. Maybe that's why they used it with the productivity tab, not because they copied it from Samsung as you infer. Give it a break and put your negativity aside and evaluate the phone on merit and not your attempt to follow mainstream media with a death march against Blackberry... I am hopeful that your full review will be less bias and more objective like the one you are capable of producing.
I didn't get that at all from this preview, I thought it was fair and objective until I got to your comment. It sounds like you want some kind of sugar coated puff piece that's gonna bump their share price and bring blackberry back... sorry, its not g...
(continues)