Review: CAT S40
Article Comments 5
Oct 18, 2015, 12:00 PM by Eric M. Zeman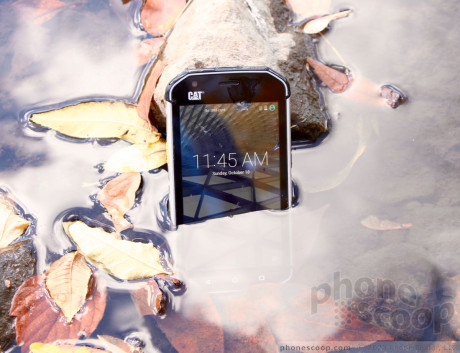 CAT is offering the rugged S40 to U.S. buyers directly online. This Android smartphone is designed to take a beating and still get you to your meeting on time. This phone is sold unlocked and works with networks such as those run by AT&T and T-Mobile. Here is Phone Scoop's in-depth review.
Advertisements article continues below...
Hardware
Is It Your Type
The CAT S40 is a fully rugged handset and is thus ideal for people who need a tough smartphone for use at work or when adventure seeking over the weekend. It handles abuse like a pro and delivers a modestly powerful Android experience all at the same time.
Body
CAT's design language hasn't changed much over the years. Fully rugged devices necessitate some design compromises, especially in terms of size and materials. The CAT S40 looks every bit as tough as it is.
The S40 is a chunky slab defined by a mix of metal and plastic materials. CAT stuck to a conservative color scheme: the S40 is black with bare metal accents and a single, yellow button just to liven things up a tiny bit. The angled corners and exposed screws give the handset an industrial look that could fit right in on a factory floor or the dashboard of a big-rig truck. I'd call the design busy, but in an understandable way.
In order to give the phone its strength, CAT gave the S40 aluminum sides and a solid polycarbonate rear surface that wraps around the top and bottom edges. The fit and finish is reasonably good. I would prefer if some of the plastic seams were tighter, but this doesn't affect performance.
At 12.4mm thick, the S40 is substantial. There are no gently tapered edges here; everything is squared-off and blunt. The phone may have a 4.7-inch screen, but it's bigger than many phones with screens 5 inches or larger. Despite the phone's size, I didn't find it uncomfortable to hold and use. It doesn't weigh as much as you might think, which is a good thing. This is a case where the phone's solid feel gives you confidence in using it. You know this phone is tougher than most and it lends a certain air of superiority. The S40 isn't very pocket-friendly. You can jam it into loose pockets, but if your pants are even a little tight, forget it.
The front surface has a lot going on. In addition to the metallic side edges, which sort of form rails, CAT gave the S40 a matching rim that goes around the top and bottom portions of the phone. This way, your eye sees the black glass encircled by metal all the way around. There is a slit cut into the glass for the earpiece and the user-facing camera is visible. It bugs me that the CAT logo isn't centered on the glass; it's off to the side. There are three physical buttons below the screen for interacting with the operating system. I don't care for them all that much. You won't have any trouble finding them, but they feel cheap and sound cheaper. The multitasking button barely offers any travel.
CAT put a user-programmable button on the left edge of the phone. It's yellow, which harkens back to the CAT brand's beginnings as a construction equipment company. The button's plastic design is ridged to make it easy to find, but travel and feedback are a bit weak. You'll also find the USB port on the left side. It is covered by a hatch. The hatch has a generous indentation for your thumbnail.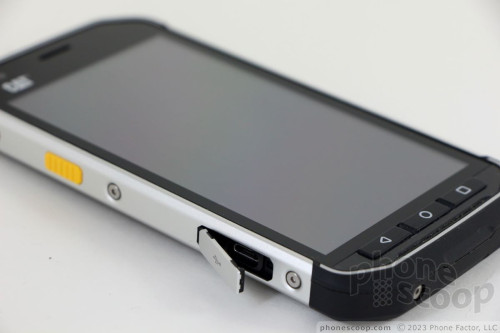 The right edge is crammed with stuff. The screen lock button — and separate up and down volume buttons — are positioned on the top half of the edge. They're okay, but not great. My thumb was able to locate them well enough, but travel and feedback could be better. I found them to be a bit spongy. A massive hatch below the buttons covers the SIM and memory card slots. As with the USB hatch, this hatch has a good notch for easy opening. When you open/close the hatch, the S40 reminds you to seal it up properly to maintain the phone's seal against water.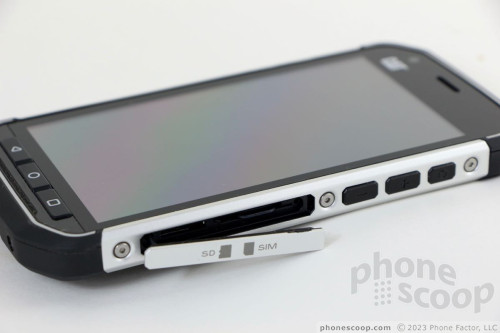 Another hatch protects the headphone jack, which is located on the top of the S40. It's not a problem to interact with. There are no features placed on the bottom edge.
The patterned rear surface sort of looks like the floormat you'd put in your car. It's got little grooves that are great at collecting water. It's impossible to miss the camera lens, which is enormous. The phone is sealed up, which means you can't swap batteries; you can't remove the rear cover at all.
Is it tough? You betcha. Is it waterproof? Indeed it is.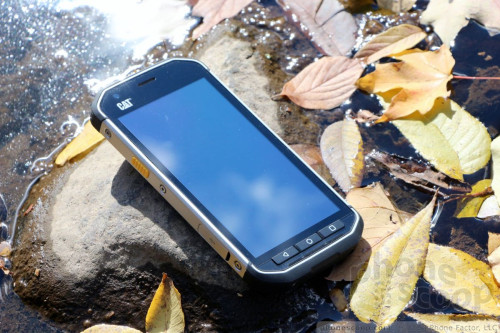 I tossed the phone around a lot in my yard and even kicked it around like a soccer ball for a bit. I dropped it onto concrete and pavement numerous times. I stood on it. I jumped up and down on it. None of these had any impact on the hardware.
CAT says the S40 can sit in 6 feet of water for up to an hour. That's probably accurate. I filled my recycling can with water (about 3 feet deep) and dropped the S40 in there for a swim. It came out working just as when it went in. I also held it under running water. No problems whatsoever.
The S40 is a solid bit of hardware.
Screen
CAT gave the S40 a 4.7-inch LCD panel with 960 by 560 pixels, or quarter HD resolution. I wish CAT had splurged for a 720p HD panel instead. My eyes were easily able to spot pixels and text/icons could be much smoother looking. It is very bright, however, and easy to view indoors and out. Viewing angles are excellent. It's a good screen, but not a great one. It gets the job done without going above and beyond.
Signal
The S40 is sold unlocked and is compatible with the networks operated by AT&T and T-Mobile here in the U.S. I tested the phone on AT&T's network in the New York City region and was generally pleased with its performance. Keep in mind, the phone has not been optimized for AT&T's network, but it does support LTE. (It's worth noting that the S40 supports Band 12, or T-Mobile's 700 MHz LTE.) The S40 connected calls quickly and reliably in all coverage scenarios. Calls remained connected when moving from cell to cell at highway speeds. Data speeds were acceptable, but not great. I didn't have trouble browsing the web or following social networks, but app downloads felt sluggish across AT&T's LTE network.
Sound
Voice calls were of middling quality. Clarity in the earpiece was average when compared to other handsets I've tested on AT&T's network in recent months. I wasn't wowed, but I wasn't disappointed, either. It produces a good amount of volume and didn't suffer from breakup when turned up all the way. I kept it set at the max while testing it, which ensured I could hear calls most places I took the phone.
The speakerphone is quite loud, but voices often sounded scratchy. I could understand calls well enough at highway speeds, though, and the S40 is good enough for home, office, and out-in-the-world use. Ringers and alerts generally caught my ear, and the vibrate alert is more than adequate.
Battery
If you need a phone that provides more than a full day of battery life, the S40 has you covered and then some. The smaller, low-res screen and 3,000 mAh battery make for a good combination. The phone delivered huge battery life while I tested it. It easily powered my day from breakfast to bedtime and through lunch the next day with heavy use. If you use the phone lightly, it can deliver close to two days of battery life.
Like all Lollipop phones, the S40 has a limited battery saver tool that can crimp performance a bit to give you some more uptime. I doubt you'll need it.
Bluetooth, GPS, NFC, WiFi
All of the S40's radios performed as they ought to. I had no trouble pairing the S40 to other Bluetooth equipment, such as my car's hands-free system and headphones. Pairing was made even easier thanks to NFC, which let me tap-and-connect to my favorite Bluetooth speakers. Call quality via my car's hands-free system was a bit rough, but manageable.
The GPS radio worked well with Google Maps. It was able to put me on the map in about 5 seconds or so, and accuracy was as good as about 25 feet. Google Maps works well for searching for local places or navigating from here to there.
The WiFi radio was very reliable and delivered great browsing performance.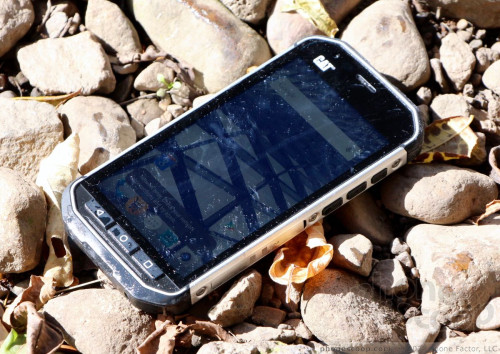 Software
Lock Screen
CAT's lock screen treatment runs in line with stock Android. CAT definitely didn't go out of its way to design any sort of unique experience. Need to check the time or see notifications? Press the screen lock button on the right side of the phone.
The clock is darned huge and easy to read from an arm's length or more away. Any alerts you've received are positioned underneath the clock. As with most Android phones, there are shortcuts to the phone and camera in the bottom corners. The notification shade is accessible from the lock screen even if you've protected the phone with a password.
Home Screens
The S40 runs Android 5.1 Lollipop in stock form, which is a fine thing. The home screen, app drawer, and settings tools all function on the S40 as on other Lollipop handsets. That is to say, you can elect to customize the home screens with app shortcuts or widgets; apps are arranged in the app drawer alphabetically and can't be personalized; and the phone is controlled with a dreary-looking set of white screens with green text.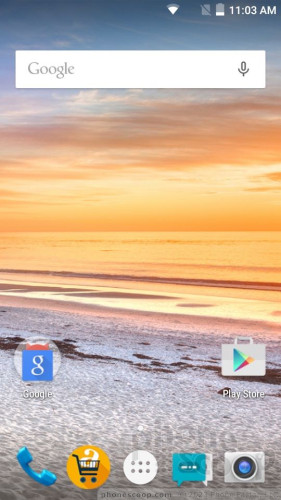 Many people prefer stock Android over user interfaces with heavy skins, but it goes without saying that some phone makers (think LG, HTC, Samsung) add at least a little value with their tweaks.
The S40 has a 1.1 GHz quad-core Snapdragon 210 processor. It also has 1 GB of RAM. Going into this review I was worried the processor wouldn't perform well, but my fears were unfounded. The S40 functioned better than expected with no obvious signs of lag or sluggishness. I wouldn't call the 210 or the S40 fast, though. It was noticeably slower when used side-by-side against several other phones with a Snapdragon 808 inside. Samsung's Exynos-equipped GS6 Edge+ ran circles around the S40's Snapdragon 210.
Camera
There is no camera button, which means you have to use the software tools to open the camera. Alternately, you can program the side key to open the camera. It takes a second or so to launch. CAT opted to skip the stock Android camera app and supplanted it with its own. The camera app is simple to use and offers an extensive set of tools.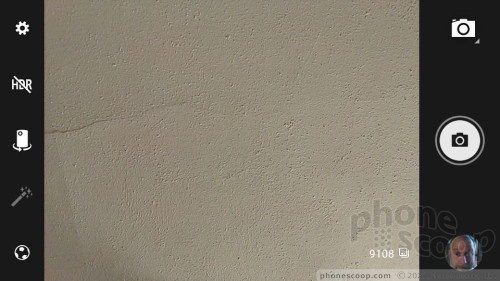 Settings and modes can be accessed from a strip on the left side of the screen. I was surprised to see so many shooting modes, which include HDR, portrait, landscape, sports, flowers, candlelight, backlight, sunset, night, beach, and snow. These modes all behave as you'd expect them to on any camera, though the HDR mode was a bit slow.
A drop-down menu provides the opportunity to adjust face detection, ISO, exposure/focus modes, as well as basics such as picture quality/size, location tags, and the countdown timer. The shutter buttons are on the right.
The camera app is not the fastest app I've ever used. Focus sometimes took a second or so, and the camera took its time capturing and processing images. I'd say the camera is one app that suffers a bit at the hands of the Snapdragon 210. I like that a long press of the screen will fire off a burst of images, and you can capture pictures when recording video by pressing anywhere in the viewfinder.
It's a decent camera app, all things considered.
Photos/Video
I wouldn't suggest you buy the S40 for its camera. The main camera can capture photos up to 8 megapixels. I thought focus was soft and images were grainy. Exposure was generally accurate, and so was white balance, but the bulk of images looked hazy. It's the type of camera that will do alright when there are no other options, but I wouldn't rely on it to be my main camera.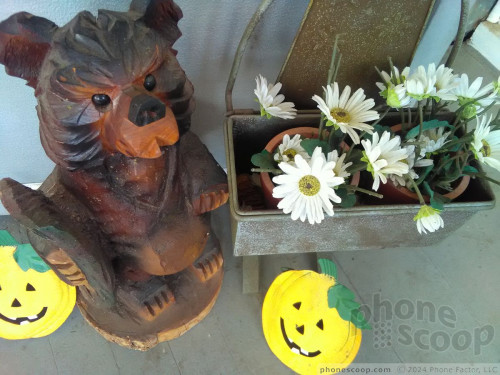 The selfie camera is nearly worthless. Self portraits I captured looked horrendous, and not because of my old mug. The S40's 2-megapixel camera delivers disastrously grainy shots that are hardly worth looking at, let alone sharing across social networks.
The video camera's 720p HD footage fares slightly better than still images. Focus was improved, but I still saw an over-abundance of grain and noise that ruins the clarity. As with the still camera, you can't rely on this to do anything other than snag those wow-did-you-see-that moments that pop up throughout the day.
CAT Stuff
The majority of preinstalled apps belong to Google and the Android operating system. CAT put a few apps on the S40 that are worth mentioning.
CAT has its own app store. The CAT app store is focused on productivity apps and programs that might help certain types of mobile workers get through their day, like expense trackers, GPS tools, and so on. It fits with the S40's purpose, which is to be a tough workhorse for those who don't sit in an office all day.
There's a link to CAT's support page for help with the phone, as well as tools for managing files and other aspects of the phone's behavior. Some might be pleased to learn there is an FM radio on board, as well.
Wrap-Up
The CAT S40 fulfills its mission: it's a rugged smartphone that handles bumps, bruises, and a bath, all while delivering a core Android smartphone experience.
I like the overall design of the phone, which is tough as nails. Many people will appreciate the waterproof form factor and the S40's ability to serve as a hockey puck. The screen is decent and signal performance is good on AT&T's network, but call quality could have been better. Battery life is excellent.
The base Android platform functioned perfectly well, though CAT did little to dress up the operating system or add new and compelling features. I was disappointed by the camera performance, but not overly surprised.
Workers that spend the majority of their time outdoors or in vehicles will certainly appreciate a handset like the S40. It's a fine phone for working.
The CAT S40 is available from Amazon.com for $399.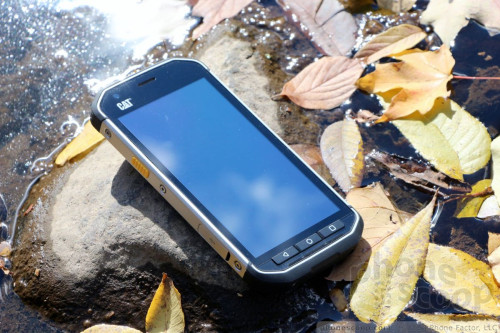 Phones like this have always seemed so pointless to me
With cases existing that do everything this phone does and more, I don't understand throwing $400 at a mediocre phone. Why not get a much better one and a Lifeproof (or similar) case?


I really think there are too many Android phones that serve no purpose, other than trumped up notions of 'choice'. Only a select few actually sell worth a damn, while the rest collect dust.


I wonder how much money it costs carriers to stock these somewhat 'worthless' phones. And beyond that, you have to account for the fact that beyond just the cost of the phones not selling well, they're also lacking severely (usually) in one, if not many categories, which then just pisses off the user and displeases them - which again has a negative impact on pro...
(continues)
I can see that about many phones, like half of samsung's entire line. This phone however, is actually a heavy duty phone, so its not like it serves no purpose aside from adding another sku to their limited lineup.
If I still worked a physical job,...
(continues)
Because add-on cases don't do a thing for things like the far, far louder speaker output of these ruggedized phones, background-noise-cancelling microphones, ability to use the touchscreen while in the pouring rain, or wearing gloves, etc.

Is your ...
(continues)
Well a rugged phone is more durable in my experience, that a fragile disposable device.

They are made to last for a long time, not just a couple of drops on the floor (even with a rugged case)