Hands on with the CAT S40
Article Comments 1
Sep 4, 2015, 5:44 AM by Rich Brome @rbrome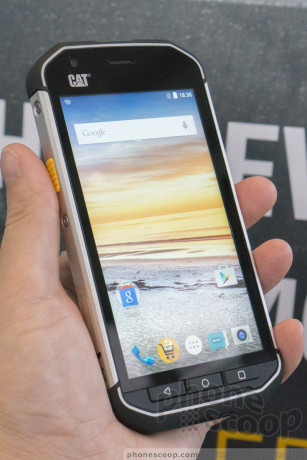 CAT-branded phones are, as you'd expect, super-rugged. They're aimed at construction workers and extreme sports folk. They're starting to make inroads into the U.S. now, with the S50 for Verizon and the S40 soon to be available unlocked for GSM networks. The S40 is slicker than previous CAT models. We checked it out.
Advertisements article continues below...
Previous CAT phones, like the B15 and S50, have been rather chunky, with uncomfortable sharp angles carved out of hard plastic. The S40 takes a sleeker approach. While it still has aluminum rails on the sides, they look and feel more naturally integrated into the design, which is mostly comfortable rubberized plastic. The total design feels tough as nails, yet comfortable. It should live up to its Mil-spec 810G rating for drops from 6 feet, as well as water and dust. The size-to-weight ratio has also been improved, giving it a feeling of better quality.
Ports and slots are protected by thick rubber flaps. That's a little annoying for the frequently-used USB charging port. Sealing the battery inside — annoying as that my be, for some — helps keep the phone both water-tight and slim.
The front and side buttons are all large, physical buttons that work well and seem quite glove-friendly.
CAT claims to have worked on screen brightness (for outdoor use) and camera performance since previous models. The S40 certainly seemed to us to have a nice, bright screen. It's only qHD resolution, but at this 4.7-inch size, that's acceptable. Gorilla Glass 4 should provide ample protection.
The basic Snapdragon processor and 1 GB of RAM can handle standard apps, but would probably struggle with anything terribly demanding. NFC is an unexpected but welcome feature.
The camera software impressed, with thoughtfully-designed modes and settings menus. CAT hopes to sell some of these to the extreme sports set, so the camera is critical. The camera clocks in at 8 megapixels.
Most of the software is very standard Android as designed by Google, but there is an extra app store pre-loaded to help CAT's unique customer base find apps just for them. So if you're looking for a concrete mix calculator, this is where to find it.
The S40 supports the LTE networks of AT&T and T-Mobile, and will be available soon via unlocked channels like amazon.com.
Awful Specs
While I am aware that you could most likely pound a nail into a 2X4 with this phone. Don't expect great performance. It is has a Qualcomm Snapdragon 210. It's specs for ruggedness are great. But I would look somewhere else if you want decent performance.