Review: CAT S40
Hardware Software Wrap-Up Comments 5
Lock Screen
CAT's lock screen treatment runs in line with stock Android. CAT definitely didn't go out of its way to design any sort of unique experience. Need to check the time or see notifications? Press the screen lock button on the right side of the phone.
The clock is darned huge and easy to read from an arm's length or more away. Any alerts you've received are positioned underneath the clock. As with most Android phones, there are shortcuts to the phone and camera in the bottom corners. The notification shade is accessible from the lock screen even if you've protected the phone with a password.
AD article continues below...
Home Screens
The S40 runs Android 5.1 Lollipop in stock form, which is a fine thing. The home screen, app drawer, and settings tools all function on the S40 as on other Lollipop handsets. That is to say, you can elect to customize the home screens with app shortcuts or widgets; apps are arranged in the app drawer alphabetically and can't be personalized; and the phone is controlled with a dreary-looking set of white screens with green text.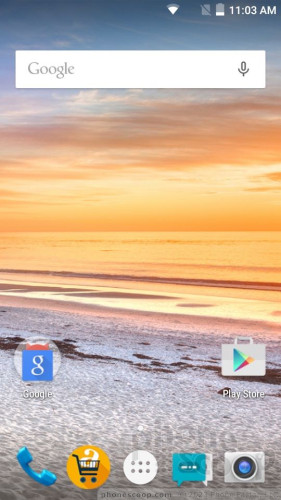 Many people prefer stock Android over user interfaces with heavy skins, but it goes without saying that some phone makers (think LG, HTC, Samsung) add at least a little value with their tweaks.
The S40 has a 1.1 GHz quad-core Snapdragon 210 processor. It also has 1 GB of RAM. Going into this review I was worried the processor wouldn't perform well, but my fears were unfounded. The S40 functioned better than expected with no obvious signs of lag or sluggishness. I wouldn't call the 210 or the S40 fast, though. It was noticeably slower when used side-by-side against several other phones with a Snapdragon 808 inside. Samsung's Exynos-equipped GS6 Edge+ ran circles around the S40's Snapdragon 210.
Camera
There is no camera button, which means you have to use the software tools to open the camera. Alternately, you can program the side key to open the camera. It takes a second or so to launch. CAT opted to skip the stock Android camera app and supplanted it with its own. The camera app is simple to use and offers an extensive set of tools.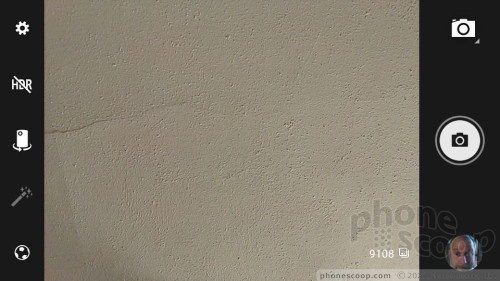 Settings and modes can be accessed from a strip on the left side of the screen. I was surprised to see so many shooting modes, which include HDR, portrait, landscape, sports, flowers, candlelight, backlight, sunset, night, beach, and snow. These modes all behave as you'd expect them to on any camera, though the HDR mode was a bit slow.
A drop-down menu provides the opportunity to adjust face detection, ISO, exposure/focus modes, as well as basics such as picture quality/size, location tags, and the countdown timer. The shutter buttons are on the right.
The camera app is not the fastest app I've ever used. Focus sometimes took a second or so, and the camera took its time capturing and processing images. I'd say the camera is one app that suffers a bit at the hands of the Snapdragon 210. I like that a long press of the screen will fire off a burst of images, and you can capture pictures when recording video by pressing anywhere in the viewfinder.
It's a decent camera app, all things considered.
Photos/Video
I wouldn't suggest you buy the S40 for its camera. The main camera can capture photos up to 8 megapixels. I thought focus was soft and images were grainy. Exposure was generally accurate, and so was white balance, but the bulk of images looked hazy. It's the type of camera that will do alright when there are no other options, but I wouldn't rely on it to be my main camera.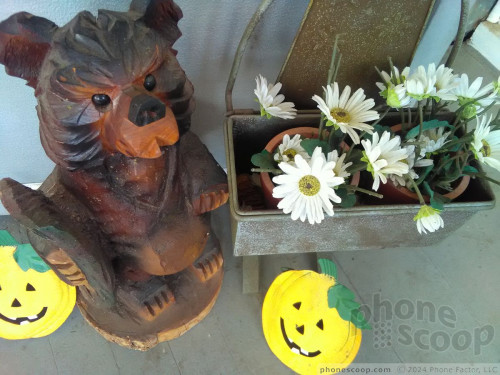 The selfie camera is nearly worthless. Self portraits I captured looked horrendous, and not because of my old mug. The S40's 2-megapixel camera delivers disastrously grainy shots that are hardly worth looking at, let alone sharing across social networks.
The video camera's 720p HD footage fares slightly better than still images. Focus was improved, but I still saw an over-abundance of grain and noise that ruins the clarity. As with the still camera, you can't rely on this to do anything other than snag those wow-did-you-see-that moments that pop up throughout the day.
CAT Stuff
The majority of preinstalled apps belong to Google and the Android operating system. CAT put a few apps on the S40 that are worth mentioning.
CAT has its own app store. The CAT app store is focused on productivity apps and programs that might help certain types of mobile workers get through their day, like expense trackers, GPS tools, and so on. It fits with the S40's purpose, which is to be a tough workhorse for those who don't sit in an office all day.
There's a link to CAT's support page for help with the phone, as well as tools for managing files and other aspects of the phone's behavior. Some might be pleased to learn there is an FM radio on board, as well.