Hands on with the Asus ZenWatch 2
Article Comments
Sep 2, 2015, 8:56 AM by Rich Brome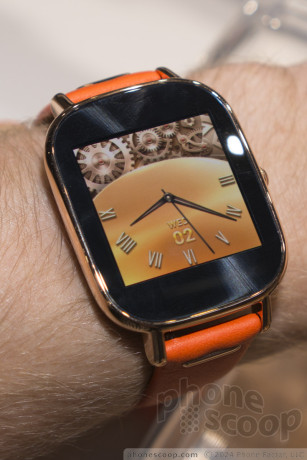 The ZenWatch 2 is an Android Wear watch available for an unusually low price of well under $200. We checked it out.
Like many smartwatch makers this year, Asus is following Apple's lead in many areas. The ZenWatch 2 comes in two sizes and three colors of stainless steel, with a multitude of strap options. The screen is square.
Android Wear is a platform that standardizes much of the watch functionality. As this is a more affordable model, you won't find extras like GPS and offline music player. exclusive Asus apps like watch-to-watch messaging seem of very limited use. (You need another Asus watch to talk to, and it's really only useful when you're near that person, and missing a phone or cellular coverage.)
What stands out about the ZenWatch 2 in person is the screen. Unfortunately, it's not in a good way. First, there's a lot of bezel; it's a large watch for such a small screen, regardless of which size you choose, although the issue seems more pronounced on the smaller version.
Second, while I'm normally a fan of curved glass, the curved glass here just contributes a ton of glare. It's much more difficult to see the screen than it should be, and it's all due to the shape of the glass. Apple an others do a better job by curving only the edges and leaving the center flat.
It's hard to beat the price, though. Any Android Wear watch delivers a lot of functionality, and the ZenWatch 2 reaches a good entry-level price without looking like a toy.
No messages