LG Pairs Android with Flip Phone to Make the Wine Smart
Article Comments 3
Aug 5, 2015, 7:18 AM by Eric M. Zeman
updated Aug 5, 2015, 8:55 AM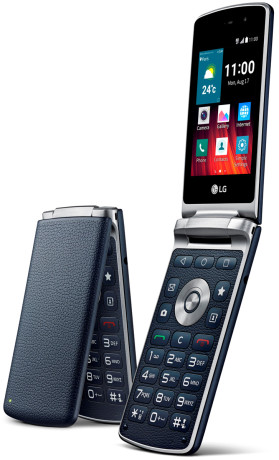 LG today debuted the Wine Smart, a flip phone that runs Android 5.1 Lollipop. The device was first revealed for the Korean market several weeks ago as the Gentle. The Wine Smart is the international version of the phone. LG says it was designed to appeal to people who prefer the functionality of older handsets with physical keys. It includes LG's Safety Care feature, which can be used to transmit emergency alerts and location to pre-selected contacts when needed. The Wine Smart is a slim clamshell that boasts a 3.2-inch 480 by 320-pixel touchscreen, 1.1GHz quad-core processor with 1 GB of RAM, 4 GB of storage, and support for microSD cards. The phone has a 3-megapixel main camera and a VGA user-facing camera. It includes Bluetooth, WiFi, and LTE radios, and has a 1,700mAh removable battery. The LG Wine Smart is headed to France, Italy, Poland, Spain, Kazakhstan, and Japan, and other countries later this month. LG has not said if the phone will be sold in the U.S.
Love it
old school feel with new tech built in

Some pretty impressive specs crammed into that little thing.
Tiny battery won't help it win any prizes for withstanding an entire day of use though.

If this comes to the US I will snatch one up

Do not like the name though...
True the battery is small, but it isn't THAT much smaller than the on in my Nexus 5 (2300 mAh), and the display is the biggest battery drain in any phone. This thing has a small, low-res display, so I bet you'll still get a day out of it.
Android Flip Phone
This needs to be brought to the US, there are a lot of folks that like the flip phone, would give the functionality with the dial buttons for those that don't like a standard touch screen, would have the new LTE technology and still have the basic touchscreen for certain things. This would be appealing to the senior crowd, me included.