Turing Phone Available for Preorder Starting July 31
Article Comments 11
Jul 2, 2015, 8:53 AM by Eric M. Zeman @phonescooper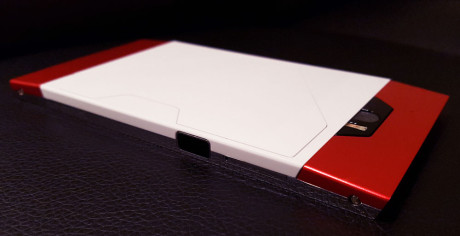 Turing Robotic Industries today said it will begin accepting preorders for the Turing Phone on July 31, which is about three weeks later than originally planned. The company will make 10,000 units available initially. The phone, sold unlocked, will cost $610 for 16 GB, $740 for 64 GB, and $870 for 128 GB. Turing said it will announce three different colors on July 22 and release an SDK for the phone in August. Turing did not say if it plans to stick to the original Aug. 10 shipping date. The Turing phone is molded from Liquidmorphium that the company claims provides greater tensile strength than either titanium or steel. The handset has a fingerprint sensor built into the side edge for security and uses a magnetic charger to negate the need for ports. Turing says the Android-based handset offers completely secure phone calls and messaging. The device features a 5.5-inch full HD display and it is powered by a quad-core Snapdragon 801 processor with 3 GB of RAM. The main camera has a 13-megapixel sensor and the front camera has an 8-megapixel sensor. The device has a 3,000mAh battery and supports a range of LTE networks around the world.
more info at Turing Robotics »
Looks cool...
At least its something different, maybe not everyone can see that but it sounds like its at least got a unique style and features. I don't know WTF they could do to make it more different, make a triangle phone? Maybe they should have adopted that uber-usable orb form factor.

What they need to do is make a video of the phone stopping a bullet, now that's a useful feature for some, especially seeing the crypto chops its supposed to have.

And what is the deal with the USB crypto key dongle it comes with, do you have to plug it in to even access the phone via USB or ADB? Gaming bluetooth earphone? And they don't say what lte bands it supports though, which is concerning.

Can we get a real press release now that your vaporware has ...
(continues)
Agreed. I want a press release and more info on the specs and bands
Their website doesn't tell squat and registering doesn't give me anymore information either
$800 and what?
A no named device with barely medu=ium spec's and buld with 🤣 morphine metal, guess its good for a junkie.
I could say the same thing about an iphone 6 Plus, $949 for the 128GB version. Oh wait, because its an "apple product" designed in california and made in china, its fine. I'm not saying that I agree with the price of these phones, but at least this co...
(continues)