Sony Ericsson Takes The Nano Head On
Article Comments 5
Feb 13, 2006, 7:48 PM by (staff)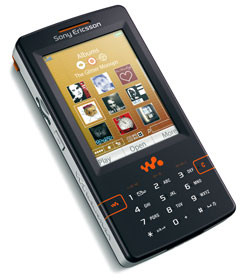 Sony Ericsson tonight announced the hipper brother to the M600 messaging phone announced last week. The W950 has a similar form factor but forgoes the QWERTY keyboard for a traditional phone keypad hidden below the surface of the phone and packs a musical surprise. In addition to new Walkman software optimized for the UIQ phone and its large touch screen, the W950 houses 4 GB of flash memory. The W950 has a 2.6" QVGA screen, jog wheel, Bluetooth including A2DP, and triband GSM/GPRS plus UMTS 2100 in a 15 mm thick package like the one announced last week for the M600. Like the M600, the W950 also lacks a camera. In addition Sony Ericsson announced a compatible Bluetooth stereo headset, the HBH DS970, which allows for control and playback of both music and phone functions trough stereo earphones. The DS970 is compatible with all A2DP / AVRC handsets including the SE P900, M600, W950 and K610.
touch screen
is the touch screen merely for choosing the song you want to play? does it apply for making selections in the menu and even when texting, like how you write on a palm? i cant wait for more info on this phone. its a shame that there isnt a camera but maybe one will come out in the future. then again, i think SE made the right choice by leaving a camera out and doing 2 things right instead of 3 things just ok. get a digital camera to complement this phone/mp3 player and i think youll be good to go. i cant wait to test this one out in person.
Will this be available in the US?
I'm trying to learn about GSM bands, I read the article looks like it won't work with cingular. Is that correct? Could I buy it and use it with T- Mobile?

Thanks
If it's a GSM phone I don't see why it wouldn't work on either Cingular or T-Mobile, but find out the frequencies supported, then telephone your carrier of choice. I'm dissapointed theres NO camera! ! ! ! ! ! !
Flash memory from Samsung
Samsung made a deal with Sony as well (not just Apple Computer). Look for more and more 2GB and over flash music players to come on the market in the near future.