Sony Ericsson Launches Two New Candybars
Article Comments
Feb 13, 2006, 3:38 AM by (staff)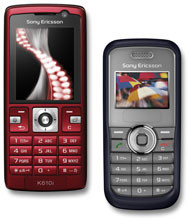 Sony Ericsson at 3GSM this morning launched two new handsets, one at the low end of the spectrum and the other a higher end 3G model. It is likely they will announce additional handsets and initiatives later in the show.
K610i: brings the K600 3G candybar up to spec with Sony Ericsson's 2G K750. Includes a 2 Megapixel autofocus camera with flash, and a second VGA camera for video calls. Features a media player and browser with RSS reader. Also features USB mass storage, Bluetooth, and a new Memory Stick Micro slot. The K610 is GSM/GPRS 900/1800/1900 and UMTS 2100; it is due out in Europe and Asia in the second quarter.
J100: An entry level candybar for low-cost prepaid services and emerging markets. This is a bare-bones handset with few features beyond calling and SMS. Does not even feature a browser or speakerphone. The J100 will be available in both 850/1900 and 900/1800 dual band models in the second quarter.
No messages