Moto Debuts RAZR Slider in Korea
Article Comments 24
Feb 8, 2006, 10:19 AM by (staff)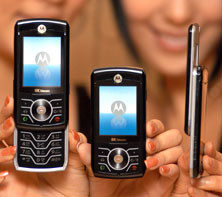 Motorola Korea today announced the "Z", a slim slider phone based on the RAZR design. The 14.8mm-thick phone sports an etched metal keypad like original RAZR. Its features include a large 2.2-inch screen, a megapixel camera and a music player. The CDMA phone is expected to launch this month with Korean carrier SK Telecom. It is not known if Motorola plans a version of the Z for other markets, although the company did bring the CDMA RAZR to the U.S. several months after the release of a similar model in Korea.
This phone should be called...
SLDR since it's a slider phone. 🙄
I believe it will be called the SLDR once it launches in the US. Z is just it's codename for now.
Not so sure
I acutally think its sort of ugly, but just my opionion. I guess im kinda getting over the razr craze, i had the razr, and now i have the slvr, and its getting boring to me now. just my 2 cents. 🙂
hehe methinks you're bored because you haven't tried a Nokia smartphnone yet :-)

my gf has the razr and sure it's a great design but its abilities pael in comparison to my nokia 6682! now that is a fun phone!!