Turing Phone to Offer Secure Communications in Liquidmetal Body
Article Comments 6
Apr 23, 2015, 8:00 AM by Eric M. Zeman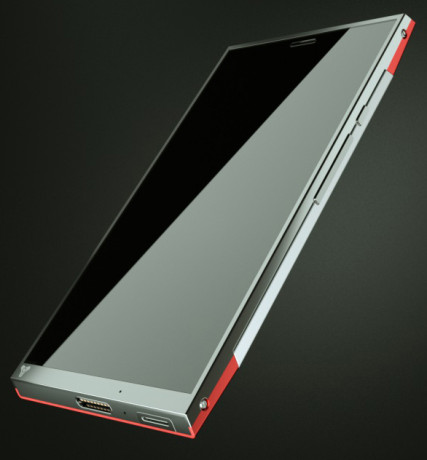 Turing Robotic Industries today announced the Turing Phone, a handset that focuses on providing secure communications while wrapped in a futuristic design. Turing says the device is molded from Liquidmorphium, what it describes as "an amorphous alloy of zirconium, copper, aluminum, nickel, and silver that provides greater tensile strength than either titanium or steel." The materials protect the phone from screen breaks or other damage that might be caused by shocks. Turing claims Liquidmorphium can be produced with a near 100% yield and practically no waste, making it environmentally friendly. Other unique aspects of the design include a fingerprint sensor for user authentication on the side of the phone, and a magnetic charger that negates the need for ports. As far as communications go, the Turing Phone relies on decentralized authentication technology which lets it independently verify the identity of other Turing devices. Turing claims the end-to-end authentication "creates a protected communications network that is entirely insulated from cyber-threats and privacy intrusions." In other words, Turing phone owners can take solace in knowing their calls and messages are completely secure. The phone runs Android 5.0 Lollipop with Turing's user interface. The device features a 5.5-inch full HD display and it is powered by a quad-core Snapdragon 801 processor with 3 GB of RAM and 64 or 128 GB of storage. The main camera has a 13-megapixel sensor and the front camera has an 8-megapixel sensor. The device has a 3,000mAh battery and support a range of LTE networks around the world. The Turing Phone will launch in the U.S. and U.K. on August 10, with pre-orders starting July 9. The phone, sold unlocked, will cost $740 for 64 GB and $870 for 128 GB. Turing said carrier partnerships are still under development.
Advertisements article continues below...
Seriously?
"and a magnetic charger that negates the need for ports."

I had to read this twice to make sure I wasn't mistaken.

Wireless induction charging and no ports? The worst form of charging today's Li/Po batteries and then no way to even adapt to a backup charging apparatus in case the battery dies?

I think not. Yet, there will be people that will just purchase it for looks, because an expensive, nice looking, inoperative device is better than a slightly less attractive, functional one.

John B.
The magnetic charger i believe is the connector to the device (like a mag-port on a Mac) and not the wireless charging. Some other phones have had it and causes less problems than having the microUSB port always being pushed in and pulled out.
Turing Who?
Sure, it sounds like a very secure device, they have a valid point, hardware encryption smashes software encryption.

As long as you trust SYL Chao, and this overnight "robotics" company no one's ever heard of with your digital life... no bigs.
Color me interested
Color me interested
Different :)
Now this is a different kind of phone. Sharp, edgy, unique, with all good specs.
Throw in some waterproofing and I'm in!


I really like the look of this phone. Don't imagine it's all that comfortable in the pocket while sitting but not a deal breaker.