Review: Motorola Moto E for Cricket Wireless
Article Comments
Mar 12, 2015, 10:31 AM by Eric M. Zeman @zeman_e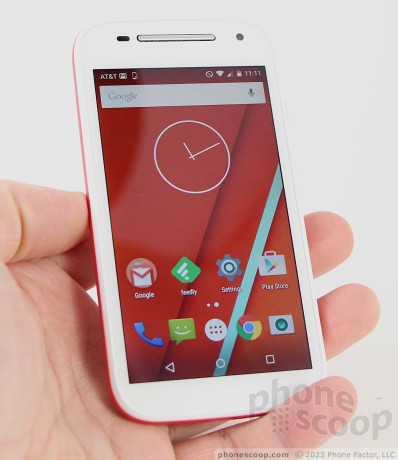 Motorola's second-generation entry-level smartphone includes a bigger screen, faster processor, LTE 4G, and the latest Android 5.0 Lollipop operating system from Google. This budget phone is a steal. Here is Phone Scoop's in-depth report.
AD article continues below...
Form
Is It Your Type?
The second-generation Moto E is hardly more than a spec bump to the original device. It carries over Motorola's simple design language, near-to-stock Android 5.0 Lollipop operating system, and a very low price point. It's perfect for prepaid carriers. If you're in the market for a high-quality and affordable smartphone, the Moto E is a good target at which to aim.
Body
Motorola's smartphones have shared a distinct familial design language since the August 2013 debut of the Moto X. The E has a simple, no-frills look that is at once appealing yet unsophisticated. Don't let the looks fool you; the Moto E packs a powerful punch for its $130 price point.
The Moto E is the least expensive and most compact of Motorola's handset lineup, which includes the Nexus 6, Droid Turbo, Moto X, and Moto G. It shares design characteristics with its stablemates, such as the chrome-colored earpiece bar and general shape. The E is a pleasant little phone that comes in either black or white and allows owners to customize the appearance just a bit through the use of replaceable bumpers that line the outer edge. Our review unit is white, but included a red bumper that gives the phone a happier look than the solid white appearance offered.
Most people will appreciate the Moto E's size and shape. The smaller screen (4.5 inches) allowed Motorola to keep the height and width in check, but the phone is somewhat thicker than today's flagships. The back surface, made from polycarbonate, has a comfortable curve to help the phone sit deeper in your palm. I found the phone easy to hold and use. It drops into pockets with no problem.
The body is all plastic, save for the screen which is protected by glass. The removable bumpers are a bit flimsy on their own, but attach to the device snugly. It's a cinch to swap them. You'd never guess they are removable, as the seams fit together tightly. The entire device has a nice weight to it; it feels solid, but not overly heavy. I am pleased with the quality of the fit and finish, especially at this price point.
Plenty of bezel surrounds the screen on the E's face. The bezel isn't as noticeable on the black model, but the smallish display stands out plainly on the white model. The chrome earpiece cover is joined above the screen by a user-facing camera and sensor. There are no physical or capacitive buttons for the Moto E, which uses on-screen controls to manage the Android operating system. There's a slight rim where the glass meets the polycarbonate frame. It's hardly noticeable, but will give the glass a little bit of protection when the phone is placed face-down on a flat surface.
There are no controls or buttons along the left edge of the phone; you'll find the screen lock button and volume toggle both on the right side. They are built into the bumper and have excellent profiles. The silver color contrasts with the red/white color combination nicely. The lock button has fantastic travel and feedback, but the volume toggle is a bit squishy in my opinion. The headphone jack is on top and the microUSB port is on the bottom.
Some may dislike that the Moto E's battery cannot be removed. The SIM and memory card slots are hidden under the removable bumper. The E sports the stylized "M" Motorola logo in an indentation on the rear surface, just like Motorola's other phones. The circular camera module is positioned near the top.
The Moto E isn't perfect, but I don't think any phone company makes a better piece of hardware for $130.
Performance
Screen
Compared to last year's model, Motorola improved the size of the E's screen from 4.3 inches to 4.5 inches, but kept the qHD resolution (960 x 540 pixels). I would not call it the sharpest display available, not by a longshot. In fact, if the Moto E has an achilles heel, the screen is probably it. My eyes, which are used to high-density displays, can see plenty of haze thanks to the lower pixel count. Brightness is OK. It looks decent when viewed directly, but falls off dramatically when viewed from an angle. The display is practically unusable outdoors. It suffices, but just barely.
Signal
One of the major improvements in the second-generation Moto E is the addition of support for LTE 4G. We tested the E on AT&T's network in and around New York City and came away impressed. (The E will initially be sold by AT&T's Cricket prepaid brand, so our tests on AT&T's network are relevant to how it will perform under the auspices of Cricket Wireless.) The Moto E always maintained a strong connection to AT&T, even in areas with known poor coverage. I did not have trouble making or receiving calls, nor did the phone drop any while I reviewed it. Data speeds over LTE were solid, but not the fastest I've seen. I didn't see much difference between surfing via HSPA or LTE, to be honest, but the E is plenty quick enough for checking your email, browsing the web, and updating your social networks.
Sound
I'd rate the Moto E as an average device when it comes to making phone calls. The earpiece speaker produces just enough volume for it to be heard in "normal" environments, such as your house, office, or car. If you're in a noisy space — such as a coffee shop during morning rush or a diner during lunch — calls are going to be hard to hear, even when the volume is turned all the way up.
Quality of calls was middling. I heard some interference and the tone was somewhat robotic to my ears. People I spoke to through the E said I sounded quiet and far away.
The speakerphone offers no improvement in either volume or quality. It's unusable in a car and is best suited to spaces that are quiet. The ringers were just barely loud enough to get my attention from several rooms away, and the vibrate alert could be much stronger.
Battery
Motorola increased the battery capacity of the second-generation Moto E from 1,980 mAh to 2,390 mAh. The result is a dramatic improvement in battery life. The Moto E always delivered a full day of mixed use. Heavy use drained the battery faster, but it still managed to reach bedtime on a single charge, even if it sputtered to that point with a few percent remaining. Using the E on 4G LTE networks didn't have any noticeable impact on battery life compared to using it only in 3G mode.
The Moto E includes the native Android 5.0 battery saver tool, which allows you to turn off radios and other functions when the battery reaches a certain level. I found it helps out a little bit if you reach a critical level, like 5% or 10%, but you really shouldn't need it.
Basics
Menus
Motorola has, blessedly, decided that stock Android is the way to go. The Moto E runs Android 5.0 Lollipop with a handful of Motorola's most useful applications for managing alerts and notifications.
Unlike the Moto G, which arrived last fall, the E offers a version of Motorola's Active Display, which surfaces simple notifications to the lock screen so you know there are unread messages, missed calls, and new emails waiting for you. The lock screen also supports the usual set of passwords and other protections, as well as shortcuts to the phone and camera apps.
Beyond the lock screen behaviors, the basic home screen and menu functions in Android 5.0 Lollipop are very similar to those of Android 4.4 KitKat and earlier versions of the operating system.
There are minimal home screens active out of the box, and they aren't littered with widgets and shortcuts. It takes only a few moments to customize the panels to suit your own needs. Google Now stands as the leftmost home screen panel, which will surface cards with personalized information culled from your email, calendar, and search history. (I really like Google Now, but it takes some getting used to.) The app menu is laid out in a clean grid on a white background. Apps are listed alphabetically, but you can drop them into folders if you want. There's no list view option.
The settings menu offers green text on a white background, which you can blame on Lollipop's Material Design. The individual settings are clumped together under categories such as "wireless and networks", "system", and so on. It's a simple and straightforward tool for managing the E.
The notification shade offers a list of your notifications, which can be dismissed en masse or individually, and access to the Quick Settings menu with a second downward swipe. The Quick Settings screen has been modified in Android 5.0, but the controls are all easy to use.
Motorola yanked out the first-generation E's Snapdragon 200 processor and crammed a Snapdragon 410 processor in its place. Motorola kept the RAM at 1GB, but improved storage from 4GB to 8GB. The phone was slower to download and install apps than today's best phones, but that's expected of a device with an entry-level processor. Otherwise, the Moto E performed flawlessly.
Calls and Contacts
Motorola stuck with the stock Android 5.0 phone application. It's not the most user-friendly app in the world, but it gets the job done. At least it's a colorful place full of pictures. The app has a search bar and your most recent call perched at the top of the screen. Below these two items are three tabs for accessing your favorite contacts, your call history, or all your contacts by swiping left and right. The call log provides some information about calls (time, duration) in addition to shortcuts for redialing or sending a text message to those numbers. You need to press the circular dialpad button at the bottom of the screen to call up the number pad for dialing new numbers.
Though built into the phone app, your contacts can be accessed and managed through a stand-alone app. The contact app has two basic views: your favorites, and all of your contacts. Searching through your family, friends, and colleagues is a breeze thanks to the search tool. The app automatically syncs with your Google accounts if you use Gmail, but also supports Exchange and IMAP. As always, you can place direct dial and direct message shortcuts on the home screen panels if you wish, but there's no larger contact widget.
Messaging
Thanks to the stock nature of the Moto E's operating system, there are but a few messaging tools aboard the handset. The newest version of Gmail is quite good and supports multiple email inboxes and services (including Exchange, etc.). Motorola included the older, generic email app for good measure, but it's redundant.
The Moto E includes both the newer Google Messenger and Google Hangouts apps for sending text and IM messages. The Messenger app handles only SMS/MMS, while Hangouts handles SMS, MMS, and IM. Messenger is easier to use, but it's nice to have everything in one app within Hangouts. I find Hangouts to be a bit messy, but it works. You can download an alternative SMS app from the Play Store if you want.
The E doesn't have any social networks preinstalled, save for Google+.
Extras
Media
With Motorola's penchant for stock Android over busy user interface skins, you shouldn't be too surprised to learn the Moto E ships with naught but the core Google Play apps for consuming media. The Play-branded apps appear on all Android devices and they generally work well for listening to music, watching movies, and reading books and magazines. The latest versions of these apps, which appeared alongside the arrival of Android 5.0 late last year, are quite user-friendly.
The phone includes the YouTube app and an FM radio, but no stand-alone MP3 player or video player apps. This means you can't play content stored on a memory card unless you download an app from the Play Store. The phone is devoid of content-sharing tools unless you choose to download and install Chromecast yourself (free from the Play Store).
I was generally pleased with the quality of music when played through my favorite pair of regular headphones, but video playback on the qHD screen was definitely lacking.
Camera
Camera software has never been Motorola's strong suit. Its camera app is one of a handful from Moto that breaks with the stock tools offered by Google, though it's an apple that doesn't fall far from the tree. It opens quickly from the lock screen or the home screen, and the E supports Motorola's twist-your-wrist gesture to launch the camera.
There isn't much to the user interface. There are only two buttons: one for the video camera and another for the user-facing camera. (Every so often, a little "?" appears in the upper right corner to offer you a helpful tutorial on the completely non-obvious controls.) The controls can only be accessed by swiping from left the side of the viewfinder towards the center. This opens a semicircular dial that is used to pick from a limited set of options. The Moto E includes auto HDR and panorama shooting modes, in addition to a timer.
Like other Motos, the E has a burst mode that will automatically capture a burst of shots for as long as you hold your finger to the screen. It's a little kludgy on the E, though, and seems to stutter.
The camera doesn't offer advanced controls such as scenes, ISO, brightness, or white balance. It's worth mentioning that the phone doesn't have a flash, either. On the flip side, some may appreciate the E's simplicity. It's mostly just point and shoot.
I found the E was a bit slow to focus and capture images. This is somewhat common behavior on devices of this class. It's not terribly slow; rather, it's simply not fast.
Photos
The Moto E's 5-megapixel sensor delivered images that ranged from good to bad. Focus was sharp only about half the time. Exposure was accurate about half the time, too; it had a really hard time balancing scenes with light and dark regions. Quite often the light areas would be overblown while the darks exposed correctly. White balance, surprisingly, was accurate most of the time. But if you're in a dark room (club, restaurant), forget it; with no flash, you're pretty much out of luck.
The Moto E suffices for capturing spontaneous shots, but isn't good enough to be your main camera.
Video
This entry-level handset is limited to capturing 720p HD video. I'd say it's more consistent at producing usable video results than the still camera, but that's not saying much. The video was soft and exposure ranged from poor to OK. Dark environments produce almost nothing but grain. You might be able to get away with using the Moto E for some basic daytime video, but you need something better for important events.
Gallery
The Moto E ditches the old-school Gallery app in favor of the newer Photos app from Google. This is typical for a Lollipop device. The Photos app works in conjunction with Google+ to offer some features not found in the older app. For example, Photos will automatically upload your images for safekeeping. It can apply an "auto-awesome" feature for improving photos automatically, and it creates instant slideshows based on time/location data ("Saturday in Central Park" for example). It also has better tools for editing and tweaking photos. The sharing features are not quite as easy to use as in the older Gallery app, but they are extensive. There are simpler apps out there, but Photos has a short learning curve.
Bluetooth
I didn't run into any trouble using the Moto E's Bluetooth radio and associated functions. It paired easily with a smartwatch, a pair of headphones, and my car's hands-free system. Phone calls passed through wireless headphones were rather crummy in terms of volume and quality. Without the aptX profile, music sounded decent through my best Bluetooth speaker, but not as good as it could have. The E was able to pass files to other devices no problem.
Browser
Chrome is the only browser installed on the Moto E and that's fine with me. The browser renders both desktop and mobile-optimized web sites with ease and includes a solid feature set, such as bookmark and tab syncing across devices. It performed really well in tandem with AT&T's (neé, Cricket's) network, though I've seen faster page load times. If you're not a fan of Chrome, there are plenty of options in the Play Store.
Clock
The lock screen clock is a simple, white, digital clock on a black background. It lights up every time you get a notification, and also when you jostle or bump the phone. It's pretty much invisible when you're outdoors, though, thanks to the mediocre screen.
GPS
Google Maps is on board and that's all you need to get from here to there. The GPS radio is well-tuned to Google's navigation software, as it pegged my coordinates quickly and accurately. The app itself is feature-rich and apt for planning trips. You'll have no trouble relying on the Moto E for directing you to B from A.
Moto
Moto Assist was rebranded as just Moto. It helps users manage notifications to prevent interruptions, such as when sleeping, when driving, and when in meetings. It automatically detects when you're driving, and can be set to enter sleep mode on a set schedule, if you wish. It also knows when you're in meetings thanks to your calendar appointments. You can allow select contacts to break through sleep mode in the case of an emergency. The Moto Assist function also works with the home screen, where it delivers simple lock screen notifications discussed earlier.
Migrate
Moto Migrate is a separate app meant to help you transfer all of your content from one device to another. It works with media, call and text history, as well as SIM contacts. The tool makes use of a QR code scanner to pair the two devices and then uses Google's servers to migrate the data between the phones. It makes it pretty easy to send data to another device. This functionality now also works with feature phones and can be used to transfer contacts through a Bluetooth connection. That makes the E a bit more appealing for someone switching to their first smartphone.
Wrap-Up
The Motorola Moto E definitely has flaws, but they are easy to overlook depending on your needs. As far as basic smartphones go, the Moto E comes close to firing on all cylinders.
The hardware is quite good. The phone is plain, but everything about it works. It is small and compact, made from solid materials, and the bumpers allow for a modicum of personalization. The display is a weak spot, but the Moto E makes up for it with solid network performance, excellent battery life, and average calling.
Android 5.0 works well on the Moto E and offers a respectable mix of features. The basic calling, messaging, and media apps all work well. The camera and video camera aren't that great, but the browser works well and the Motorola-made apps are a welcome bonus.
I'd recommend the Moto E to anyone looking for a cheap phone to use with a prepaid service. At only $130, the Moto E is a bargain to say the least.
No messages