Motorola Updates Moto E with LTE
Article Comments 1
Feb 25, 2015, 10:14 AM by Eric M. Zeman
updated Feb 25, 2015, 10:19 AM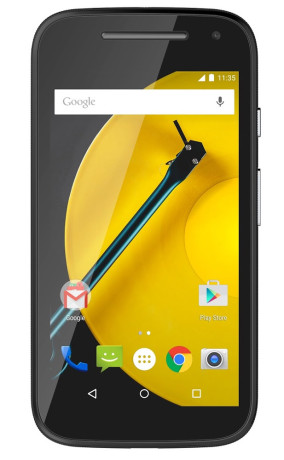 Motorola today introduced a second-generation Moto E with improved specs. Like its predecessor, the new Moto E is an entry-level handset. It runs Android 5.0 Lollipop and includes some of Motorola's customizations, such as the Quick Capture gesture to launch the camera and Glance Screen for notifications. The most significant new feature is the added support for LTE 4G networks. The battery cover is not removable, but the Moto E does feature a customizable band around the edges that can be removed and swapped with bands of other colors. The screen has been stretched from 4.3 inches to 4.5 inches, though it keeps the 960 x 540 resolution. The E is powered by a 1.2GHz quad-core Snapdragon 410 processor. Internal storage has been improved from 4GB to 8GB. The phone has a 5-megapixel camera, and a VGA user-facing camera. Motorola claims the 2,390mAh battery should provide more than a full day of usable life. The second-generation Moto E, which comes in black or white, is available starting today for $149.
Go Moto!
Excellent from dual-core to quad-core for the Moto E. Still waiting for the Moto G 2nd Gen with LTE.
These are the most affordable line of really great android phones I have seen along with fantastic performance.