BenQ-Siemens Announces First Handsets Under New Brand
Article Comments 11
Jan 17, 2006, 12:54 PM by (staff)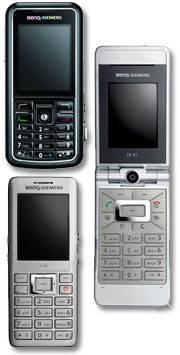 BenQ-Siemens today announced the first handsets that are clearly a result of the merger of the two companies. Each of the three handsets are due out this quarter, most likely outside North America. One handset is clearly designed for Europe and Asia as it is UMTS 2100 and 900/1800/1900 GSM/GPRS. The other two are triband GSM/GPRS.
S88: a triband candybar phone clearly aimed at Sony Ericsson's high end models. Features a similar 2.0 MP auto focus camera with LED flash, photo editor, Micro SD slot, Bluetooth and a media player compatible with MP3, AAC, H.263 and MP4. Also features a 176 x 200 OLED screen.
EF81: a slim (16 mm) 3G clamshell with a QVGA screen inside and a large 120 x 160 screen outside. The outside also features four softkeys for controlling many of the phone's functions without opening it. Features include rotating 2 MP camera for pictures and video calls, Bluetooth, USB, Micro SD slot and a media player that handles MP3, AAC++, MP4, Real video and H.263.
S68: a sleek, slim triband candybar aimed at business users. Lacks multimedia functions like a camera or audio player, but features a document and fax viewer for reading email attachment. Also features Bluetooth and USB connectivity.
source: BenQ-Siemens
Anything for the US?
Is there anything planned for the US? I don't think we've ever had a BenQ released over here, have we?
Looks like a bunch of copys.
To me it appears these are just knock offs of current phones.
OBVIOUS imitations, but each one packs an impressive feature set. If the new brand overcomes Seimens' reliability issues this could be a serious line up.
itoldumofo said:
To me it appears these are just knock offs of current phones.
Actually they've got that Siemens design thing going...apparently Ben-Q didn't want to stray too far. I, for one, like this bar-style de...
(continues)
BenQ quality
I'm suddenly wondering about this, as BenQ has a reputation for manufacturing nothing but unadulterated crap.
But Siemens is known for producing very high quality machinery. Sooo.. who knows. I know Siemens generators are some of the best built, longest lasting in the industry.
Maybe that will transfer to their cell phone industry as well.