Review: Kyocera DuraForce for AT&T
Form Performance Basics Extras Wrap-up Comments 10
Feb 24, 2015, 5:30 PM by Eric M. Zeman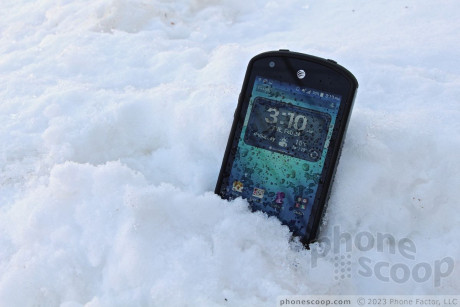 The DuraForce is a rugged handset from Kyocera that can survive a significant amount of abuse without blinking. It's worth a look if you need a durable Android smartphone.
Advertisements article continues below...
Is It Your Type?
The DuraForce is another tougher-than-nails handset from Kyocera. This phone is meant for active people who need a smartphone that works as hard as they do. Its rugged build and adventure-themed feature set earmark it as the tool of choice for those who spend most of their time outdoors.
Body
The DuraForce breaks the mold a bit when it comes to rugged smartphones. It's not quite as chunky nor heavy as the ultra-rugged Sonim XP7, but it's more robust than Kyocera's own Hydro line, which are semi-rugged. For a hardened handset, it's quite approachable in terms of size and design.
Kyocera managed to craft a brutish beaut in the DuraForce. It's a slab-style device with rounded top and bottom edges, modest design elements, and solid construction. I like the use of silver and red accents mixed in with the matte black frame. Where many rugged handsets are blunt and unappealing, the DuraForce is more refined and less off-putting. It's just conservative enough that you could get away with toting it around for a night on the town and not betray its working-man aesthetic.
Thanks to the 4.5-inch screen, Kyocera was able to keep the overall footprint down to a manageable size. It's close in dimensions (length x width) to the Apple iPhone 6, though it's thicker than both in order to accommodate the rugged frame. I had no trouble gripping and holding it. It's not too heavy, either, making it comfortable to use for long periods of time.
The materials are what you'd expect from a rugged phone. There are no fancy metal surfaces or accents here; it's all plastic and glass. I was mostly pleased with the quality of the plastics, which coat the sides and back surfaces. They are grippy and strong. The entire phone is waterproof (more on that in a bit), so of course all the seams are fitted together snugly. You can stuff it into your pants pocket as long as they aren't too tight.
Like many rugged phones, the DuraForce's display is swimming in a sea of bezels, buttons, and borders. The frame of the phone forms a distinct rim circling the front face that protects the screen when it is placed display-down. It's not sharp or annoying, but you'll always know it's there. There's nearly an inch of bezel above the screen, where you'll see the AT&T logo, user-facing camera, and notification light. Kyocera turned to physical buttons for controlling the Android user interface. The back, home, and multitask keys are just below the screen and form a sort of smile thanks to their curved design. They are wedged up tightly against the outer rim. I found the buttons easy to find and use when not wearing gloves, but with gloves, they were much harder to locate. Travel and feedback of all three was good. You'll also notice a curved speaker grill along the very bottom of the front surface, which covers the front-facing speakerphone.
Both side edges have a silver-colored band that helps offset the dark buttons. The volume toggle is near the top of the left edge. It has a fantastic profile and excellent travel and feedback. I do wish the button were longer, however, to make it easier to use with gloves on. A large user-assignable button is positioned below the volume toggle (its default function is PTT). It, too, has a great profile and excellent travel and feedback. I like that it has a red accent, making it easy to spot. Unlike the volume toggle, I think this button is perhaps too long. I found myself activating it constantly when reaching for or grabbing the phone.
Rather than buttons, the right edge has a single, large hatch. I didn't have any trouble using it. Underneath, you'll find ports for the SIM card and memory card. The USB port is positioned on the bottom edge and is also protected by a hearty hatch. The same goes for the headphone jack on top. All three hatches need to be closed firmly in order to protect the phone from water. The headphone jack is joined by two small buttons on top: the screen lock button and the speakerphone button. I wish both buttons were larger and had better travel and feedback. They are especially difficult to use when wearing gloves.
The back surface is made from matte, dimpled plastic that has a pleasing texture. You cannot remove the rear cover of the DuraForce, which means you don't have access to the battery at all. I like the design of the camera module, which is near the top. There's an LED flash next to it.
Kyocera did a great job designing and manufacturing this handset.
Not bad
It looks pretty good for a ruggedized phone.

Did you do any other durability tests other than stick it in the snow? Any drops? Step on it? etc..
From the review:
The DuraForce meets mil-spec 810g for protection against abuse and IP68 for protection against water and dust. You can be pretty cruel to the phone and not worry. I dropped the phone, buried it in snow, left it out over
...
(continues)
I'm impressed
-with your commitment to this review. You went into a Safari to test this phone's camera on an elephant!

Em, still a good review. I'll check this phone out in person. Kudos.
Time will tell
I hope this version for AT&T is more reliable than our Kyocera Torques on Sprint.

Our Torques have been unbelievably buggy since day one. For the first few months, they were a constant problem, just barely usable. They finally got the firmware updates to where the phones are usable, but they are still noticeably buggy, especially compared to my wife's iPhone4, which has had zero problems.

We do love the volume & clarity of the Smart Sonic front face in lieu of conventional speakers. For the Smart Sonic feature I give the Torque an A+, but for overall user experience, I give ours a C-minus.

We go off-contract next month, and we can't wait to be rid of the Torques. The Torque had a lot of potential, but the constant bugs and lack of r...
(continues)