Review: LG Optimus F60 for MetroPCS
Article Comments
Feb 17, 2015, 4:30 PM by Eric M. Zeman @zeman_e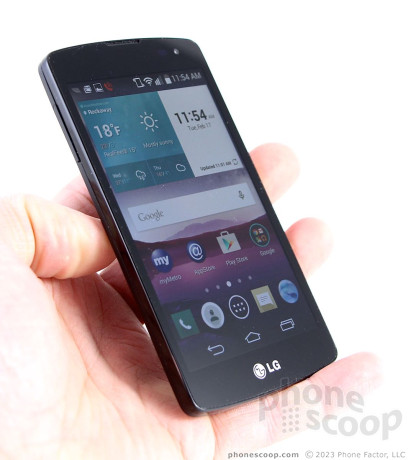 LG's F60 is an entry-level Android smartphone that hits way above its weight. This phone may be inexpensive, but it easily outperforms more costly devices.
AD article continues below...
Form
Is It Your Type?
LG's Optimus F60 in an entry-level handset for MetroPCS. It may be short on style, but it still offers plenty of substance. If you're seeking a low-cost handset that works well with MetroPCS' inexpensive prepaid service, the F60 is a solid place to start.
Body
The F60 is a basic Android smartphone. It borrows some of its features from LG's well-known design language, but eschews the high-end style queues that set LG's flagship phones apart from the crowd.
You could almost call the F60 a G3 Mini, but not quite. It has LG's signature shape when viewed straight-on. You won't find any flashy chrome bands or colors here. It's obsidian front and back. The front is all glass and the back and sides are covered with a matte finish. I like the balance between the two. The F60 is simple, but it works.
The phone's small size and shape really help it fit in the hand well. The screen is limited to 4.5 inches across the diagonal, so the overall footprint is much smaller than today's flagship behemoths. The back has a gently curved shape where it meets the side edges, which lets it sit snugly in your palm. The phone is thicker than I'd like it to be, but smaller phones generally need to be thicker to fit the components and battery. It also fits comfortably in your pocket no matter how tight your jeans may be.
The materials are solid for an entry-level device. The front glass has an excellent feel to it and the rear shell's matte finish belies the F60's aspirations. The seams are all fitted together tightly and the overall quality will convince you the phone costs more than the $60 MetroPCS wants for it.
As with many of today's phones, there's a slight rim surrounding the glass display. The rim protects the phone when it's placed on a flat surface. It's subtle enough that I didn't find it annoying against my hand when using the phone. The earpiece grill is practically invisible. LG carved a slim notch in the top of the glass right where it meets the rim in order to accommodate the speaker. You can just make out the user-facing camera. There are no hardware buttons, as LG relies on screen-based controls for the Android operating system. The LG logo below the screen is the only thing visible from several feet away.
The side edges are flat, but not flat enough so the phone will stand on them. Many of LG's latest handsets place the controls on the backside. Not so on the F60. The volume toggle is on the left side. I really like the profile and feedback, which make the button easy to find and use. I'd give the power button, located on the right edge, the same compliments. It works well. The headphone jack is on top and the micro USB port is on the bottom. There's no dedicated camera button.
You won't have any trouble removing the back cover. It peels off quite easily. Underneath, you have full access to the battery, memory card slot, and SIM card slot. Many people like the idea of user-replaceable batteries.
The LG F60 may not have the most compelling design in the world, but everything about the hardware works perfectly.
Performance
Screen
Low-cost phones rarely have impressive screens, but the F60 holds its own. The display measures 4.5 inches across the diagonal and LG used IPS LCD technology. The resolution measures 800 x 480 pixels. While a bit on the low side, the smaller screen size helps keep the pixels packed closer together. You can tell right away that you're not looking at an HD screen, but it does a good job for a $60 phone. Like most of LG's displays, the F60's is plenty bright. I had no trouble using it indoors nor out.
Signal
MetroPCS operates on T-Mobile's network. The F60 supports data on HSPA and LTE where offered by T-Mobile/MetroPCS. It really performed well in the metro NYC region. I was pleased with how quickly the F60 connected calls, and it didn't drop nor miss any while I tested it. LTE data speeds for MetroPCS customers aren't as fast as those available to T-Mobile customers, but the F60 is quick enough to satisfy most people. I had no trouble doing real-world stuff, like sending emails, uploading Facebook posts, or enjoying Instagram. If you need to update apps, however, I'd do that via WiFi at home.
Sound
Call quality was excellent via both cellular and WiFi networks. The earpiece produces loud, clear conversations that are easy to hear and understand in most environments. I was very pleased with call performance across the board. You should be good to go in places such as coffee shops, malls, and moderately busy city streets. People I spoke to through the F60 said I sounded really, really good. The speakerphone is good, too. It offers plenty of volume and excellent clarity. I can't imagine you'll miss calls thanks to the F60's blaring ringers and alerts. The vibrate alert was a tad weak in my opinion.
Battery
The F60 has a 2,020 mAh battery inside, providing about a day of battery life. The smaller, low-res screen helps keep battery drain down. I never had any trouble getting a full waking day (8AM - midnight) with a solid mix of calls, browsing, messaging, and YouTube viewing. I was careful to keep the screen's brightness set to about 50%, though. If you keep it pegged at 100%, you'll see battery life drop to about 12 hours.
If you get into trouble, the F60 has a battery saver tool to help you manage power consumption. You can set the battery saver tool to come on automatically at 10%, 20%, 30%, or 50%. You can pick and choose which services are turned off at that threshold, such as email sync, WiFi and Bluetooth radios, brightness, screen timeout, and vibrate. I found the battery saver tool easily buys you a few extra hours.
Basics
Menus
The F60 runs Android 4.4.2 KitKat with LG's user experience plopped on top.
The lock screen is fairly adjustable. It supports LG's KnockOn and Knock Code for viewing notifications and unlocking the device, respectively. It includes normal security options (PIN, password, pattern) and you can opt to view a clock, or a clock along with some shortcuts.
There are five home screen panels active out of the box and three of them are crammed with MetroPCS widgets and shortcuts. As with all Android devices, however, you can strip these away and customize the home screens to your heart's content.
LG has long included a highly configurable app menu with its handsets. The default setting is a grid with several pre-filled folders of Google and MetroPCS' apps. You can set the icons to small or large sizes, and view them in alpha, custom, or downloaded order. I've always enjoyed LG's tools for hiding and uninstalling apps, which make it a breeze to rid your device of bloatware (or at least tuck it out of sight.)
The notification shade works pretty much the same as it does on other Android devices. The shortcuts and other controls can be adjusted to suit your tastes. The F60 ha LG's QSlide apps on board, but you can't access them from the notification shade as on other LG handsets; instead, you have to turn them on/off from within the supported apps directly (more on these later). The F60 doesn't include LG's Easy Mode for first-time users.
The settings menu is arranged as a single list. It includes a wide array of options for customizing the phone's behavior, such as a handful of fonts and font sizes, wallpapers, themes, ringtones, default apps, and so on.
Many entry-level handsets rely on Qualcomm's Snapdragon 400 processor and the F60 is no different in that respect. The 1.2 GHz quad-core engine is more than adequate to power the F60, which showed no signs of sluggishness or slowing down. All of the apps I installed on the phone ran smoothly and without trouble.
Calls and Contacts
The phone and contact apps are identical to those seen on most LG Android handsets released in the last year. The phone app offers a nice dialer in addition to tabbed access to call history, contacts, favorites, and groups along the top. In-call options include the ability to add a line, send to Bluetooth, hold, reject with message, or mute. You can also open the notepad and messaging apps. The F60 supports T-Mobile/MetroPCS' WiFi Calling service. I found the service worked well. Calls connected in a snap and sounded really good.
LG's contacts application lets users choose which account(s) it syncs with and/or displays, how contacts are arranged, and easily lump contacts together into groups. The F60 has several contact widgets for the home screen.
Both the phone and contact apps are available as QSlide mini-apps. There's a button in the phone dialer and a corresponding one on the contact screen to minimize the app, but leave it open and running on top of other apps. This means you can always have the phone controls or your contacts front and center while performing other tasks.
Messaging
The F60 offers only the most basic messaging tools expected from a modern smartphone. There is a generic messaging app for traditional SMS/MMS, as well as Google Hangouts, which incorporates live video chats and IM. The Google-made Gmail app is on board, as is the generic Google email app. Google+ is the only social network pre-installed. You'll have to download Facebook, Twitter, and any other third-party messaging apps on your own.
I like the latest version of Gmail, which lets you add your Yahoo, Exchange, Hotmail, AOL, or other email accounts. You can select either the stock messaging app or Hangouts for SMS. I think the stock app (default) is the easier to use of the two and it can be used as a QSlide app.
MetroPCS has a tool called "Block It" that applies to the phone and to messaging. It lets users easily sidestep calls and messages from old flings, telemarketers, and creepy stalkers.
Extras
Media
Aside from MetroMusic, there are no third-party music or video services on the F60; it's all Google Play. MetroMusic is best used for consuming ringtones and not music. I dislike the user interface, and other than today's Top 40, there's really no selection to speak of.
The Google Play Store and associated apps are all decent choices for purchasing/renting music, movies, TV shows, books, and magazines. Google has updated them consistently and the Material Design makeovers they each received in late 2014 are good. I've grown particularly fond of the Play Movies app, which is also capable of playing your sideloaded content. The stock YouTube app is also worth wasting time with.
As far as sharing is concerned, you've got Chromecast and DLNA. The DLNA client is clunky and I'd recommend sticking with Chromecast if at all possible (requires a $35 Chromecast dongle for your TV).
Camera
LG changed up the camera software a little bit when compared to some of the phones we saw from the Korean company last year. It does away with some of the heavy-handed menus and frames and leaves the UI open and airy. There's no physical camera button, but you can launch it from the lock screen or home screen.
Like most camera apps, the camera interface includes controls running down the left and right sides of the screen. Four quick action buttons appear on the left: flash, user-facing camera, modes, and menu. These buttons cannot be customized.
The F60 doesn't offer all that many shooting options. You can cycle the flash to on, off, or auto; you can shoot in normal or panorama modes; you can alter the resolution; and you can turn LG's cheesy "Say Cheese!" voice-controlled shutter on or off. There are no controls for exposure, white balance, color, or contrast, nor are there any fun extras like effects or filters.
The camera's best feature? It's fast. I found it extraordinarily quick to focus and snap photos. Many phones with the Snapdragon 400 have sluggish camera performance. The F60 appears to be an exception.
Photos
The F60 has a 5-megapixel sensor, which is about what a phone in this class deserves. It's a decent sensor and produced results that beat my expectations from an entry-level phone. I was generally pleased with exposure and white balance. Focus was somewhat soft and about half the shots were rather grainy. The flash has a really short effective range; it doesn't do much to improve shots taken in dark places. The F60's camera is (just barely) good enough for everyday shooting, but if you're serious about your pictures you need to have a real camera with you.
Video
You can score some above-average (for an entry-level phone) full HD video with the F60. The phone hit way above its weight with solid focus, exposure, and white balance. The video quality isn't going to bowl you over, but I was pleasantly surprised given the phone's minimal aspirations. I think most people will appreciate their results for what they are with the understanding that important events need real video gear.
Gallery
Like many of today's KitKat phones, the F60 has both the legacy gallery app and the newer Photos app. I recommend the newer Photos app. It offers a more solid set of editing tools than the older app and also has features such as Auto-Awesome and automatic uploads for safekeeping. Both apps have plenty of tools for sharing photos across a wide range of social networks and messaging platforms.
Apps
MetroPCS didn't put too much bloatware on the F60, which I appreciate. MetroPCS-branded apps include the AppStore, Metro BlockIt, Metro411, MetroMusic, MetroZone, MyMetro, Mobile Hotspot, and Visual Voicemail. There are several other extras, such as a weather app and ThinkFree Viewer. There is only about 3.25 GB of space for users to stick their own apps on the F60, so I'd recommend you make use of a memory card for storing images, videos, and other media.
Bluetooth
The F60's Bluetooth radio functions as intended and as expected. It supports the usual set of profiles for an Android smartphone and I didn't have any issues pairing it with and connecting it to other devices. Phone calls routed to my car's hands-free system sounded great, but without the aptX profile, music playback through a high-quality speaker was lacking.
Browser
Chrome and the generic Android browser are aboard the F60. These browsers each do a fine job of rendering web sites quickly and cleanly. I prefer the controls and features of Chrome to the generic app, but for basic web browsing either suffices. Speeds on MetroPCS' network (which is really the T-Mobile network) are solid, but not the quickest. I live right on the edge of T-Mobile's LTE coverage in the NYC region. As long as you have LTE or even HSPA+ you'll be in good shape. Browsing over EDGE, however, is worthless.
Clock
The F60 has a simple digital clock that adorns the lock screen. I could not find a way to alter its appearance. It's white, but big enough that it's visible indoors no matter what wallpaper you're using. I didn't have any issues reading it outdoors unless in direct sunlight.
GPS
The F60 comes with Google Maps, which works well with the phone's GPS radio. Maps is great software and it ran well on the F60. The GPS radio consistently located me in just a few seconds. Accuracy was about as good as 35-40 feet. It was great at point-to-point navigation as long as HSPA/LTE was available.
KnockOn
The F60 includes LG's KnockOn and KnockCode lock screen tools. With KnockOn, you tap the screen anywhere twice and it wakes up so you can see the lock screen. KnockOn is separate from whatever method you use to actually unlock the F60. KnockCode is similar to KnockOn, but adds a security code. You can set your own knocking pattern for locking the screen. I like both these features a lot, and they work perfectly on the F60.
QuickMemo
Like most LG devices, the F60 includes the QuickMemo app. QuickMemo lets users capture a screenshot and then open it in the Notebook app. The Notebook app lets you scribble on the screenshot with various pen styles and in various colors. You can add your own scrawled text, or insert actual typed messages, photos or videos, and send the file via email, MMS, or Google+.
Wrap-Up
At just $60, it's hard to beat the LG Optimus F60. This phone easily competes with others twice its cost.
The phone's design may be minimalistic, but the hardware is made from good materials and is assembled tightly. I was impressed with the quality of the low-resolution screen, and signal and call performance were both quite good. Battery life runs about average.
Android 4.4 KitKat and LG's user interface work well together. LG's UI isn't as heavy-handed as others and adds useful tools, such as QSlide apps and KnockOn/KnockCode. The low-end hardware means the F60 won't be a media powerhouse of any sort, but the camera's decent performance was a surprise.
Bargain hunters won't likely find a much better deal than the LG F60. It's a compact handset that exceeds expectations across the board.
No messages