BlackBerry Shows Off the QWERTY-Equipped Classic
Article Comments 12
Dec 17, 2014, 10:35 AM by Eric M. Zeman
updated Dec 17, 2014, 3:39 PM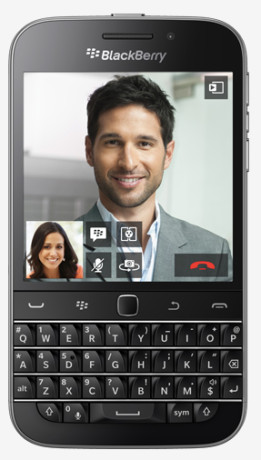 BlackBerry today officially launched the BlackBerry Classic smartphone. BlackBerry has been talking about the phone for the better part of six months, but fully revealed its feature set during an event in New York. The phone has a 3.5-inch touch screen with a 1:1 aspect ratio and 720 by 720 pixels. BackBerry made this device to appeal to its legacy customers, such as the finance sector, and brought back the physical QWERTY keyboard for composing messages. BlackBerry also resurrected its legacy control buttons, including an optical trackpad, and capacitive send/end and back/menu keys. The phone has an 8-megapixel camera with 1080p HD video capture and a 2-megaixel user-facing camera. The phone has a 1.5GHz Qualcomm processor with 2GB of RAM and 32GB of storage with support for microSD cards up to 128GB. The phone runs BlackBerry OS 10.3.1, which features the BlackBerry Hub. The BlackBerry Classic boasts 22 hours of battery life. Connectivity options include LTE, dual-band WiFi, Bluetooth 4.0, FM radio, NFC, as well as geo-location services. Blackberry is selling the Classic directly to consumers through Amazon.com and its web site for $449.
In similar news...
Motorola has announced plans to re-release the Razr flip and Nokia will be bringing back the 3595. 🤣 💩
Funny, I don't remember either of those phones having touch screens, app stores or any of the other smartphone features that have been common on Blackberries for years. The only throwback I see is your outdated trolling.
Those were really great phones!!! I still have a fully functional 3595 and 6010. Though only usable for calls only and the rare text and no data, you can not beat them for durability and reliability. Can not say much on that for modern phones though.