Sprint to Sell Nokia Lumia 635
Article Comments 4
Dec 16, 2014, 10:23 AM by Eric M. Zeman
updated Dec 30, 2014, 9:57 AM
Updated: Clarified language regarding camera.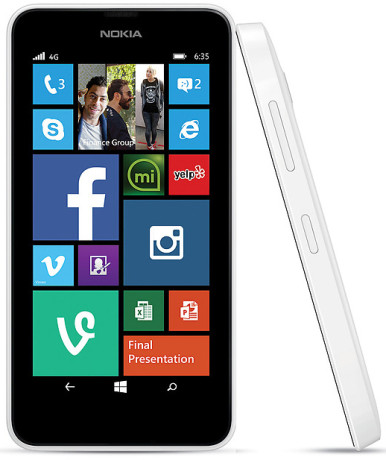 Sprint today said fans of Windows Phone will soon have the option to buy the Lumia 635 through several different Sprint brands. Boost Mobile and Virgin Mobile USA will begin selling the Lumia 635 online on Dec. 23 and in stores Jan. 9 for $99. Sprint postpaid customers will have a shot at the Lumia 635 starting on Jan. 16, though pricing for the postpaid version has yet to be determined. Sprint says the Lumia 635 is the first Windows Phone 8.1 handset to grace its retail shelves. Moreover, it's the first Lumia Windows Phone to be sold by Sprint's prepaid brands. Microsoft first announced the Lumia 635 in April. It features a ClearBlack 4.5-inch LCD screen, interchangeable back panels, 5-megapixel shooter, and Nokia's two camera apps. There is no user-facing camera. It is powered by a quad-core 1.2GHz Snapdragon 400 processor and includes 512MB of RAM, 8GB of internal storage, and support microSD cards up to 128GB.
CAMERAS?
This phone does not have dual cameras for any other carrier... Is this a typo, or did they make it special for CDMA??
I'm wondering the same thing.... I'm interested in trying something new with Sprint and this might be it if it does in fact have 2 cameras
The 635 has one 5-megapixel camera. It doesn't have a user-facing camera at all. Like most Lumia devices, it includes the Microsoft camera app and the Nokia camera app, which is what I meant when I said "dual-cameras." Apologies for the confusion. The...
(continues)