Nokia Intros the Lumia 630 and 635
Article Comments 5
Apr 2, 2014, 1:04 PM by Eric M. Zeman
updated Apr 2, 2014, 1:19 PM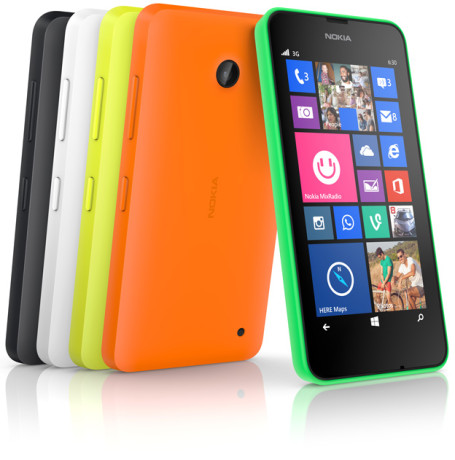 Nokia today announced two new entry-level Windows Phones. They share most features, including a ClearBlack 4.5-inch LCD screen, interchangeable back panels, dual-camera with 5-megapixel main shooter, and Nokia apps. These new Lumias are powered by a quad-core 1.2GHz Snapdragon 400 processor and include 512MB of RAM, 8GB of internal storage, and support microSD cards up to 128GB. The Lumia 630 is a 3G device with single-/dual-SIM capabilities, and the 635 is an LTE single-sim device. The devices will be the very first to ship with Windows Phone 8.1, and are expected to go on sale in May. The 635 will hit U.S. carriers in July for $189.
Fantastic deal
Wow. These phones look like a bargain! First Motorola with their Moto G and now this. I really hope that this develops into a trend where we will be seeing inexpensive but still feature rich phones.

If I didn't already buy a Moto G I'd be pretty interested. I may just end up buying this anyways!
I mean with carriers going away with subsidized prices, phone makers are having to be more creative and give more for it. So I am glad they are moving with the trend to make phones more affordable
Does Anyone Else...
See the resemblence these may or may not have to the iPhone 5C? I'm not saying they are exactly alike, but alike enough that it made me stop for a second and do a double take.
A little similar, The edges look a little sharper to me on this though, giving it a more 'boxy' look. Also, keep in mind that Nokia was in the colorful polycarbonate game before Apple was. When Apple announced the iPhone 5C, Apple responded with a pic...
(continues)