Review: Motorola Droid Turbo for Verizon Wireless
Article Comments 1
Nov 3, 2014, 8:30 AM by Eric M. Zeman @phonescooper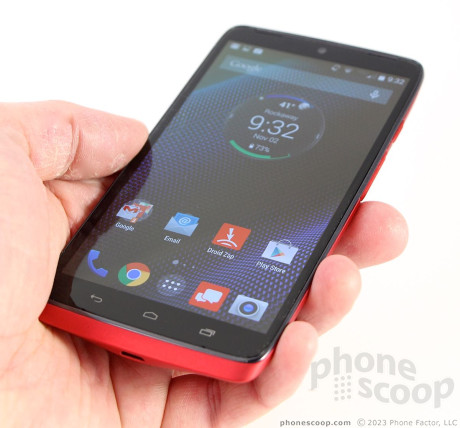 Motorola is back in the game with the Droid Turbo, its flagship Android smartphone for Verizon Wireless. The Turbo is a worthy addition to the storied line of Verizon Droids, despite a few flaws. Here is Phone Scoop's full report.
AD article continues below...
Form
Is It Your Type?
The Motorola Droid Turbo is for one class of user: Those who demand the absolute best battery life. With a 3,900 mAh power source buried inside, the Droid Turbo outlasts most other devices on the market. It doesn't hurt that it's rather attractive and comes with some compelling Motorola extras. If battery life is your bane, then the Droid Turbo just might be your boon.
Body
I think it's fair to say the Droid Turbo is a souped-up Moto X with more conservative design language. The Turbo has an entirely different outer appearance when compared to the Moto X (and Nexus 6.) It loses the aluminum frame and customizable rear shells of the X, for example. Instead, the glass front is framed in polycarbonate and the edges and back surface are made from either metalized carbon fiber or ballistic nylon. Pick your poison. The nylon is fractionally thicker and heavier, but honestly only a scale and set of calipers can tell the difference. The texture and appearance are different between the two materials. The Turbo is available in either black or red.
It has a clean, modern look to it. I like the juxtaposition between the glossy front and the matte back surface. The phone has a bit of a wedge shape to it; it's thicker at the top than at the bottom. The bottom (which Motorola calls the "chin") almost comes to a point. Were it not for the microUSB port, it probably would. The back surface is gently curved towards the side edges. The shape makes it comfortable to hold and use. It slips into pockets with ease. Thanks to the 5.2-inch screen, the Turbo may be too big for some people. Motorola did what it could to minimize the bezels surrounding the screen, which helps keep the footprint from being monstrous. The build quality and materials are quite good.
The front surface is all black on both models. There's a small lip running around the outer edge of the screen. It's subtle enough that you can hardly tell it's there. The Turbo uses three capacitive keys for controlling the operating system. I found them to work well. I like that the haptic feedback is optional. There's an odd notch carved out of the top of the glass panel to make room for the earpiece. It abuts the polycarbonate frame and leaves two obvious gaps that I don't care for all that much.
Only two buttons adorn the side edges: the lock screen button and volume toggle. Both are located on the right. The screen lock button is set fairly close to the top of the phone. It has an excellent profile, so I had no trouble finding it. Travel and feedback weren't all that satisfying. Like last year's Droids, the Turbo combines the volume toggle and SIM card tray. The idea may be clever in theory, but it's a disaster in practice. The volume toggle has a narrow profile that makes it hard to find. It's impossible to tell the up from the down, and neither directional provides good feedback. If you want to remove the SIM card, you have to really dig your fingernail into the bottom edge of the button. The entire button and SIM tray assembly eventually slide out. I think Motorola could have executed this design better.
You'll find the stereo headset jack on top and the micro-USB port on the bottom. The camera module and Motorola logo are in their customary positions near the top on the back surface.
Some users may be disappointed to learn that the battery is sealed inside. Like many of today's phones, Motorola chose to prioritize the design over functionality. That said, few can complain about the size of the Turbo's battery, which is a whopping 3,900 mAh. It's 59% bigger than the Moto X's battery, and is rated for 48 hours of use.
In all, there's nothing objectionable about the Droid Turbo's hardware except for perhaps the SIM card tray.
Performance
Screen
The Turbo's 5.2-inch screen has 2560 x 1440 pixels filling out the height and width. That's quad-HD resolution, and a big step up from the Moto X's 1080p HD 5.2-inch screen. Motorola stuck with AMOLED technology for the panel and it looks fantastic. It is sharp, bright, and colorful. Viewing angles are excellent; there's no change in color or brightness when the phone is tilted side-to-side. I didn't have any trouble using the device outside at all. It's a good screen, befitting of a flagship, and it puts the hurt on some competitive models, such as the HTC One (M8).
Signal
The Droid Turbo performed perfectly on Big Red's network, just as I expected it to. The phone easily found Verizon's LTE signal and remained connected throughout my review period. I was able to surf the web and make calls throughout New York City and northern NJ without issue. It did well in historically weak coverage areas, and never once dropped a call. Data speeds were best in strong coverage regions, but still good under the worst conditions. Motorola's radio prowess remains intact.
Sound
The Droid Turbo did an inferior job with call quality compared to the Moto X. Calls experienced on the Turbo were clear and voices sounded excellent, but the earpiece is simply not loud enough. I was able to maintain conversations in my quiet office or in a parked car, but noisy coffee shops had me running outside in order to hear my friends. Noise cancellation helped with quality on the other end of calls, where my friends and family most often said I sounded loud and clear. The speakerphone is much louder, and delivers equally good quality. I easily heard calls in a busy coffee shop and a moving car. Ringtones and alerts were respectably loud, and the vibrate alert had no trouble catching my attention even when the phone was in my backpack.
Battery
I can't think of many devices that have a battery larger than the Droid Turbo's 3,900 mAh power source. Motorola claims it delivers 48 hours of battery life and it comes close to that promise. The Turbo consistently lasted from 8AM one day until about 2PM the next day. That's a lot more than most other smartphones can say. It means you can get through an entire day with plenty of power to spare. Most nights the Turbo still had 40 or 50% battery left at Midnight after a full day of testing. You'll rarely ever have to worry about running out of juice in a single day.
Basics
Menus
Like most of Motorola's devices, the Turbo has a relatively clean version of Android on board. The device ships with KitKat, but will be updated to Lollipop in relatively short order after its release. The phone comes with Motorola's suite of apps, which add considerable utility to the device.
The lock screen uses Motorola's Active Display tool. Active Display brings the clock and notifications to the screen (when it is locked and off) without turning on the whole display. Instead, it only shows the time and select icons in white on a black screen. You don't have to push any buttons to check the time or see if you have any new emails. If the Turbo is sitting on a desk, it will automatically light up the Active Display when a new email or message arrives. It will then pulse on and off with that notification until dismissed. Active Display will turn on when you nudge the Turbo, when you turn it over, when you pull it out of your pocket or bag, when you shake it, and pretty much any time you move the phone. It will also turn on if you wave your hand over the phone or even simply reach for it. It's really, really useful and works whether or not you have a password.
The rest of the menus operate exactly as they do on any KitKat phone. There are three home screens active out of the box, and of course Verizon littered them with widgets and shortcuts. Thankfully, it only takes a few moments to customize the panels to suit your own needs. The app menu is laid out in a clean grid. Apps are listed alphabetically, but you can drop them into folders if you want. There's no list view.
The settings menu is the same old white-text-on-black-screen we've seen from Android since Ice Cream Sandwich. It is simple and straight-forward to use. Similarly, the notification shade is devoid of fancy extras. Instead, it offers only access to notifications (swipe with one finger) and access to the control panel (swipe with two fingers).
The Turbo skips the Snapdragon 801 processor found in the Moto X and uses the Snapdragon 805 instead. This is a big deal. The 805 is the most advanced processor available from Qualcomm and it absolutely screams inside the Droid Turbo. This 2.7 GHz quad-core beast can tackle all of your processing needs. The Turbo showed no signs of lag and none of the apps crashed.
Calls and Contacts
All the core communications tools aboard the Droid Turbo are the stock Android apps from Google. The phone app, which is located in the dock at the bottom of the home screen panels, opens in a jiffy. The call log, dialer, and contacts are sorted into tabs. You swipe sideways to switch between them. Google assumes most people will initiate calls from their contacts or favorites list, rather than actually dial numbers, so the dialer's importance is downplayed.
The contact app can pull in contacts from myriad sources, including Google, Yahoo, and Microsoft/Exchange. Contact details can also be pulled from your social media accounts (Facebook/Twitter) to help flesh out contact cards. The contact app lets you put direct dial/message shortcuts on the home screen if you wish, but there isn't a larger home-screen widget for contacts.
Messaging
The Droid Turbo comes with Gmail, email, messaging, Hangouts, and Google+.
Verizon Message+ is set as the default messaging application and it handles SMS/MMS. Verizon Message+ offers access to some extras. For example, it includes its own set of animated emoticons and can be used to create a postcard, to record a voice message, or to send your location via Glympse.
If you don't like Verizon Message+, you can set either the plain messaging app or the Hangouts app to handle SMS/MMS functionality. Google recently updated Hangouts to include some Google Voice messaging functions. The latest version is a bit sloppy and confusing. (It's not as intuitive as it used to be. Google can do better.)
There are no social networks preinstalled, so you have to snag Facebook and Twitter on your own.
Moto Apps
Motorola's homegrown apps are some of the most useful out there. Here's a quick rundown on what each offers.
Moto Voice
To activate Moto Voice, you can set your own catchphrase to open the app. Be creative, choose anything you want. You're no longer limited to "OK, Google."
Once the app is open, you can command the phone to do anything. For example, with the Turbo sitting on my desk, I can say, "Call Mom's cell phone," and that's what the Turbo will do. I don't have to touch anything else. The device provides visual feedback on the screen telling you what it is doing, and will speak that feedback, too, if you want it to. Making phone calls is the only task Moto Voice can perform if you've locked the Droid Turbo with a code. If you say, "Who won the World Series game last night?" you'll have to unlock the Turbo before it will give you the search result.
You can also use several new commands, such as "Good Night" to put the Turbo into sleep mode, or "Good Morning" to wake it up. When you wake the Turbo, it will show you a summary of your daily schedule, which is rather helpful. Moto Voice now also works with several more apps, including Facebook, YouTube, and WhatsApp. This means you can command those three new apps to do select things.
Moto Assist
Moto Assist is no longer a stand-alone app and has been added to Moto Voice. You can find it buried in the settings menu (it's not really that obvious). Because it is integrated with Moto Voice, however, you're able to use voice commands to initiate it. It automatically detects when you're driving, and can be set to enter sleep mode on a set schedule, if you wish. You can also allow select contacts to break through sleep mode. It's a useful tool, but I wish Motorola hadn't buried it so deeply in Moto Voice.
Moto Connect
Then there's Moto Connect, which is meant to help you manage devices and view/respond to messages from other machines. For example, a Chrome plugin allows you to read and respond to text messages from the browser of your computer. You can also see messages sent to tablets and so on. It's dead simple to use and functions well.
Migrate
Moto Migrate is meant to help you transfer all your content from one device to another. It works with media, call and text history, as well as SIM contacts. The tool makes use of a QR code scanner to pair the two devices and then uses Google's servers to migrate the data between the phones. It makes it pretty easy to send data to another device. This functionality now also works with feature phones and can be used to transfer contacts through a Bluetooth connection.
Extras
Media
The Droid Turbo ships with the core Google Play apps for content consumption. Almost all of them have been updated in recent weeks ahead of Android 5.0's arrival. Most of the changes are cosmetic, but there are a handful of neat new features, such as the ability to view info cards on your smartphone while casting Play Videos to your TV. Similarly, the Play Books app now better supports college textbooks and other non-fiction works, and Play Music has far better radio stations and recommended artists. If you've ignored these apps in favor of alternatives, I highly suggest you give them another whirl.
Verizon put a handful of its own media apps on board. If you're a football fan, the NFL Mobile app is actually quite good. It includes scores, highlights, commentary, and plenty of personalization so you can follow your favorite teams. Verizon didn't stop there. Amazon's Kindle, Music, and App stores are all present, as is Slacker Radio. Let's not forget Audible. This is the standard suite of apps Verizon has loaded on nearly all its phones this year.
Camera
The Turbo's camera app is exactly the same Motorola used on the second-gen Moto X and Moto G. In keeping with the Google ethos, it's minimalistic almost to a fault.
The camera can be set to launch with a gesture rather than pushing any buttons. The gesture requires you to hold the phone horizontally and shake your wrist twice (like you're turning a doorknob). The Turbo will buzz to let you know the camera is opening. I like this feature. It's really easy to pull the phone out of your pocket and shake it quickly to launch the camera. You don't have to look at the device at all.
The camera user interface initially has only two visible buttons: one for the video camera and another for the user-facing camera. The other controls can only be accessed by swiping from the left side of the viewfinder towards the center to summon a wheel of options. The Droid Turbo includes HDR (which can be set to come on automatically) and panorama shooting modes. Those are the only shooting modes, though there is a third function that allows you to set focus and exposure manually. The control dial lets you make a few other adjustments, such as turn on/of location tags, shutter noise, and the flash, or change the resolution for both images and video.
Zooming in and out is accomplished by dragging your finger up or down the screen, and the gallery appears if you swipe to the left from the right side of the screen. The Turbo can always shoot in burst mode if you hold down the shutter button with your thumb.
The Turbo's camera software lacks advanced functions. For example, you can't adjust scenes, ISO, brightness, or white balance. Some users may enjoy the simplicity, but certainly others will miss having more control.
Photos
The Droid Turbo has a 21-megapixel sensor that falls in line with the performance I saw on the Moto X. That means it's a good camera, but not a great one. Focus, white balance, and exposure were generally good. I consistently obtained the best results when outdoors where there was plenty of light. If you're indoors, I suggest you use the flash as often as possible. The overall quality is about as good as I've seen from a Motorola phone, but it still falls a little short of results from competing phones such as the Galaxy S5 or iPhone 6. That said, I think most people will be able to rely on the Droid Turbo to replace their point-and-shoot camera.
Video
You can opt to shoot video in 4K, 1080p HD, or 720p Slo-Mo with the Turbo. As I've said about other phones with 4K capture, the 4K option isn't worth using unless you have the ability to play it back on a 4K monitor or TV set. However, thanks to the quad HD display, I can say that the little bit of 4K footage I shot was sharper than the 1080p footage when viewed directly on the Turbo.
The 1080p footage looks great. I thought white balance, focus, and exposure were all excellent, especially when outdoors. You can use the flash to help in low-light situations, but it wrecks the white balance. The slow-motion mode works, but not as well as on competing devices. Most people should be happy with the bulk of their results, but if you're serious about the best video quality, there are better options.
Gallery
Motorola didn't do anything unique with the Turbo's photo management tools.
The Droid Turbo offers both the stock Android gallery app and Google's Photo+ app. The stock gallery app is the same one that comes with most Android devices. It's acceptable for managing photo albums and sharing photos with social networks. It also has a some simple editing features, such as crop, rotate, red-eye reduction, and filters that help correct color, exposure, and other issues.
The Photo+ app has a more generous set of editing functions, and can be used to back-up and interact with your photos on Google+.
Apps
The Droid Turbo for Verizon has more than its fair share of bloatware, which is really annoying. It has the Caller Name ID, Verizon Cloud, MyVerizon, Verizon Message+, NFL Mobile, VZNavigator, and VZ Protect apps from Verizon. The rest is stock Google or Motorola.
Bluetooth
The Turbo's Bluetooth radio didn't give me any trouble. It easily connected to a variety of other devices, such as headsets, speakers, my car, and PCs. I used the Turbo with my car's hands-free system and was pleased with the performance. Using Bluetooth resolved the volume issue and clarity of calls was excellent. The phone doesn't support the high-quality aptX profile for stereo playback, but I thought music still sounded very good when I used it with my favorite headphones.
Browser
Chrome is the only browser installed on the Droid Turbo out of the box. The latest version of Chrome has been optimized for the Android L release and uses the new material design language. It's a bit of a change from the previous version visually, but should be easy enough for most people to figure out without issue. It was very quick to deliver web pages over Verizon's LTE 4G network. Browsing speeds were generally excellent and both mobile-optimized and full-sized web sites work great. Web sites look fantastic on the Turbo's quad-HD screen.
Clock
Thanks to the Active Display feature, there's almost always a clock visible on the Droid Turbo, even when the phone is idle. It could be a little bigger/brighter, but it can be read in most environments other than under direct sunlight.
GPS
The Droid Turbo offers both Google Maps and VZNavigator for your navigation needs. As always, Google Maps is free and VZNavigator requires a nominal monthly fee. Google Maps is quite good. Both interact with the Turbo's GPS radio perfectly. The device was always quick to pinpoint my location no matter where I was, and accuracy was good to about 25 feet or so. Google Maps is an excellent tool for searching for nearby points of interest, but VZNavigator is slightly better at handling turn-by-turn directions.
Droid Zap
This is the one genuinely new feature created by Motorola for the Droid Turbo. It's an app for sharing photos with those around you, but it doesn't rely on standard sharing tools, such as WiFi Direct, Bluetooth, or DLNA. Instead, it's a cloud-based tool. You have to sign into Droid Zap ahead of time to use it. The software uses your Google account to create an online profile. When you want to share photos, you open Zap, select the photos you want to share, and literally push them off the phone's screen. Zap is location-based, so it will find all the phones near you and send them a link to the photos. The location is limited to about 50 feet or so, so you *really* have to be close to the people. You can choose to protect the shared photos with a PIN code that you give to people, or leave it open to anyone. I found that it worked most of the time, but it's way too involved of a process. Furthermore, it's far too easy to share photos with people you don't intend to.
Wrap-Up
The Droid Turbo isn't perfect, but it's one of Motorola's finest efforts. It outclasses the Moto X in overall performance, though the X has a bit more personality. The Nexus 6 is similar to the Turbo as far as specs go, but is much bigger and borrows the X's design language.
Highlights of the Turbo include the great quad-HD screen, network performance, and of course the killer battery life. After using the phone for five days, I found it nearly impossible to kill the battery in a single day. It often lasts 1.5 days or longer. The design is modern, sleek, and fitting of Motorola's Droid family name.
Motorola's additions to the stock Android operating system are tasteful and helpful. Active Display and Moto Voice are two of the best tools created by any Android phone maker and really help when it comes to managing certain tasks. It's worth noting that the Droid Turbo should be among the first devices to receive Android 5.0 Lollipop.
The Snapdragon 805 processor is a monster that delivers all the performance a smartphone owner could ever hope for. I was hoping for a bit more from the 21-megapixel camera, but it gets the job done most of the time.
Would I recommend the Motorola Droid Turbo? If battery life is your number one concern, then there's no other device to consider. Few phones best it in battery life. Beyond the battery life, the Droid Turbo competes well with other flagship smartphones sold by Verizon and is well worth your money.
Great review!
I just wish the camera was a little bit better to. But, oh well.