Motorola Droid Turbo Boasts 48-Hour Battery Life
Article Comments 2
Oct 28, 2014, 11:00 AM by Eric M. Zeman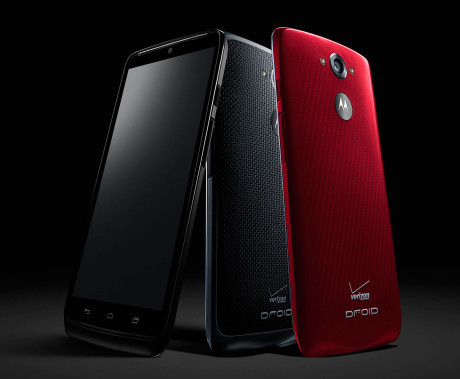 Motorola and Verizon Wireless today announced the Droid Turbo, a high-end handset that claims to offer two days of battery life. The Droid Turbo's design is in keeping with Droids past and comes in several finishes, including metallic fiber and ballistic nylon. Motorola says the Droid Turbo is tough enough for everyday abuse, though it is not ruggedized. The innards are protected by a water-repellent coating. The Droid Turbo has a 5.2-inch AMOLED quad HD display (2560 x 1440 pixels) that's protected by Corning Gorilla Glass 3. It is powered by a 2.7GHz quad-core Snapdragon 805 processor with an Adreno 420 GPU, natural language processor, and contextual computing processor. It has 3GB of RAM. The phone features a 21-megapixel main camera with an f/2.0 aperture, dual LED flash, and auto HDR. It can capture 4K video and slow-motion in 720p HD. The user-facing camera captures 2 megapixels and 1080p HD video. The battery measures 3,900mAh and supports Turbo Charge technology (developed by Qualcomm). It can deliver 8 hours of up-time after being charged for just 15 minutes. The device supports Verizon's LTE 4G network and includes Bluetooth 4.0 Low Energy, dual-band Wi-Fi, GPS, and a handful of internal sensors. The Droid Turbo runs Android 4.4.4 KitKat (upgradable to Android 5.0 Lollipop) with Motorola's unique features on board, such as Active Display, Voice, and Droid Zap for sharing content with nearby devices. The Motorola Droid Turbo will be available October 30. The 32GB model costs $199 with a contract or $25 per month with Verizon Edge, while the 64GB model costs $249 with a contract or $27 per month with Verizon Edge. For a limited time, Verizon is offering all Droid Turbo customers a minimum of $100 for trade-ins, no activation fees, and early access to the Verizon Edge program. Last, Verizon says any customer who breaks the screen of their Droid Turbo during the first year of ownership will receive one free screen replacement.
source: Verizon Wireless / Motorola
d@mn
I wish I can put BB10 in that hardware!!!
Way to go, MOTO!
BIG Jump from Moto.