LG Shows Off Its First Mobile Processor, Dubbed 'Nuclun'
Article Comments 1
Oct 24, 2014, 6:29 AM by Eric M. Zeman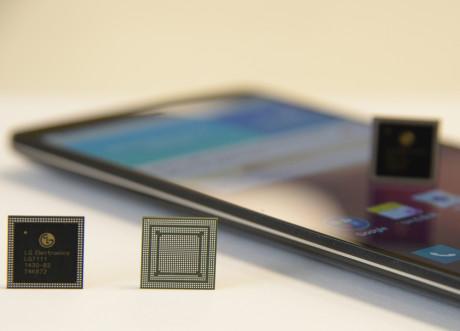 LG today announced the Nuclun, its first application processor for smartphones and tablets. The Nuclun is an eight-core chip with two banks of four cores each. It uses ARM's big.LITTLE configuration with four 1.5GHz Cortex A15s for heavy lifting and four 1.2GHz Cortex A7s for power sipping. The Nuclun supports LTE Cat. 6, which boasts theoretical download speeds of up to 225Mbps. In order to properly showcase the Nuclun's capabilities, LG also revealed the G3 Screen, the first smartphone to rely on the Nuclun as its engine. The G3 Screen borrows its design language from the G3, but increases the size of the screen to 5.9 inches while downgrading the resolution to 1080p HD. The G3 Screen has 2GB of RAM, 32GB of storage, and supports microSD cards. The main camera captures 13.1 megapixels and includes optical image stabilization, while the user-facing camera captures 2.1 megapixels. The GS3 Screen has a 3,000mAh battery and runs Android 4.4 KitKat. LG didn't say when or where the G3 Screen will be sold.
Typo
>>The GS3 Screen has a 3,000mAh battery

I think you mean, "The G3 Screen."