Review: Sony Xperia Z3v for Verizon Wireless
Article Comments 5
Oct 23, 2014, 8:00 AM by Eric M. Zeman @zeman_e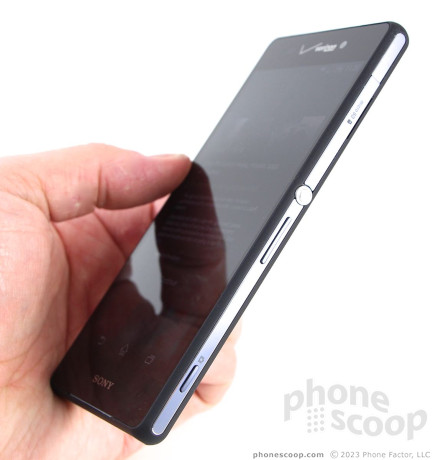 Verizon Wireless scored one of Sony's finest efforts in the Xperia Z3v. Sony's flagship Android smartphone generally impresses, despite a few flaws. Read Phone Scoop's in-depth review to find out if it is the phone for you.
AD article continues below...
Form
Is It Your Type?
The Xperia Z3v is a fine effort from Sony. The device, based on the Z3, is one of the most powerful to skip across the Pacific to the U.S. The Xperia Z3v is perhaps best viewed as an accessory to Sony's PlayStation empire. If you're a hardcore gamer who's invested in Sony's ecosystem, the Z3v is a natural choice.
Body
Sony first announced the Z3 in September in Berlin during the IFA trade show. Those of you who read my hands-on with the phone may remember my initial feelings about the phone. I heaped praise on the phone's design. I was especially pleased with the rounded corners and edges, which helped give the phone a smooth profile that felt great in the hand. Well, Verizon didn't share my enthusiasm for the design of the Z3 and apparently asked Sony to change it. This is a rotten shame.
The Z3 represents several years' worth of design evolution from Sony, including the Z1, Z1s, and Z2. Each relied on what Sony calls its Omnibalance Design language, which means glass panels on front and back, a distinct, round screen lock button on the side, and a minimalist look. Every device before the Z3 had rather sharp sides and angles that made them less comfortable to hold. The Z3 solved this in a great way. Verizon may have asked Sony to roll back the clock, as the Z3v ditches those smooth, rounded sides in favor of sharp, edgy sides that are unpleasant against the skin. Why Verizon and Sony would do such a thing, I'll never know or understand. It effectively maims the great leap in hand-feel Sony made with the global Z3. Sigh.
That said, the Z3v isn't ugly, nor is it dysfunctional. In fact, it looks rather good. I've always liked the dual glass panel arrangement of the Xperia Z series. The glass feels amazing under your thumbs. The Z3v also carries over the Z3's biggest advancement: slimmer bezels. One of the defining features of the Z series — for good or ill — was over-sized bezels that significantly increased the overall footprint of the phone. The Z3v dials the bezels way down to help reduce the phone's size. The pure black front and back panels are offset by chrome-colored inserts in the frame along the sides. (The Z3v is also available in white.) It's a classy phone, of that there's no doubt.
The Z3v is still rather large. It's bigger than the iPhone 6, Galaxy S5, and One (M8). I am just barely able to use it with one hand. My thumb reaches the upper corners, but I have to stretch a little. To be fair, the others have slightly smaller screens. The Z3v's measures 5.2 inches, while the others measure 4.7-, 5.1- and 5.0-inches, respectively, for the iPhone 6, GS5, and M8. The materials are and construction are top-notch, probably on par with HTC. The frame sandwiched between the glass panels extends a bit above both, forming a lip that I dislike. I understand it serves to protect the glass, but I'd rather have an entirely smooth device. The Z3v will fit into most pockets, but the size and weight will remind you that it's there.
The front is entirely absent of buttons or controls. Only the Verizon and Sony logos are visible when the screen is off. The device uses on-screen controls to manage the Android operating system.
Most of the Z3v's ports and slots are hidden from view thanks to hatches. The USB port and memory card slot are both on the left edge of the phone, though they're invisible because the hatches blend in so well. Each hatch has a notch for your thumbnail and is easy enough to pry open. I dislike hatches over USB ports because it means you have to interact with them every time you charge your phone. There's a single hatch on the right side covering the SIM card slot. The stereo headphone jack on top doesn't need a hatch. Why all the hatches? Well, the Z3v is waterproof, but only if the hatches are sealed up tight.
As far as buttons go, the volume toggle, screen lock button, and camera button are all placed on the right edge of the phone. Sony has long used an over-sized, round button for the screen lock. It's chrome colored and has a great profile; it's incredibly easy to find and use. The volume toggle is below it. It's a thin dash that's too short. Travel and feedback are pretty bad. The two-stage camera button, conversely, offers excellent travel and feedback. Both stages are clearly defined, making it a nice option to use when taking photos.
There's no accessing the Z3v's battery. The glass panel that forms the rear surface cannot be pried from the frame. The Z3v does offer one feature the Z3 doesn't: wireless charging. It supports the Qi standard, so it'll charge when placed on any Qi charging pad.
In sum, the Z3v is a (mostly) great piece of hardware, but I wish Verizon was offering the better Z3 design.
Performance
Screen
The Z3v's screen measures 5.2 inches and includes 1920 x 1080 pixels. In other words, it matches the size and resolution of many competing models' screens. Sony enjoys heaping tons of technology buzzwords into its display marketing materials (Bravia, TriLuminos, X-Reality, etc.). What you need to worry about is how it looks. The Z3v's display is the finest ever from Sony. It is the brightest, sharpest, most colorful panel I've seen on an Xperia device. It compares well to screens on devices such as the GS5 and One (M8). It simply looks great. Viewing angles are excellent, and I had no trouble using it outdoors.
If you're not down with the out-of-the-box appearance of the screen, the Z3v allows for some adjustment. For example, the X-Reality engine is on by default. You can turn it off. You can also elect Super-Vivid Mode, which makes colors stand out even more. The screen also has a glove mode for use with gloves. It even allows you to adjust the white balance to set the temperature of the display. Few other phones can claim to have such controls.
Signal
The Z3v performed flawlessly on Verizon's network in and around New York City. It remained on LTE 4G throughout my time with the phone, and never dropped to EVDO or (gasp!) 1X. Voice calls connected on the first dial each time without fail, and the phone never dropped a call mid-conversation. LTE speeds were quite quick no matter what the signal conditions. I was able to stream YouTube videos and download apps with no problem everywhere I took the Z3v. Sony nailed the signal performance.
Sound
Voice quality was also quite good. Not only were the majority of calls crystal clear, but they were loud enough to be heard in most environments. I was pleased with calls across the board, and those with whom I spoke said I sounded very good. You can set the volume at about 60% most of the time; ramping it all the way up will help overcome the noisiest spaces. Call quality through the speakerphone was also good, but volume dropped significantly. It's just loud enough to be audible in your house, quiet office, or a stationary car. If you're outdoors, in a raucous work environment, or in a speeding vehicle, forget it. Ringers and alert tones were generally loud enough to get my attention, and the vibrate alert is decent, too.
Battery
The Z3v did very well as far as battery life is concerned. It consistently lasted from morning to night with no trouble. I generally kept the Wi-Fi, Bluetooth, and GPS radios on, and used the phone each day for listening to music, watching videos, and a whole lotta social networking. The video camera was the only app that drained the battery in any noticeable way. Like other Sony smartphones, the Z3v offers several tools to help manage battery life, too. For example, it includes Sony's Stamina Mode, which turns off the data radio whenever the screen is off. There's also a Low Battery mode that automatically turns off a customizable set of features (such as brightness, vibrate, Wi-Fi, GPS, Bluetooth, sync, mobile data) when the battery drops below 30%. The controls don't necessarily offset the lack of removable battery, but can help extend battery life to the end of the day if you run into trouble.
Basics
Menus
The Sony Xperia Z3v ships with Android 4.4 KitKat and Sony's user interface customizations. If you've used any Xperia- or PlayStation-branded device in the last year, you'll feel right at home.
There's only one shortcut on the lockscreen and it's for the camera. The camera will open from the lock screen whether or not you have a passcode. The lock screen itself can't be customized at all.
There are five home screen panels available for customization. I like that the main app menu lets you view apps alphabetically, by most recently used, by the order in which they were downloaded, as well as user-arranged order. The Z3v carries over the tool that lets owners manage the app menu (a control tray that slides out from the left side of the screen.) It's also fairly easy to hide or uninstall apps from the main app menu.
The settings tools function just as on other Android devices, as does the notification tray, though Sony has given them its own look and feel. Sony substituted the white-on-black design of the settings menu with a black-on white background and its own style of buttons and controls. Similarly, the notification tray lets you easily toggle between alerts and quick controls with an easy-to-decipher tool at the top of the screen.
The Z3v also carries over Sony's Xperia Small Apps. When you press the multitasking button, a little strip of apps appears along the bottom of the screen. The Xperia Small Apps include a calculator, note app, clock app, and voice memo app. These aren't shortcuts to full-fledged apps; they are miniature apps that pop up as a small window and remain open on top of any other apps you're using until you close them. The Small Apps can only be launched from the multitasking screen. They can be useful, but I wish you could adjust the transparency of these tools like you can with LG's similar QSlide feature.
The Z3v has a quad-core 2.5 GHz Qualcomm Snapdragon 801 processor. It's an incredibly powerful processor and it makes mince meat of any task you might assign to it. It chewed through every app, multitasked with ease, and sped through app installs. It's a great processor and Sony's hardware takes full advantage of it.
Calls and Contacts
Sony's phone and contact applications haven't changed much this year. The basic screen includes a dialpad and tabs across the top for access to your contacts and call history. The phone app has the expected features such as mute, hold, speakerphone, and add a line. It's simple to use. The contacts app syncs flawlessly with your Google, Exchange, and Facebook contact databases. There are only a couple of widgets and shortcuts for adding contacts to the home screen. Really, the phone and contact apps are one and the same. The only difference is which tab you see when open the app.
Messaging
The Z3v has the standard set of Android communications tools, including Gmail, email, Google+, and Hangouts. These apps function just as they do on other devices. The Hangouts app ties into Google+ for video chats, IM, SMS/MMS, and Google Voice for voice calls.
Verizon Message+ is aboard, as well. This app has appeared on most Verizon handsets this year and is set as the default messaging app on the Z3v. Verizon Message+ offers access to several extras. For example, it includes its own set of animated emoticons. The app can be used to create a postcard, as well as to record a voice message or send your location via Glympse.
Sony's SocialLife app is absent, as are Facebook and Twitter.
Extras
Media
The Xperia Z3v is a media powerhouse. It offers an insane number of ways to consume content. As you can guess, the Google Play Store and its selection of books, magazines, music, and movies is on board. These are the same apps found on most Android devices. They work well.
Sony uses its own Walkman and video player apps for sideloaded content. The Sony Walkman app is a feature-rich music player and surpasses the Google Play Music app in terms of usability and features. I like the way it arranges playlists and albums, and it has a nice visual look and feel. It has a great equalizer for customizing the sound. The video player is similarly good.
The Xperia Z3v also includes Sony Videos Unlimited. The Videos Unlimited service offers movie rentals. Pricing for the rentals varies by title. It's run by the Sony Entertainment Network. You need to use your existing PlayStation account in order to use it.
If all these aren't enough, take heart; Verizon stuffed Amazon Music, Amazon Kindle, Audible, Kobo (for reading books), NFL Mobile, and Slacker Radio onto the Z3v. I'd trade all of these for an FM radio.
Sony did give the Z3v a handful of compelling sound optimization tools, but they come with caveats. For example, there's ClearAudio+. You can turn it on or turn it off. I have no idea what it does, but if you turn it on, it negates any sound effects you may have customized. The dynamic normalizer balances out volume peaks and valleys in music and videos. The Z3v also supports high-resolution audio, but you need to use USB and connect to a freaking digital-to-audio headphone amplifier. I hardly know anyone — even audiophiles — who uses a DAC headphone amplifier. Last, you can actually tell the Z3v what type of Sony headphones you have (assuming you have Sony headphones.) This ostensibly customizes the sound further to compensate for whichever pair of Sony headphones you happen to be using.
Last, the Z3v has its own stereo speakers, which makes watching video more enjoyable when you don't have a pair of good headphones laying about. I thought the stereo sound was quite good.
Camera
The Z3v's camera app is more or less carried over from the Z1s and Z2. It's a solid piece of software that I find works well. One of its best features? You can wake it with a long press of the dedicated camera button. This is by far the fastest way to launch the camera, and it takes under 2 seconds. You can set the feature to launch and fire a shot, or launch and start recording video, if you wish. Cool.
On the screen, the main buttons (camera, video camera, modes) are all on the right, while buttons for the flash, user-facing camera and settings are all on the left.
The default shooting mode is called Superior Auto. It's good at detecting various types of scenes and then adjusting the settings to match what you're looking at. Basically what this means is that it can switch between macro photography (shooting close-ups), HDR photography, and regular photography automatically. It's also good at noticing low-light situations and adjusting the flash accordingly. I found Superior Auto worked incredibly well on the Z3v. It's much faster than the Z1s/Z2, probably due in part to the Snapdragon 801 processor.
There are 15 other shooting modes, and I find them to be overwhelming. It's just way too much to digest, even if they are fun to use and create interesting results.
Those extra modes include: Manual; Sound Photo (takes photos with background sounds); AR Fun (use virtual objects to enhance photos); Multi Camera (use both cameras at the same time); Face In (use both cameras to put your face in either photos or videos); 4K Video (obvious); Timeshift Video (high frame rate for slow-motion results); Live On YouTube (broadcast live video to YouTube); Background Defocus (blurs the background); AR Effect (take photos with virtual scenes and characters); Creative Effect (select effects - i.e., filters - for artistic photos and videos); Info-Eye (augmented reality search tool); Timeshift Burst (takes a quick burst before you press the shutter button to increase likelihood of getting good shot); Social Live (publishes directly to Facebook); and Panorama. Sound like a bit much?
Each of these individual modes works fairly well. I didn't have much luck with the Info-Eye feature, perhaps because I live in the sticks of NJ and there's nothing of interest around. The AR Fun tool will probably appeal to teenagers and those looking to be silly. I don't see much to be gained from the artistic filters in the Creative Effect tool, as so many filters are available from so many other apps. The Background Defocus function is perhaps the most useful, as it can create usable portraits. Maybe the most important addition over Sony's earlier handsets are the tools for adding yourself to the shot, because, you know, selfies.
The Z3v can also detect smiles, and can make various different shutter sounds. I like that the flash has four settings, including fill-flash. Fill-flash helps take photos when you have a light background and a dark foreground and you want to make the foreground pop a little bit (it uses a lower-power burst than the normal flash mode.)
Everything about the camera is fast. It focuses quickly, and shoots/saves images quickly.
Photos
The camera is another feature that Sony likes to adorn with way too many adjectives. Ready for this? The Z3v has a 20.7-megapixel camera with f/2.3 Exmor RS for Mobile image sensor, BIONZ for Mobile processing engine, and a wide-angle 27mm G Lens. I know, right? What does all that gobbledygook mean? The Xperia Z3v takes mostly good photos.
Sony's Z-class smartphones have used the same size image sensor for a while now, but each one has been successively better at delivering good results. The Z3v is Sony's best yet in terms of photo quality, though the Samsung Note 4 and Apple iPhone 6 best it. Images created by the Z3v are mostly sharp, accurately exposed, and have proper white balance the majority of the time. The only problem I saw was an occasionally grainy shot. The huge sensor means you can blow images up to enormous sizes and not lose detail. Most people will be able to rely on the Z3v for both everyday shots and special events.
Video
By default, the Z3v shoots 1080p HD video, but it can record 4K video, too. These are your only options in terms of video resolution. Obviously, 4K footage is a waste if you don't have a 4K screen on which to watch it. The 1080p footage I captured looked great. I was very pleased with the results across the board. I found the low-light results impressive, despite a small amount of grain. Focus, exposure, and white balance were all good most of the time. I'd say the Z3v is a capable video camera for all but the most important personal events.
Gallery
The gallery app is another that we've seen before from Sony. It is way more fun to use than the stock gallery app from Google, that's for sure. The grid of thumbnails in the main view can be expanded and reshaped by using pinch-to-zoom gestures. By default, one thumbnail (the most recent image) is somewhat larger than the others. Grab that and do a reverse pinch gesture and it will grow to fill the screen. You can use these gestures to make all the thumbnails visible at the same time, or as few as three visible at a time. It makes dealing with the gallery more enjoyable.
Beyond this user interface, the Sony gallery has all the tools you expect to find on a modern smartphone. Individual photos and albums can be easily shared with others via messaging apps or social networks. Sony incorporated a handful of its own tools, as well. For example, you can send a photo to the Info-Eye tool for searching purposes, or to the Xperia Share service, and so on. Photos can also be cropped and rotated, as well as adjusted for exposure, etc. Sony pulled the editing tools directly from the Android gallery app.
The Google+ Photos app is also on board. This app can be used to backup, access, and edit any photos you've saved to Google+. This app will eventually replace the stock Android gallery app, so you may as well get used to it. It has its own editing tools that are slightly better than the stock Android app.
Last, Sony included an app called Sketch. Sketch lets you draw on photos, or add photos to drawings and everything in between. It offers a wide range of pen, pencil and brush tips, a variety of colors, and the ability to insert text and silly graphics. It should appeal to creative types who aren't satisfied with static, boring old photos.
Apps
There are 64 apps preinstalled on the Z3v, and a fair number of them are Verizon-branded apps, such as Caller Name ID, Cloud, Message+, My Verizon Mobile, NFL Mobile, VZ Navigator, and VZ Protect. Many of Sony's apps - such as Walkman and Update Center - duplicate functions that are already baked into the Android platform.
Other Sony apps worth calling out include Sony Select and Xperia Lounge. Sony Select is an app recommendation tool that works similarly to the Samsung Hub on Galaxy devices. It offers a selection of apps and games that Sony thinks you'll enjoy. The Xperia Lounge is sort of "Hey, check out all this cool Sony Xperia stuff!" news app. It is organized like a magazine and offers articles and updates on all things Sony.
Bluetooth
The Z3v's Bluetooth radio functioned perfectly in my tests. I was able to make calls both through headsets and speakers. I was pleased with the quality of voice calls via Bluetooth, and volume was good, too. The Z3v supports the aptX Bluetooth profile, which means you'll get the best possible wireless sound from your phone and headphones and/or speaker. I was very impressed with Bluetooth music playback.
Browser
Chrome is the only browser aboard the Z3v. Chrome is a solid browser and wasn't tripped up by the Z3v or Verizon's network. It delivered web sites quickly and rendered them well on the bright and sharp display. I never had trouble surfing the web, even under less-than-optimal network conditions. As always, Chrome can be used to sync browsing history and bookmarks with the desktop version of Chrome.
Clock
The lock screen clock is a white, digital clock that's positioned at the top of the display. It's a bit thicker and easier to see than the clock on earlier Z models, but it still isn't customizable. There are a number of clock widgets for the home screens, but the time is almost always displayed in the status bar at the top.
GPS
The Z3v includes Google Maps and Verizon's VZ Navigator. Both are adept when it comes to planning routes and following guided directions from Point A to Point B. Verizon's service costs $5 per month and is a bit faster at rerouting you if you miss a turn, but Google Maps is free and is dramatically superior when it comes to search. The Z3v's GSP radio always found me quickly.
PlayStation
The Z3v is the first smartphone to support PlayStation 4 Remote Play. This feature lets the Z3v remotely connect to the PS4 to play games. Sony envisions this feature being used most often when the TV set attached to the PS4 console is being used by others. It allows kids to play their games even if Mom and Dad are watching TV. The Z3v connects to the PS4 via Wi-Fi. The PS4 can stream the gaming content to the handset. It works with the PS4's controller and a mounting accessory (sold separately) to hold up the phone during gameplay.
The Z3v also has a separate PSN app. It hooks you into the PlayStation Network to access your PS3/PS4 and other Sony content and services. You can also access your PSN messages through this app, and conduct IM chats with other PSN users.
Wrap-Up
The Sony Xperia Z3v is an impressive device. I may be a little put off by the unnecessary changes to the hardware made by Verizon, but the Z3v is still good-looking and well-made.
My tests prove the Z3v to be among the finest of Sony's devices to reach the U.S., especially where the screen, network performance, and call quality are concerned. Battery life is solid, too, even if it doesn't set any records. The hardware is mostly easy to use. I like that the phone is waterproof, but dealing with the hatches day in and day out can be a drag. Some potential buyers may not like the sealed-in battery, but I don't mind it.
The Android KitKat operating system provides a solid framework and familiar apps for managing communications. Sony's UI skin isn't overly heavy-handed and leaves the device with plenty of room for customization. Many of Sony's apps, such as the Walkman, Gallery, and Video Player, surpass those created by Google. Toss in the Z3v's compatibility with the PS4, and you have a compelling Sony story.
Sony stepped up the performance of other core features. The camera mostly impresses, the Snapdragon processor breathes fire at every turn, and the addition of Qi wireless charging is a welcome one.
If you're invested in the PlayStation and other Sony services, the Z3v is a no-brainer. If you're not, it's still a competitive Android smartphone that offers a little something different. Those with an eye for high-end smartphones would do well to consider the Sony Xperia Z3v. It's Sony's best yet.
Now where's the Verizon Z3 Compact?!?!
This phone is far too big, as is every other phone on Verizon, I really wish they'd release the Z3 Compact so there would be a single high-end, compact handset available from Verizon!!!
Good review but a few inaccuracies..
I have the phone and just wanted to clarify a couple of things mentioned in the article.

The author says that the lock screen cannot be customized. You have to first enable lock screen widgets from the Security menu. Then you can add several screens of widgets as well as "owner info" on the lock screen.

For Hi Res audio, "Hi Res Audio over USB" is just an option if you happen to have a DAC amplifier. I'm pretty sure the Z2 had that option as well. To listen to Hi Res audio, you only need the audio file and a pair of Hi Res headphones.

The description for Multi Camera is also inaccurate. It allows you to pair multiple phones together to get a split-screen view of all the other cameras together on a single screen.

Sorry to be n...
(continues)
I love the interface
Somehow it appeals to me. Especially the camera app, but everything else is nice as well. I also very much like the fonts they use. Nice & sharp! I wish Google adopts a similar interface for Android stock.