AT&T to Sell Samsung Galaxy Mega 2 on Oct. 24
Article Comments 2
Oct 20, 2014, 9:54 AM by Eric M. Zeman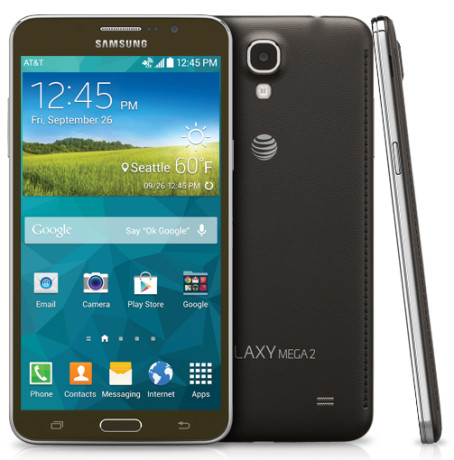 AT&T today announced the pending launch of the Galaxy Mega 2, a new version of Samsung's low-cost phablet. The Mega 2 features a 6-inch HD screen with a reduced bezel to help keep the footprint as small as possible. The phone adopts the design language of Samsung's Note series, to a certain degree, as well as the Note's split-screen multitasking, but the Mega 2 doesn't include a stylus. The phone has an 8-megapixel main camera with flash, a user-facing camera, Samsung's Private Mode, and Samsung's battery management software. The device has a quad-core processor and a 2,880mAh battery. The Mega 2 runs Android with Samsung's TouchWiz user interface. The Galaxy Mega 2 costs $475 at full retail, or can be purchased for $19.80 per month with AT&T Next 18, $23.75 per month with Next 12, or $150 with a new two-year contract. AT&T is still offering a $100 bill credit when customers activate a new or existing line with its AT&T Next plans. The device reaches stores October 24.
Will Metro PCS sell the Galaxy Mega 2?
While T-Mobile never sold the Galaxy Mega , Metro PCS did carry this device.

Will Metro PCS offer the GM2 as well?
Most of the time it is pretty safe to assume that if a carrier got the first generation of particular phone then they will get the second generation as well, unless, I suppose, the first generation was a big flop on that carrier.