Google Shows Off Nexus 6 Smartphone, Nexus 9 Tablet
Article Comments 6
Oct 15, 2014, 11:10 AM by Eric M. Zeman
updated Oct 15, 2014, 11:28 AM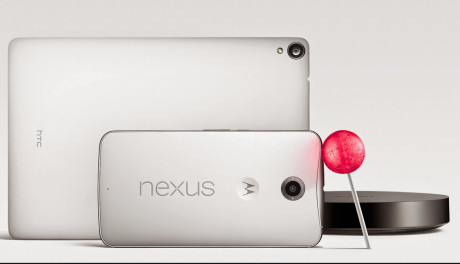 Google today announced Android 5.0 Lollipop and with it the first few devices to run the new operating system, the Nexus 6 and the Nexus 9. The Nexus 6 is a large-screened smartphone made by Motorola. It has an aluminum frame and a 6-inch quad HD display with a 13-megapixel main camera. The camera includes optical image stabilization and HDR+ for improved low-light shots. The device has stereo-speakers with high-fidelity sound and comes with a turbo charger for fast charging. Google claims the device can get up to six hours of battery time after plugging it in for just 15 minutes. The Nexus 6 will be available for pre-order in late October and in stores in November. Google will sell an unlocked version through the Play Store, and the Nexus 6 will also be sold by AT&T, Sprint, T-Mobile, U.S. Cellular, and Verizon Wireless. The device costs $649 at full retail, which is $200 more than the Nexus 5. The Nexus 9 tablet is made by HTC and features an 8.9-inch 2048 x 1536 screen with a brushed aluminum design. It is run by a dual-core Tegra K1 64-bit processor with each core clocked at 2.3GHz. Other features include an 8.0-/1.6-megapixel camera configuration; BoomSound speakers; dual-band Wi-Fi, NFC, Bluetooth 4.0, and LTE; and a 6,700mAh battery. The Nexus 9 will be available for pre-order on October 17 and in stores starting November 3. The Wi-Fi model starts at $399.
Price...
... makes the Nexus 6 a non-starter for me.

The advantage of the previous Nexus phones (the N4 and N5 in particular) was that they has top tier specifications at a reasonable price and came unlocked. With a $650 price tag, there is little to distinguish the Nexus 6 from the Galaxy Note 4 or LG G3, besides the "pure Android" experience (which I can get by loading the Google Now launcher).

I was looking to upgrade my N5-- I love the phone, just not thrilled with the battery life. I think I will wait a few months until CM is available for the Note 4 or G3 and buy one of them instead.
While the price point is a bit high considering the price of previous nexus devices, it is the first that I'm considering buying. While the pure Android experience was always a nice feature, most of the nexus phones lacked in several spec categories;...
(continues)
Google
Excellent apps and software.
Just remember, with Google absolutely NOTHING is private.
Excellent apps and software.
Just remember, with Google absolutely NOTHING is private.
Nice blanket comment, that applies to all mobile OS'.