Hands-On: Google Nexus 6
Article Comments 26
Oct 29, 2014, 2:02 PM by Eric M. Zeman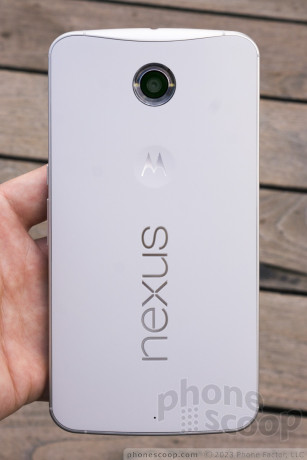 The Google Nexus 6 is essentially a Moto X on steroids. It's huge, well-made, and has an appealing design. This full-sized phablet may impress, but it's not for everyone. Here are our initial impressions about Google's newest Nexus.
Advertisements article continues below...
The Nexus 6 is almost here. Google refreshes its reference phone each fall, and the phone has become bigger and bigger with every successive generation. The Nexus 6 represents the pinnacle of not just size, but performance as well. Google's philosophy is that the Nexus-class devices are what every other Android phone or tablet should strive to be. In the case of the Nexus 6, that's going to be a tall order.
As far as the design is concerned, the Nexus 6 is simply a larger version of the Moto X. Motorola made both phones and the family resemblance should be obvious to anyone with eyes. It has the exact same shape, materials, design cues, and layout - there's simply a lot more to the Nexus 6.
The front panel is glass and the back panel is plastic of some sort. The front and back surfaces are brought together by an aluminum frame that wraps around the entire outer edge. The seams between the glass, plastic, and metal are all tight. The device has a nice feel to it and is well put together. It may be somewhat thick in the middle, but the edges taper nicely. The back surface is curved to help in this respect.
The phone is humongous. It is taller, wider, thicker, and heavier than both the Apple iPhone 6 Plus and the Samsung Galaxy Note 4 (though it does have a slightly bigger screen). I can hardly wrap my hand around it, and using it one-handed is pretty much out of the question. My thumb can perhaps reach the lower 60% of the screen. This phone will not fit in your pocket if you wear snug pants.
Controls are kept to a minimum. Both the screen lock button and the volume toggle are on the right edge of the phone. They have good profiles, making them easy to find, and offer excellent travel and feedback. These buttons are much better done than those of the Droid Turbo, for example. The stereo headphone jack is on top, as is the SIM card tray. The Nexus 6 accepts nano SIM cards. The microUSB port is on the bottom. There are no buttons along the left edge and it's worth noting that the Nexus 6 does not have a dedicated camera button.
The Nexus 6's screen measure 6 inches across the diagonal, which is the practical limit for smartphones. Motorola picked AMOLED technology and stuffed 2560 x 1440 pixels into the panel. After spending only a few moments with the phone, I'll cautiously say that it looks great. At first blush, it's hard to complain about anything so bright, colorful, and pixel-rich. We'll have to fully test it, however, before I say I love it. There are no physical buttons on the front, as the device relies on software-based buttons on the screen. Like the Moto X, the Nexus 6 has stereo speakers. They are quite loud.
The front and side surfaces will be the same across all variants of the Nexus 6. The back panel comes in either indigo blue or white. Like the Moto X, the camera module of the Nexus 6 has a ring flash with two LED bulbs inside. The stylized "M" logo rests below the camera module and is set in a mild indentation. The "Nexus" name is emblazoned onto the back in large letters. The letters are etched into the surface and coated with a chrome-colored material, making the name reflective and eye-catching. Sadly, the back panel cannot be removed. That means no battery swapping. The power source is sealed in. Further, there's no memory card support, so you're stuck with either 32GB of 64GB, depending on which model you choose.
To offset the sealed-in battery, the Nexus 6 supports Qualcomm's Quick Charge technology (called Turbo Charge by Google/Motorola). Plugging the phone in for just 15 minutes will add six hour of life to the battery. That's pretty good.
The user interface looks fresh yet familiar. Android 5.0 Lollipop has an entirely brand new look called Material Design. To my eyes, it's an evolutionary update to what we've seen happen with every version of Android since 4.0. The fonts, icons, colors, and palettes are all different. It has a modern feel to it that I rather like. (Give me more time, and I'm sure I'll find something to complain about.) Google has slowly been updating many of the core Android apps with Material Design, so if you're using an Android device chances are you've already been exposed to it at least a little bit. We plan to review Android 5.0 Lollipop in full in the days to come.
In sum, I like the Nexus 6 a lot after a short time with it. That may change over time. One thing is unequivocal: The Nexus 6 is really, really big, and some people may not like that about the device. We'll be sure to publish a full review in the near future. Stay tuned.
The bigger the phone...
The more the need for a removable battery and expandable storage goes up. I'll pass.
Removable battery maybe, but what does that have to do with expandable storage? Increased storage use is a matter of newer OSes/newer app versions that are more sophisticated and are thus take up more space. The physical size of the device is irreleva...
(continues)
Why a bigger battery? The main advantage (IMHO) of huge phones is huge batteries. Why would you need a removable battery when you have 3,220 mAh to work with?
"Give me more time, and I'm sure I'll find something to complain about."
Never read that before on an iPhone review, nor the "Sadly, the back panel cannot be removed.".
Guess you didn't bother to fully test iOS 8 neither, since it came up with bugs after bugs, to which Apple released updates to fix them and I never read this on P.S.
Everyone who knows anything about smartphones knows this is an issue of sexiness. Not having a removable battery allows the phone to be thinner and just have a nicer looking design in general. It should be no surprise that Apple was one of the first m...
(continues)
1. This is a hands-on, not a review.

2. It sounds like you're expecting one reviewer to discover bugs in one week of use that Apple couldn't find in months of testing with thousands of beta testers. That's not quite fair.

3. Bugs - that are obv...
(continues)
I absolutely love the reviews on PS over any other site. For the most part, the editors try to remain unbiased.

I do concur to an extent that editors on these sites receive devices on a regular basis and really never experience issues that creep u...
(continues)
Size
I don't understand why reviewers feel the need to offer their opinion about a particular phone being too big (or too small). It's certainly valid to say it's "really, really big", but whether or not "some people may not like that" is irrelevant. The consumer will decide on their own. One-handed operation is not really that common from what I have observed. Maybe if you still use a flip phone, but that's a pretty small percentage.
Pinch zoom was made famous on the iPhone, a device notoriously touted for being usable with one hand. I am yet to see a single person do pinch zoom one-handed. Many other features like surfing the web or texting are also naturally two handed exercises...
(continues)
I'm getting the Moto X
This phone is absolutely amazing when it comes to features, however imagine lugging this thing around, ESPECIALLY with a case on it. It's going to be crazy trying to fit it in your pocket and you'll have to be extremely careful not to drop it.
Quick Charge Question
In this article it reads: "Plugging the phone in for just 15 minutes will add six hour of life to the battery. That's pretty good."

But in a previous article it reads: "It can deliver 8 hours of up-time after being charged for just 15 minutes." (Link: https://www.phonescoop.com/articles/article.p hp?a=14807)

Which one is correct?

It's still very impressive that a 15 minute Quick Charge will add more than 4 hours of juice, but I'd just like to get things right.