Review: Apple iPhone 6 Plus for AT&T
Article Comments 52
Sep 23, 2014, 3:30 PM by Eric M. Zeman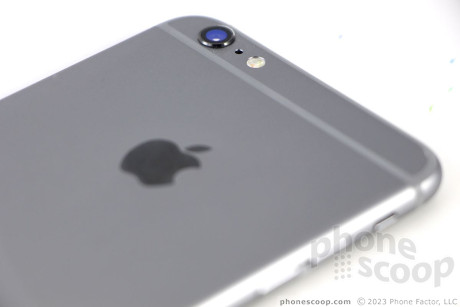 Apple's latest smartphone is a huge addition - literally and figuratively - to the Mac-maker's iPhone lineup. The 6 Plus sports a huge screen, powerful iOS 8 operating system, and a no-holds-barred approach to what a phablet can and should be. Here is Phone Scoop's in-depth report.
Advertisements article continues below...
Form
It It Your Type?
The iPhone 6 Plus is the bigger of the two new iPhones. If you've been longing for a large-screened smartphone from Apple, the 6 Plus is it. It's a well-built phablet that excels in the way only Apple products can. That's not to say it doesn't have a few flaws.
Body
Mark 2014 as the year Apple went big. Finally. After years of people complaining about the small screens of its iPhones, Apple responded to market pressure and produced two larger smartphones. The 6 Plus is a phablet - a large-screened device that often requires two hands to use effectively. If you want maximum iPhone, this is it.
Apple changes the iPhone design every other year. The iPhone 5s looked pretty much the same as the iPhone 5, so Apple was due to debut brand new hardware with the iPhone 6; that's exactly what it did. The 6 and 6 Plus look quite different from earlier iPhones.
Apple stuck to a minimalist design language. The 6 Plus uses a mix of aluminum, glass, and plastic (eek!) to form the outer skin. The shape of the device is simple and straight-forward. It is elegant and refined. The metals look and feel good. Apple tapered the edges of the glass so it meets the aluminum frame in a smooth seam. With the rounded side edges, the overall effect creates a smooth device that's comfortable to hold and use, despite its size.
Speaking of size. Yeah, it's big; but it's not too, too big. The 6 Plus is smaller than the Galaxy Note 4, for example, though the Note 4 has a slightly larger screen. That means I was able to use it one-handed much of the time, but not all of the time. Apple added a software trick to make the stuff lining the top of the 6 Plus's screen easier to reach: tap the home button twice and the all the content of the screen slides down so your thumb can tap it. This function works pretty well and reduces how often you have to resort to two hands to use it. The 6 Plus is impressively thin and light. It isn't heavy at all and at 7.1mm thick, few devices can claim to be thinner. The 6 Plus fits in my pockets pretty well. I didn't have any trouble stuffing it into even my tightest jeans. If you're a small person who wears small clothes, however, the 6 Plus may not work for you.
As is typical of iPhones, there are thick bezels above and below the screen. Apple is sticking with its over-sized, circular Home button below the display. In keeping with Apple's design principles, it also likes balance. This means the bezel above is as thick as the bezel below. The bezels along the sides are slim, but not the slimmest I've seen. Bottom line: the screen is swimming in more framing than some competitive phones (think LG G3). The Home button, which also acts as a fingerprint reader, is a depression in the front surface. It is dead simple to find and use. Travel and feedback is good, but I've felt better. There's a tiny slit in the glass above the screen for the earpiece speaker. The user-facing camera is little more than a pinhole.
Apple has long favored a three-button setup on the left side of the phone. There's a switch at the top that sets the phone in either ring or silent modes. It's a good switch. Below that are two separate buttons for the up and down volume functions. The buttons are dashes that have great profiles and even better travel and feedback. The up button doubles as a shutter release when using the camera.
Apple wisely moved the screen lock / power button from the top to the right edge. At this size, there's no way anyone could reach it on the top. The screen lock button of most phablets is on the right side, so Apple is simply joining the pack. The button itself is of decent size and shape, and works really well. The tray for the SIM card is built into the right edge, as well. You need a paperclip or SIM tray tool to eject the tray. Most people will probably never bother with it. The iPhone 6 Plus takes a nano SIM card.
Both the stereo headphone port and Lightning port are on the bottom of the phone. It's annoying that the Lightning port is proprietary and doesn't work with standard USB cables. However, it is among the strongest, easiest ports in which to jam a cable. It's especially useful that the Lightning port is reversible and accepts the cable in either orientation. There are also drilled holes on the bottom for the single, mono speaker. It's a bit of a shame that Apple didn't include stereo speakers, especially considering how many people will probably use the 6 Plus as a mobile movie device.
The back surface is mostly aluminum, but there are lines running from side to side that help frame out two plastic panels at the top and bottom. The plastic panels, which allow the wireless radios to function better, are a bit of a let down. Apple used glass for these panels on the iPhone 5 and 5s. The plastic just isn't up to snuff, and I'd even call the seams somewhat uneven in places. This is the one real detractor of the hardware. Apple should have stuck with the glass, even if it added a little weight. The upper plastic panel houses the camera module, which is the first on an iPhone to protrude from the body of the phone. I've seen some criticism online about this design choice, and I find it a bit unwarranted. The number of smartphones that have protruding camera modules is innumerable. The slight protrusion means the iPhone 6 Plus gets a better camera. It is the smallest of compromises. As with all iPhones, the phone is sealed up tight; there's no access to the battery at all, nor is there support for expandable memory.
The iPhone 6 Plus is a really good piece of hardware from Apple. As far as phablets go, few are as refined, well-built, usable, and attractive.
Performance
Screen
The iPhone 6 Plus has a 5.5-inch display with 1920 x 1080 pixels. Apple traditionally uses LCD panels, and the 6 Plus is no different. It is truly one of the finest displays I've ever seen. It is bright, colorful, and vibrant. Content pops off the screen. It may match many other devices in terms of resolution, but man does it look good. I can't recall seeing better viewing angles on any display I've ever tested. There's no brightness drop off and no color shift. I really like that colors are accurate and not over-saturated as on some AMOLED screens. I was able to use the iPhone 6 Plus outdoors under a sunny sky with no trouble. It truly is a fantastic screen.
Signal
We tested the AT&T variant of the iPhone 6 Plus. This thing snags signal in places I never knew AT&T reached. Seriously, the 6 Plus is a total signal hound. I tested it in areas with the weakest/worst AT&T coverage that I know of, and still it managed to connect calls, send messages, and load web pages. It didn't drop any calls during my review period, nor did it miss any. LTE speeds were quick across the board, slowing down only a little bit in poor coverage areas. I noticed a dramatic uptick in WiFi performance, too. The 6 Plus supports faster WiFi protocols, and I could tell when surfing via my home network (when compared to the iPhone 5). Bottom line, the 6 Plus is the best iPhone I've ever tested when it comes to signal performance.
Sound
I was mostly pleased with the quality of calls placed via the 6 Plus, but it's far from the best. Calls in weak coverage areas were noticeably crummier than calls in strong coverage areas. I heard far more interference when the 6 Plus showed just one bar of coverage. Earpiece volume has always been a problem with Apple's iPhones. The 6 Plus makes some progress in this respect, but it's still far from being a leader. I was able to hear calls at a crowded Oktoberfest celebration and at a semi-loud house party, but construction easily drowned out the speaker. The speakerphone is decent, but also not quite loud enough. Quality through the speakerphone was good, though. Those with whom I conversed through the 6 Plus said I sounded generally good, but I got a few negative responses, too.
Ringtones are audible in your home or office, but crowded coffee shops made the 6 Plus hard to hear. I wouldn't be surprised if people missed calls because they couldn't hear the ringer. On the flip side, the vibrate alert is among the strongest ever. In fact, it's too strong. The point of a vibrate alert is to be somewhat subtle. There's nothing subtle about the 6 Plus's vibrate alert. You can hear it loud and clear in a range of settings. Apple needs to dial it back a bit.
Battery
The 6 Plus boasts the best-ever battery life from an iPhone. Apple's smartphones are notoriously cruddy when it comes to battery life. The 6 Plus, with its bigger battery, resolves the iPhone's power woes. I had no trouble getting a full day and a half from the 6 Plus on a single charge. I used the iPhone 6 Plus with LTE, Wi-Fi, and Bluetooth on throughout the review period, and had the screen set to auto brightness. I took lots of pictures, shot video, listened to music, made phone calls, posted to Instagram and Twitter, and more. The iPhone 6 Plus offers very good battery life.
Basic
Menus
The iPhone 6 Plus runs iOS 8. We've reviewed all the new features in iOS 8 in depth here. Here's a shorter recap.
The lock screen has become a much more useful space on iOS over the years. Users can tweak the settings to allow for as much or as little interruption as you want. Notifications can be splashed all over the lock screen, or hidden away for another time. The new extensions allow many more apps and services to offer actionable notifications on the lock screen, such as Skype 5.5, which is a nice improvement. There is only one app shortcut, however, and that's to the camera.
The home screens haven't changed at all between iOS 7 and iOS 8 on the 6 Plus. Apps are stored in a rigid grid on the home screen panels. The good news is apps can be placed in folders, and you can place as few or as many apps on each home screen as you want. There are no widgets in iOS 8 (at least not like Android), and home screen content is static, not dynamic.
The settings menu hasn't changed at all, really. It is a long list of tools laid out in text with buttons to turn them on or off, or adjustments that require more in-depth tweaking. There are a lot of settings, but they are easy to sort between.
The Notification shade drops the "Missed" tab from iOS 7 and adds compatibility with more apps. Developers can now create widgets that land in the Notification shade and offer new and changing content. It's a half measure, as far as I am concerned. It's nice to have dynamic content *somewhere* outside of apps, but it doesn't match what's available to Android and Windows Phone devices.
Control Center is a really useful tool for adjusting key device settings on the fly. You can access it by swiping up from just about any screen. It includes access to the wireless radios, flashlight, music controls, sharing, and brightness.
The iPhone 6 Plus has one trick up its sleeve: The home screen and select additional Apple apps now rotate and work when the device is held in landscape mode. When in landscape orientation, the dock remains and all the other apps rotate so they are facing the right way. The notification shade and control center are still accessible, and you can slide back and forth to other home screens. A fairly decent number of apps work in landscape mode. I hope Apple (and third-party apps) extends the number of apps that work in landscape orientation.
iOS 8 ran perfectly on the iPhone 6 Plus. I didn't run into any problems, no matter what app I used. I didn't experience any crashes, hangs, or lags. The 6 Plus has a 64-bit A8 processor with Apple's M8 motion coprocessor to help handle all the sensors.
The one major feature missing - and this is a big one - is true multitasking. Devices such as the Samsung Galaxy Note 4 and the LG G3 offer split-window multitasking, which allows two apps to run at the same time side-by-side. I'm actually surprised Apple did not bring this functionality to the iPhone 6 Plus. It has plenty of real estate and more than enough pixels.
Last, the iPhone 6 Plus requires some extra attention from developers. Most iOS apps aren't yet optimized for the 1920 x 1080p screen of the 6 Plus. Apple is using a real-time scaler to get non-optimized apps to look right on the 6 Plus, but it doesn't always work. Apps that haven't been updated to support the new resolution look big and terrible. You can tell right away, as everything is zoomed-in in an unpleasant way. Text is fuzzy, for example. This is Apple's fault for not making iOS resolution-independent (like Android). Further, Apple only recently began accepting updated apps for approval, so it is possible many popular apps have already been changed to support the new resolution but haven't yet popped up in the store.
Calls and Contacts
Apple made few changes to the calling and contact apps this time around. New features include support for Wi-Fi Calling and VoLTE. WiFi Calling is already available from T-Mobile and VoLTE is already available from Verizon. AT&T customers can't access either just yet.
The other big new function is called Continuity. With Continuity enabled, users of the 6 Plus who also happen to have a Mac or iPad operating on the same Wi-Fi network will be able to answer calls on their computer (requires OS X Yosemite) or iPad. This feature worked well on my hardware. I was able to answer and initiate calls from on my iPad - which were actually connected via my iPhone 6 Plus. Neat.
The contacts app hasn't really been updated at all as far as I can tell. It's a bit stark, and I wish it had more hooks into social networks and other apps.
Messaging
Apple made huge improvements to its core messaging apps. Email supports new actions that make managing your inbox faster and easier. These tools work well on all iOS 8 devices, not just the 6 Plus. For example, you can swipe left or right to see a list of secondary actions for deleting, marking, moving, or flagging your emails. The one cool thing the email app can do on the 6 Plus is to function in landscape mode. When you rotate the 6 Plus onto its side, the app splits into two columns, with your emails listed on the left and the current open email in a separate window of its own. It works automatically as you move the device around. This is best for skimming through your inbox. I found that replying works better when in portrait mode, as the keyboard takes up about 40% of the screen when in landscape orientation - making it harder to see your entire message.
This same split-pane view applies to iMessage. When you hold the 6 Plus in landscape mode, the texting app shows a list of conversations in a pane on the left, and the current conversation in a broader window on the right.
The messaging app also gains some new multimedia functions. It's now a snap to send video and audio snippets, as well as attach selfies. The audio tool, for example, requires a press-hold-swipe gesture that initiates the recording and then sends it automatically.
Apple also made significant changes to the keyboard app in iOS 8 that make it much better. The keyboard has a new word-prediction engine. As you type, several words will appear in a line above the keyboard itself. I was often able to compose entire responses using these suggestions. The keyboard also adds emoji for enhancing messages and conversations. Typing messages on the 6 Plus was a pleasure thanks to the wider screen. I felt my thumbs had much more room for typing, and Apple's spelling- and word-prediction engines helped me ramp up my typing speeds. iOS 8 adds support for third-party keyboards, too.
Ostensibly, iOS 8's new support for extensions (hooks for developers to connect apps) will improve how iPhone owners are able to share content with other apps/people - including via the email and messaging apps.
FaceTime is still FaceTime.
Extras
Media
Apple revised the music, video, and iTunes apps heavily in iOS 7, and gave them little more than a passing glance in iOS 8. The behavior of the apps themselves is mostly the same.
The biggest update to the iTunes Store is support for Family Sharing. It allows iPhone users to more easily enable other iOS devices to access content purchased through iTunes. A single account holder (must have credit card) can purchase content and then make it available to multiple other devices. I found it easy to turn on and use. It includes built-in parental controls. Family Sharing also includes a shared iCloud photo library and location.
AirPlay lets iOS devices push content (music, movies, etc.) to the Apple TV and other iOS devices. The newest version doesn't require that both devices be connected to the same Wi-Fi network; now it truly works peer-to-peer, meaning your iPhone 6 Plus can pair directly with another iPhone or Apple TV. I found it worked flawlessly.
One thing the iPhone doesn't have? An IR port to control your home theater. Boo.
Camera
iPhones have never had dedicated camera buttons, and the iPhone 6 Plus is no different. You can launch the camera from the lock screen thanks to a shortcut, or open the app via the traditional method: tap the camera icon on the home screen.
Apple carried the camera interface over from iOS 7, but did add a few new tricks. The camera has new timer and time-lapse capture functions. The camera also adds exposure lock. This tool is non-obvious and tricky to use. A long press on the viewfinder focuses the camera in a specific area of the subject and bases exposure on that area. Then a little "sunlight" icon appears. You can slide this icon up and down to change and lock the exposure to something higher or lower than what it generated on its own.
The basic UI of the camera still requires you to swipe between different shooting modes, such as pano, square, regular, video, slow-mo, and time-lapse. I wish it were faster to choose between these modes. Still, the camera focuses and snaps pictures in an instant. Apple's camera software makes it as easy as possible for the greatest number of people to get good shots.
Photo Gallery
The photo gallery is much more useful for manipulating images thanks to several additions to its feature list, though none of them are specific to the iPhone 6 Plus.
Images are organized by date/location, and can also appear in albums. Further, you're now able to search based on date or location. The gallery has a nifty tool that puts all the videos into a single album. You can also "favorite" photos with a simple tap. Favorited photos are added to their own album for easier viewing.
Editing tools are also more robust. You can add filters, reduce red-eye, or use the auto-enhance function. The crop tool has added some really nice features. It now allows you to rotate photos just a little bit. This is great if you want to straighten out a crooked horizon in the background. The editing tools also allow you to alter the aspect ratio of the image after the fact. The app adds more fine-tune controls over images, such as exposure, contrast, and color.
Photos
The iPhone 6 Plus has an 8-megapixel sensor, the same as the iPhone 6. The one major difference is that the 6 Plus uses optical image stabilization, while the 6 uses digital image stabilization. It's a slight difference in the hardware, but can lead to big results out in the real world. OIS helps negate the effects of your hand if it's moving around, although it can't do anything to stop the motion — and sharpen the focus of — your subject.
I captured photos in a range of settings over the weekend and was very pleased with the pictures. The 6 Plus's sensor may not capture as many pixels as competing models, but dang does it know how to get exposure and white balance accurate. I didn't see a single problem in any of the images I captured. Everything appeared true-to-life as far as color and lighting was concerned.
Images were generally sharp, though I noticed a few where the OIS didn't quite help get the job done. The camera app uses something called Focus Pixels to help capture great shots. Basically, the Apple-designed image signal processor that's part of the A8 can provide the sensor with more information about each image. The end result is better and faster autofocus. With OIS and Focus Pixels working together, the 6 Plus did as best it could to iron out my shaky hands.
You can see in the group shots below (in the woods) that exposure turned out great despite the fact that the sun had set and I was standing in shade. In other words, it works well in low-light situations without the flash.
Despite its lack of advanced tools, the iPhone 6 Plus does a great job at capturing good images most of the time.
The user-facing camera captures 1.3 megapixels. Outdoor and other well-lit shots looked good, but grain started to appear in indoor or low-light environments.
Video
The iPhone 6 Plus captures 1080p HD video and can do so in slow motion if you want. The video I captured with the 6 Plus looks fantastic, and the slow-motion footage is just awesome to watch. I thought exposure, focus, and white balance were all spot-on. I didn't see any grain in video I captured outdoors, except when shooting in the shade during twilight.
I think most people will be thrilled with the video they capture with the iPhone 6 Plus.
Apps
Apple doesn't allow bloatware on its devices. That means AT&T wasn't able to cram any unwanted apps on the iPhone 6 Plus. Apple does, however, stick plenty of its own apps on board. This year, Apple installed its entire productivity suite on the 6 and 6 Plus. That means you have Keynote, Numbers, and Pages. These apps take up a significant amount of room (over 1 GB combined). So do GarageBand and iMovie, which are also preinstalled. I love the latter two, but I don't use Keynote, Numbers, and Pages. Thankfully you can remove them if you want to. Other apps, like Notes, Reminders, Stocks, Weather, Newsstand, iBooks, and Podcasts can't be removed.
Apple Pay
Apple Pay hasn't launched yet, so we were unable to test it. Once it goes live, Apple Pay will allow the 6 Plus to make mobile tap-and-go payments at select retailers around the country. We'll fully test this feature when it launches in October.
Bluetooth
The 6 Plus supports Bluetooth 4.0. LE. I had no trouble pairing to a wide range of devices, including iPads, Macs, speakers, headphones, and my car. Phone calls passed through a mono headset sounded average at best. Quality was so-so, and volume was not what it needs to be. Music sounded excellent when pushed through my fave Bluetooth speaker and headphones.
Pairing with other Apple devices for AirDrop (passing files) was a breeze and worked perfectly.
Browser
The browser works well on the iPhone 6 Plus thanks to better support for landscape mode. My favorite features is how Safari now treats tabs. When the 6 Plus is rotated on its side, all the open tabs show up along the top of the browser address bar, just as they do on desktops and the iPad. This makes it much, much easier to jump between open web sites.
Safari performed amazingly well on the 6 Plus when used on both AT&T's LTE and Wi-Fi. It's a much more robust and speedy browser. It does a great job handling web sites and delivers them in the blink of an eye.
Clock
A large digital clock appears on the iOS 8 lock screen when you press either the home button or lock screen button. It's white and cannot be customized. I wish the font were thicker. As always, you have to choose your wallpaper carefully. The clock is almost impossible to see on top of light-colored wallpapers, but it stands out well enough on dark-colored wallpapers.
Health / HealthKit
This is one feature that doesn't yet quite work. The actual Health app doesn't do much on its own. It has a stark interface that, when devoid of data, is easy to figure out. However, without any HealthKit-enabled apps, there's no way to get data to the Health app to consume it. The app does allow you to create a medical profile for yourself that can be made available to others in the event of an emergency. For now, however, that's it. We'll revisit this section of the review when the HealthKit-enabled apps are finally available.
Maps
Apple Maps behaves largely like it did when it debuted in iOS 6 two years ago. The change it most needed to make was to increase accuracy, and on that front Apple has made significant strides. Apple Maps offers voice-guided turn-by-turn directions - as long as you're driving. It still doesn't do mass transit. When you ask it to find a train schedule, it suggests you try third-party apps. Ouch. Maps worked perfectly with the 6 Plus's GPS radio and location tools. It pinpointed me in about 5 seconds each time I launched the app.
Siri
Siri now responds to the "Hey, Siri!" catchphrase. This means you don't have to long press the home button to launch Siri. I found Siri is more accurate than ever, and better able to handle spoken requests.
Wrap-Up
The iPhone 6 Plus is a monster. It's by far the most powerful smartphone Apple has ever made. As far as big phones go, it competes well with entries from Samsung, LG, Nokia, and others. If you're a fan of phablets, the iPhone 6 Plus should be at the top of your list for several reasons.
It is among the thinnest and lightest big-screened phones out there, and the build quality is top notch. The 6 Plus has one of the best displays I've ever seen, and its performance on AT&T's network was way above average. Battery life is excellent - perhaps reason alone to choose the 6 Plus over the iPhone 6. Perhaps the only core weakness is in the phone call department, which I'd rate as just below average.
iOS 8 is adept and the 6 Plus offers a few usability tricks, such as landscape apps, that make it more flexible. I saw speedy performance across the board on every app I tested. Further, the iPhone 6 Plus has a fantastic camera and produces videos worthy of evening news broadcasts.
One caveat here is that the 6 Plus does sometimes require two hands to use and doesn't necessarily fit into all pockets. These characteristics aren't exclusive to the 6 Plus, though, and can be applied to most phablets in general. The other missing feature is true multitasking, such as running two apps on the screen at the same time.
Otherwise, the iPhone 6 Plus is an incredible handset and well worth your consideration.
The phone bends in your pocket
It's a $1000.00 piece of tin foil, and that's all it'll ever be. I will never, ever consider another apple product after they don't even know how to properly make a phone. A phone that bends from regularly having it in a front pocket? This is a joke!
Only it usually shatters because Samsung uses cheaper plastic.
connecting phone to your car UVO
Does anybody know if the Lg Optimus L90 has the ability to connect to your vehicle UVO and if it does, How?
Phonescoop is soooooo hilariously hypocritical
>> no-holds-barred approach to what a phablet can and should be

Except that it misses many key features already available on the Note 3. You might conveniently dismiss the missing features, but that hardly justifies your statement here.

>> Apple went big. Finally.

In your articles and on the forums you guys have constantly and consistently maintained your position that small screens are better, even if everyone else disagrees with you. You couldn't be more hypocritical if you tried.

>>and plastic (eek!) to form the outer skin.

This is probably the only place in the article where you don't sound like an Apple apologist. I commend you for at least maintaining your position on build materials.

>> The 6 Plus is smaller than the...
(continues)
Please Zpike, can we have some more?
Lololol at this review. It's a piece of garbage with how fragile the device is. There are countless reports out about people bending their brand new iPhone 6 Plus in their their pants. 🤣
http://gizmodo »
...
(continues)
It's apparent to me that you've not even read my review of the Galaxy Note 3. You completely misrepresent what I said about the Note 3's size and capabilities. This is what I said about the Note 3's size:

"Speaking of which, the Note 3 is a large p...
(continues)
Right on point there. Sounded like the typical iSheep, praising 4 year old features they used to make excuses about why they didn't need them and making excuses to why the faults with it aren't a big deal.
At the end of the day...
The 6 Plus is just a big iPhone running the same lame tired iOS. Same stupid row of icons crowding the screen, same closed system, same old B.S. Overrated, overhyped by reviewers everywhere especially the douchebags over at The Verge. Huge iSheep. Nothing to see here folks. Move it along.

For anyone who is on the fence, wait until Oct 17th and buy a Note 4. Don't fall for Apple's B.S. all because they have a "big phone"now. Please. Watch them include a stylus with the 6S Plus (you know theres gonna be one) and call it innovative. 🙄

P.S. If you're on T-Mo, the Note 4 will have LTE Band 12 (700Mhz) which the new iPhones don't.
I own the Note 3. I also have a second line with a GS3. No plans to upgrade to the Note 4 but the idea of upgrading my GS3 to the Six PLUS is intriguing. Probably won't happen because of the price, but I would be lying if I said I was not tempted.
I completely agree! Apple has fallen far behind its Android competitors both in terms of user satisfaction and in terms of innovation. I mean, phablets have been around for years! And so has cameras that work in low light! /Rufus from
http://www.con »
...
(continues)
Larger, not smaller than Note 4
Published specs for both phones show the 6 Plus to be 4.6mm taller, with the Note 4 being a negligible 0.8mm wider and slightly 1.4mm thicker. I don't know anyone who would call the 6 Plus "smaller".