Review: Motorola Moto X for Verizon Wireless
Article Comments 7
Sep 16, 2014, 8:30 AM by Eric M. Zeman @zeman_e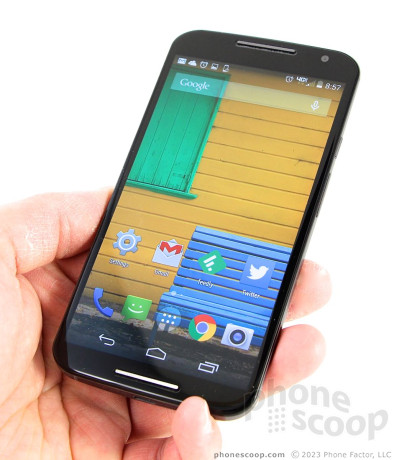 Motorola is back with a new version of its X, its top-of-the-line smartphone. The X is a better competitor than last year's device as far as features go and takes build quality to the next level. Is anything holding Motorola back?
AD article continues below...
Form
Is It Your Type?
Motorola is back with a brand new version of the Moto X. The new phone is bigger in every way than last year's model, but bigger doesn't always mean better. The Moto X is for those who like the idea of customizing *everything* about their smartphone, including colors and materials, and want a good Google experience to boot.
Body
Motorola redefined smartphones last year with the Moto X. It launched a manufacturing facility in the US to custom-build smartphones for Americans. The idea was great, but not entirely successful. The original Moto X couldn't compete with flagship smartphones on a spec-for-spec basis, despite its unique design and customized voice-recognition software. This year's Moto X *does* compete on specs - and that's perhaps one of its shortcomings.
The 2014 Moto X is significantly bigger than the 2013 version. Motorola increased the screen size from 4.7 inches to 5.2 inches, which means the footprint of the phone itself swelled from 5.09 x 2.57 inches to 5.54 x 2.85 inches. When you put them side-by-side, the 2014 model looks significantly bigger. Thankfully, the new phone is slightly thinner at 0.39 inches versus 0.43 inches.
What's interesting to me is that Motorola apparently threw its original thinking right out the window. It chose the 4.7-inch display on last year's phone specifically to keep the device compact and usable with a single hand. This year's phone is as big as phones such as the Galaxy S5, LG G3, and HTC One (M8). In other words, it's full-sized, and not compact at all. That might be a disappointment to those who prefer ease-of-use over kitchen sink thinking.
Preamble aside, the 2014 Moto X is a decent piece of hardware. It carries over the basic design elements of last year's phone, which means it has a contoured back panel with tapered edges. Motorola replaced the plastic sides with metal, which wraps all the way around the top and side edges. This helps boost the phone's appeal, in my opinion, as the materials are higher quality and look good. As with last year's model, the back panel can be customized. Motorola is offering a range of plastics, woods, and leathers to protect the back. Motorola gave us one with black plastic.
The fit and finish of the Moto X is definitely improved compared to last year's model. Replacing the plastics with metal and leather goes a long way to giving the device a more premium look and feel. All the seams are tight, and the device is rigid and strong. The weight is good; it's not too heavy nor too light. I find it is a bit wide in the hand, and I have to jiggle it a bit to reach the upper corners of the display with my thumb. It fits really well in pockets, even tight ones.
Motorola did a decent minimizing the bezel around the larger screen. There are thin strips above and below the screen for the earpiece and microphone, respectively. They stick out way too much, as far as I am concerned. Worse, they are metal and have a ridged texture that's sharp enough to file your nails. (Although weirdly, if you choose a custom color, they don't seem have that texture.) I wish they were flush with the surface. There are no buttons on the front, as the device sticks to on-screen controls.
All of the (many) sensors disappear into the front if you choose a black front, but are all too visible if you choose white.
Motorola chose to keep the left edge free of buttons; it's a smooth, unbroken strip of metal. The screen lock button and volume toggle are situated on the right edge, just as on last year's phone. Both buttons have a good profile and travel and feedback. I didn't have any trouble locating or using them. There is no camera button. The USB port is tucked into the bottom edge and the stereo headphone jack is on top. The SIM card tray was moved from the left edge to the top edge. The Moto X doesn't support memory cards.
The huge range of possible back covers gives people plenty of opportunity to design their own Moto X and make it personal. The default design includes a plastic rear shell, which has a soft-touch finish to it and feels good. There are also a number of wood choices for the back panel, as well as several leather options. Of course, you can also choose to customize the color of the accents, such as the buttons. The plastic shell is decent and feels better than the shell available to last year's phone. Honestly, the wood and leather options are more exciting and don't cost that much more. The X has an indentation on the back for the stylized Motorola "M" symbol. The indentation is deeper than the one on last year's model, and has a sharp rim that I rather dislike. The camera circle, with its novel ring flash design, is huge. Though Motorola allows you to pick your own back cover, you won't be able to remove it. There's no access to the battery, which is sealed inside.
In sum, the 2014 Moto X is a better piece of hardware than its predecessor in almost every way except size.
Performance
Screen
Motorola's Moto X matched its rivals as far as the display goes - almost. Last year's model had a 4.7-inch 720p screen and this year Motorola upped the display to 5.2 inches and 1080p resolution. In general, it looks good. I think it's sharp and colorful, and it offers excellent pixel density. The display manages to avoid gross fingerprint grime, but it isn't very bright. In fact, it is difficult to use outdoors, whether you're checking your email or hoping to take a picture. It's simply not bright enough to be seen under strong light. Viewing angles are decent, but not the best. There's a bit of brightness drop off *and* color shift (towards blue) when the phone is tilted side-to-side. This is probably because Motorola used PenTile technology in the display, which treats sub-pixels differently. Honestly, I thought the industry had moved away from PenTile displays and I'm disappointed to find one here. That said, the display should be fine for most people, but I've seen much better.
Signal
The Verizon version of the Moto X performed very well on Big Red's network. The phone easily found Verizon's LTE signal and remained connected throughout my review period. I was able to surf the web and make calls throughout the city of Las Vegas (even deep inside the casinos), as well as around northern NJ without issue. It did well in historically weak coverage areas, and never once dropped a call. Data speeds were best in strong coverage regions, but still good under the worst conditions. Motorola still knows how to make good wireless devices.
Sound
The quality of phone calls was good, bordering on great. For the most part, those with whom I spoke through the Moto X sounded clear and present, as though they were in the same room with me. Volume was good, but could have been a little bit better. I was able to hear calls in most environments, but the ding-ding-ding of casinos sometimes overpowered the earpiece. The speakerphone is louder, but somewhat more robotic sounding. I easily heard calls in a taxi or my house, though I wasn't as pleased with the quality. People I spoke to said I sounded very good through the Moto X. Ringtones and alerts were respectably loud, and the vibrate alert had no trouble catching my attention.
Battery
Motorola upped most specs of the 2014 Moto X - except for the battery. Last year's phone had a 2,200 power source, while this year's grows to only 2,300mAh. To put that into a little perspective, the HTC One (M8) has a 2,600mAh battery, the Galaxy S5 has a 2,800mAh battery, and the LG G3 has a 3,000mAh battery. All four devices use the same processor (Qualcomm Snapdragon 801) and have similar displays (5.x inches, 1080p HD). That said, the 2014 Moto X easily outlasts its predecessor. The original Moto X struggled to make it through a single day. This year's phone performs much better. I didn't have trouble using the phone for an entire 16- or 17-hour day (8AM to Midnight). In general, the phone still had some reserve power left when I went to bed (15% - 25%) despite solid use. The Moto X isn't a battery champ (some phones do better), but it isn't a battery chump, either.
Unlike competing models, the Moto X doesn't include a special battery-saver mode. You have to manage it all on your own.
Basics
Menus
The Moto X runs a nearly unmolested version of Android 4.4 KitKat. It will be one of the first wave of handsets to receive the Android L release, which is expected later this year. The phone also comes with the extensive suite of apps developed by Motorola to make the device more useful and usable.
The lock screen has been modified with what Motorola calls Active Display. Active Display brings the clock and notifications to the screen (when it is locked and off) without turning on the whole display. Instead, it only shows the time and select icons in white on a black screen. You don't have to push any buttons to check the time or see if you have any new emails. If the X is sitting on a desk, it will automatically light up the Active Display when a new email or message arrives. It will then pulse on and off with that notification until dismissed. Active Display will turn on when you nudge the X, when you turn it over, when you pull it out of your pocket or bag, when you shake it, and pretty much any time you move the phone. It will also turn on if you wave your hand over the phone or even simply reach for it. It's really, really useful and works whether or not you have a password.
The rest of the menus operate exactly as they do on any KitKat phone. There are minimal home screens active out of the box, and they aren't littered with widgets and shortcuts. In other words, it takes only a few moments to customize the panels to suit your own needs. The app menu is laid out in a clean grid. Apps are listed alphabetically, but you can drop them into folders if you want. There's no list view.
The settings menu is the same old white-text-on-black-screen we've seen from Android for several years now. Motorola hasn't dressed it up at all. It is simple and straight-forward to use. Similarly, the notification shade is devoid of extras like toggles for the radios. Instead, it offers only notifications and access to the control panel.
Motorola soldered a quad-core Snapdragon 801 processor onto the Moto X's motherboard, which provides plenty of power to get things done. I didn't see any lag problems, or anything else troublesome. The Moto X is a quick phone and performs well.
Calls and Contacts
Pressing the phone button on the home screen brings you to the stock phone app. You can swipe sideways to access the call log, and your favorite contacts. The call log provides some information about calls (time, duration) in addition to shortcuts for redialing or sending a text message to that number.
Contacts are automatically synced with your Google accounts and whatever other contact databases you might wish. Contact cards — or direct dial or direct message shortcuts — can be placed on the home screens, which give you instant access to your besties. You can also add contacts to your Favorites list, which is visible in the phone app and includes a homescreen widget. These standard Android calling and contact apps function well enough, though I find they aren't as intuitive as they could be.
Messaging
The Moto X comes with the same stock Android communications apps that are on every other Android device. That means Gmail, email, messaging, Hangouts, and Google+.
Verizon Messaging is set as the default messaging application and it handles SMS/MMS. Verizon Messaging offers access to some neat extras. For example, it includes its own set of animated emoticons. The app can be used to create a postcard, as well as to record a voice message or send your location via Glympse. Beyond these tools, the functionality of Verizon Messaging is OK, but I find it lacks polish. It also lacks templates with pre-composed messages.
If you don't like Verizon Messaging, you can set either the plain Messaging app or the Hangouts app to handle SMS/MMS functionality. Google recently updated Hangouts to include some Google Voice messaging functions. The latest version is a bit sloppy and confusing. (It's not as intuitive as it used to be. Google can do better.) There are no social networks preinstalled, so you have to snag Facebook and Twitter on your own.
Moto Apps
Motorola made only minor changes to its core apps suite, which includes Moto Voice (formerly Touchless Control) and Moto Migrate, among others.
Moto Voice
Motorola renamed Touchless Control to simply Moto Voice. It's the same basic app and service, but with several useful changes. Instead of requiring everyone to say "OK Google Now" to activate Moto Voice, you can set your own catchphrase to open the app. Be creative, choose anything you want.
Once the app is open, you can command the phone to do anything. For example, with the X sitting on my desk, I can say, "Yo Funster, call Mom's cell phone," and that's what the X will do. I don't have to touch anything else. The device provides visual feedback on the screen telling you what it is doing, and will speak that feedback, too, if you want it to. Making phone calls is the only task Moto Voice can perform if you've locked the Moto X with a code. If you say, "Yo Funster, who won the Yankee's game last night?" you'll have to unlock the X before it will give you the search result.
You can also use several new commands, such as "Good Night" to put the X into sleep mode, or "Good Morning" to wake it up. When you wake the X, it will show you a summary of your daily schedule, which is rather helpful. Moto Voice now also works with several more apps, including Facebook, YouTube, and WhatsApp. This means you can command those three new apps to do select things.
Moto Assist
Moto Assist was a separate app that helped users manage notifications to prevent interruptions, such as when sleeping, when driving, and when in meetings. Moto Assist is no longer a stand-alone app and has been added to Moto Voice. You can find it buried in the settings menu (it's not really that obvious). Because it is integrated with Moto Voice, however, you're able to use voice commands to initiate it. It automatically detects when you're driving, and can be set to enter sleep mode on a set schedule, if you wish. You can also allow select contacts to break through sleep mode. It's a useful tool, but I wish Motorola hadn't buried it so deeply in Moto Voice.
Moto Connect
Then there's Moto Connect, which is meant to help you manage devices and view/respond to messages from other machines. For example, a Chrome plugin allows you to read and respond to text messages from the browser of your computer. You can also see messages sent to tablets and so on. It's dead simple to use and functions well.
Migrate
Moto Migrate is still around, too. Migrate is meant to help you transfer all your content from one device to another. It works with media, call and text history, as well as SIM contacts. The tool makes use of a QR code scanner to pair the two devices and then uses Google's servers to migrate the data between the phones. It makes it pretty easy to send data to another device. This functionality now also works with feature phones and can be used to transfer contacts through a Bluetooth connection.
Extras
Media
The Moto X ships with the core Google Play apps for content consumption. These apps are available to all Android devices. I find they work well for handling each different type of content available in the Play Store, including music, movies, TV shows, books, and magazines.
Of course, Verizon put a handful of its own media apps on board. Heaven forbid Verizon ship a phone without its NFL Mobile app aboard. If you're a football fan, the NFL Mobile app is actually quite good. It includes scores, highlights, commentary, and plenty of personalization so you can follow your favorite teams. If you want anything beyond Google Play and NFL Mobile, head thee to the Play Store.
Camera
Motorola's camera software is among the weakest available on a flagship device. It's functional, but HTC and Samsung put far more effort into creating powerful camera apps. The X's camera opens swiftly and works much better than last year's, but the UI a direct carry over.
To start, the camera can be set to launch with a gesture rather than pushing any buttons. The gesture requires you to hold the phone horizontally and shake your wrist twice (like you're turning a doorknob). You'll then receive vibration feedback that the camera is in fact opening. I like this feature. The X can go from locked to ready-to-shoot in about two seconds. It's really easy to pull the phone out of your pocket and shake it quickly to launch the camera. You don't have to look at the device at all. (Last year's phone did this, too.)
The camera UI is bare bones. There are only two buttons: one for the video camera and another for the user-facing camera. (Every so often, a little "?" appears in the upper right corner. If you're confused about how to use the camera, this offers you a helpful tutorial.) The controls can only be accessed by swiping from the side of the viewfinder towards the center. Swiping from the left opens the control dial that has most of the options. The Moto X includes HDR (which can be set to come on automatically) and panorama shooting modes. That's about it. There aren't any special GIF creating features, no dual-shot modes, nor any enhanced Selfie tools.
Want to zoom in? Drag your finger from the top of the viewfinder down. Want to zoom back up? Drag your finger from the bottom of the screen up. (When you first launch the camera, these actions are explained.) Perhaps the one thing I really like is that the camera has an always-on burst mode. Press the screen and hold, and the X will focus and then fire of two shots per second until you take your finger off the screen. In fact, the camera will capture shots before you take the first picture, and will allow you to select the "best shot" later in the gallery app.
The camera software is a step up from stock Android, but barely. You can't adjust scenes, ISO, brightness, or white balance. It's rather limiting if you like to take creative control over the camera. Motorola's efforts simply pale in comparison to what others in the industry are doing.
Photos
The Moto X has a 13-megapixel sensor and it's one aspect of the phone that is dramatically improved. Last year's 10-megapixel shooter fell far short of the competition. This year's phone takes much better pictures. Chiefly, focus and exposure are much better. I was pleased with the majority of shots I captured with the Moto X, which were sharp, accurate, and colorful. Grain, which often ruined shots from last year's X, is non-existent on the newer model. It truly produces better images more consistently than the 2013 X, especially in low-light situations. Phones such as the GS5, G3, and One (M8) produce somewhat better pictures, but most people should be happy with the images they capture with the Moto X.
Video
The Moto X shoots up to 4K video, but you'll be best served to stick with 1080p HD, which is the default setting. The 1080p footage I captured looked very good. Colors were accurate, focus was razor sharp, and exposure was accurate. The phone handled transitions from light-to-dark and vice versa with no problem, and really did a good job of capturing true-to-life videos. If you really want to be creative, you can use the slow-motion recording mode. It lets you do some fun things here and there.
Gallery
The Moto X offers both the stock Android gallery app and Google's Photo+ app. The stock gallery app is the same one that comes with most Android devices. It doesn't offer anything new or different compared to other KitKat phones. It is acceptable for managing photo albums and sharing photos with social networks. It also has a some simple editing features, such as crop, rotate, red-eye reduction, and filters that help correct color, exposure, and other issues. The one addition is that of a "highlight reel," which puts together photo collages based on date/time/location and creates individual albums for events. Phones such as the One and G3 offer similar functionality.
The Photo+ app has a more generous set of editing functions, and can be used to back-up and interact with your photos on Google+.
Apps
The Moto X for Verizon has more than its fair share of bloatware. It has the Caller Name ID, Verizon Cloud MyVerizon, Verizon Message+, NFL Mobile, VZNavigator, and VZ Protect apps from Verizon, which is really annoying. Thankfully the X is free of the bundle of Amazon apps that Verizon has been foisting onto customers this year.The rest is stock Google or Motorola.
Bluetooth
The Moto X's Bluetooth radio worked as expected. I was able to send phone calls and music to various different headphones, as well as connect to PCs and other mobile devices. Phone calls passed through a mono headset sounded really good in terms of both volume and quality. Music sounded decent passed to my favorite Bluetooth speaker, but not as good as other phones I've tested recently.
Browser
Chrome is the only browser installed on the Moto X out of the box. The latest version of Chrome has been optimized for the Android L release and uses the new material design language. It is a bit of a change up from the previous version in terms of visuals, but should be easy enough for most people to figure out without issue. It was very quick to deliver web pages over Verizon's LTE 4G network. Browsing speeds were generally excellent and both mobile-optimized and full-sized web sites work great.
Clock
Thanks to the Active Display feature, there's almost always a clock visible on the Moto X, even when the phone is idle. It could be a little bigger/brighter, but it can be read in most environments other than under direct sunlight.
GPS
The Moto X offers both Google Maps and VZNavigator for your navigation needs. As always, Google Maps is free and VZNavigator requires a nominal monthly fee. Google Maps is quite good. Both interact with the X's GPS radio just fine. The device was always quick to pinpoint my location no matter where I was, and accuracy was good to about 20 feet or so. Google Maps is an excellent tool for searching for nearby points of interest, but VZNavigator is slightly better at handling turn-by-turn directions.
Wrap-Up
The Moto X is a fine effort from Motorola. It took last year's sub-flagship device and pushed it to full flagship status. Despite beefing up the specs to match the competition, I can't help but feel that Motorola lost a little bit of its soul along the way. The company set out to achieve specific usability goals with last year's model in a way that felt earnest and from the heart. This time around, Motorola simply wanted to update the features to be more competitive.
The Moto X is a full-sized phone that's made from good materials and is assembled firmly. It has a good feel in the hand, and the variety of materials available for customization mean you can make the Moto X of your dreams. The phone covers the basics well for the most part, but I was disappointed by the screen's lack of brightness. Otherwise, the performance on the network and call quality both perform well.
The unmolested version of Android is welcome to see, as are Moto Voice and Active Display. The latter two help enhance the usability of the device by making it respond to voice commands and highlight incoming notifications. The rest of the apps perform as they do on any other Android handset.
Perhaps the biggest two improvement come from the camera and the battery. The camera is much better, as is battery life. This were significant shortcomings on last year's phone. By resolving them, the Moto X is a much better competitor with today's leading devices.
Would I recommend the Moto X? Well, the Moto X is mostly for people who want to design their own phone. After that, it's hard to say. At $99, it is about $100 cheaper than most other flagships with a contract - and that feels right. It's not quite on the same level as the GS5, G3, or One (M8), in my opinion, but it's almost there.
X Marks the Spot
While an excellent high end Motorola device, the Moto G holds its own quite well at a better price point. With an AMOLED display and a slightly better processor, the Moto X is not that much a great difference from the G.
Moto G doesn't have LTE or Voice commands, low memory and RAM. Kind of a big deal to some... If you're into that stuff.

I got the 1st. gen X over G based largely on this.
Moto X gen. 2 camera timer?
Did they bother to develop a camera timer for snapping remote selfies?

Funny how the old (2 years ago) Droid Razrs had timers.