Hands On with the New Moto X
Article Comments 12
Sep 5, 2014, 1:00 AM by Rich Brome @rbrome
updated Sep 11, 2014, 4:27 PM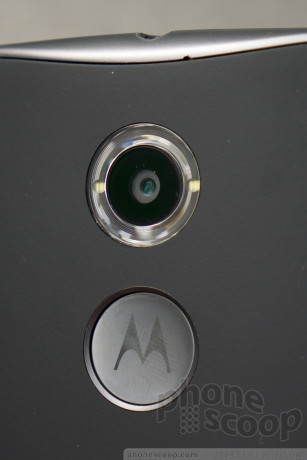 Last year's Moto X was a major turnaround point for Motorola. Building on the critical acclaim of the first model, the company is back at it with the second generation Moto X. The display, processor, and camera specs are all improved, and it's been upgraded to a metal frame that forms the sides. You can still customize it with colors and wood, and now leather as well. But how is it in person? Read on to find out.
Advertisements article continues below...
The Moto X is Motorola's flagship phone. Like Apple, Motorola seems to be more concerned with making a high-end phone for the masses, rather than packing in every conceivable feature and top-end component. They're focusing on smart features rather than blindly running the spec race. The new, second-generation Moto X does update the processor to pretty much the latest and greatest engine from Qualcomm. The screen and camera are also upgraded, but Motorola seems to feel that quad-HD and 20 megapixels are overkill (and they're probably right.)
I'm personally bummed that the screen has ballooned to 5.2 inches, but that's a popular size these days. The phone doesn't feel totally gargantuan thanks to impressive engineering that shrunk and curved the rest of the phone body, although LG is still far ahead on that front. It is noticeably wider than last year's X. If — like me — you thought the original Moto X fit your hand perfectly, you'll find the new model feels wide. But it's something you get used to quickly.
The general shape hasn't changed from the first model. The back still curves in both directions, and tapers from to a very thin bottom. It's actually a very thin phone overall, but the curved shape really goes remarkably far in helping it feel super-duper thin. The sides are angled for a good grip with your fingertips. The M-logo on the back has gone from a subtle dimple to a whole ordeal, design-wise. Part of that is to make room for a custom metallic accent color, now that the flash surrounds the camera lens (where the accent went on the old model.) The back surface - if you choose plastic - has a high-quality feel with a silky matte texture. You can also choose real wood or leather for the back. The leather option is neat, but be prepared for it gather wear and tear like any other leather good you handle every day.
Bonus: the Moto X has a splash-resistant coating.
flash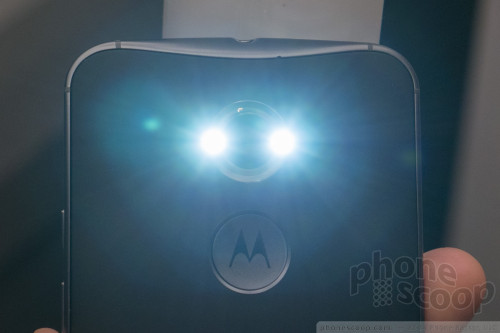 flash
The camera is now surrounded by a "flash ring" that's actually just decorative clear plastic covering dual LED flashes. It's supposed to reduce shadows, although I'm not convinced that was a problem that needed solving. At least it looks pretty, and our preliminary tests show the flash to be quite powerful.
Motorola has now joined Apple, HTC, and Samsung in using metal frames that do triple duty as the structure, sides, and antenna for the phone. Motorola says the driving factor for them in choosing this path was to get the feel of quality that consumers said they wanted. (Read: surveys said the first Moto X felt cheap compared to the iPhone and HTC One.) So you'll see metal bands forming the sides of the new Moto X, broken up by the now-familiar plastic strips that give it the necessary antenna tuning. It does indeed feel a bit better, in that it doesn't have the plastic feel of last year's model. The metal has a tasteful satin finish.
The front glass now has a curved bevel around the edge that improves the feel of the front quite a bit, particularly when swiping sideways. It's surrounded by a thin band of glossy plastic that's designed to blend in with the glass. The white glass option would like nice were it not suffering from a severe case of sensor acne.
white vs. black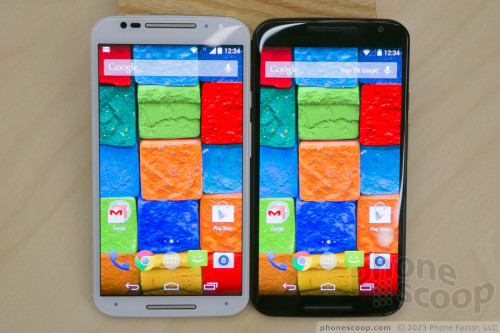 white vs. black
Motorola's new infrared sensors let you wave your hand over the phone to perform certain actions like silencing calls and snoozing the alarm. Also, the phone can now sense your hand approaching and light up the clock. That's seriously great, but those sensors look worse than the four cameras on the Amazon Fire phone. Thankfully you can choose a black glass front, which hides the sensors completely. The metal sides match whichever front color you choose (silver for the white or dark grey for the black.)
The most obvious change on the front is the long, thin metal bars at the top and bottom. If you think they hide stereo speakers, think again. The new Moto G has those, but the Moto X does not. I don't mind; stereo speakers in a phone seem silly to me. If you must blast your music out loud in public, well, you're a jerk for doing so, but you're also not going to get much stereo effect from speakers just a few inches apart, no matter how good they are. Motorola did put a lot of effort into tuning the one speaker to sound good with all types of music and video content, and it does.
speaker bar differences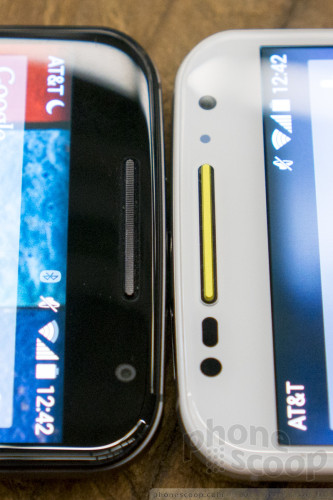 speaker bar differences
If you choose a stock black or white color, the metal bars have a ridged texture that can catch the light in unexpected ways. You can now customize the color of those bars using Moto Maker, but for whatever reason, choosing a color means the bars will be smooth and chamfered instead of ridged.
The side keys are small, but very easy to find with your fingers, and work well. Motorola thoughtfully gave the lock key a ridged texture so it feels different from the volume toggle.
The screen is 5.2 inches, 1080p resolution, and AMOLED. As you'd expect from an AMOLED screen, it's bright, (extremely) colorful, and has great viewing angles. Picky Pixel People will be disappointed that the pixels are of the PenTile configuration. So if you press your eyeball to the screen, certain edges and fine lines won't be as smooth as on some other phones. But at a normal viewing distance, the screen looks pretty darn good.
There's a SIM card tray in the top, but no memory card slot. What's frustrating is that the Moto G now has a memory card slot, but the X still does not. You're stuck with the 16 GB it comes with, or you can choose a 32 GB version via Moto Maker. The battery is also sealed inside.
The voice control functions have been upgraded quite a bit. You can now customize the wake-up phrase to be something other than "OK Google Now". It can be anything you want, actually. So if you want to address your phone by saying "Hello, my precious", you can. It also understands "good night" to enter sleep mode, "good morning" to exit sleep mode and announce your first appointment. You can also use your voice to interact with the camera, Facebook, WhatsApp, and YouTube.
Motorola ditched the weird 10-megapixel camera module they used last year. Its extra white pixels boosted low-light performance, but the results were otherwise middling. The new 13-megapixel camera performed okay in some quick and dirty tests. Low light performance is not impressive, though. It doesn't hold a candle to the iPhone 5, that's for sure. Motorola could do better here.
Auto-HDR carries over from last year's model and is great to have. I don't personally have a need for 4K UHD video capture, but the slow-motion mode (at 1080p) is nice to have, and works well.
One really great/odd new feature is Highlight Reel. It gathers all of the photos and videos taken around one time and place, and puts together a video montage of that event. You can customize the length and music, and customize the content included. It's great, but also odd, because, well… does that sound familiar? To me, it seems like a blatant rip-off of HTC's Video Highlights feature.
The rest of the software has all of the smarts of the original Moto X, plus a little extra intelligence sprinkled here and there. For example, the excellent sleep, meeting, and driving modes are there, but now the phone will listen for road noise to confirm you're really in a car and not on a train, for example. Nifty. You can also view up to three of your most recent missed notifications from the lock screen.
We look forward to reviewing the Moto X in full, but our first impression is a good one. It will be disappointing for those who saw the first Moto X as the good "small flagship" option. But for everyone else, the new model looks like solid competition against phones like Samsung's Galaxy S5 and the HTC One. The original was one of our favorite phones of 2013, and the new changes are generally all good ones.
The Moto X (2nd edition) will come to major carriers later in September. We know it's coming to AT&T and Verizon at the very least, and both will offer Moto Maker customization. It will run $99 on contract or $499 unlocked. Although manufacturing has moved to Asia, Motorola is still promising one-week turn-around on Moto Maker custom colors and materials.
disappointing
As I type this from my original moto x I'm saddened to learn Motorola sold out to "bigger".

On the plus side I am glad that they give the option to be done with that annoying " OK Google Now" phrase....I have not used that great voice control feature because of that.

Not sure what the complaint was with the original camera but I thought it was great. I think the twist to activate feature could have activated more quickly but the pics were good.

And to say the original X felt cheap doesn't make sense...I chose it over the LG and Galaxy line because it felt more solid and quality built.

I'll still be getting the new X if it comes to Sprint
I didn't think it felt cheap, but Motorola said that's some of the feedback they received from consumers.
The original camera was kind of lousy- it was super grainy and had really terrible white balance.

That said, the original X was a terrific phone (if sadly unreliable.)
I'm with you, Joel. Very disappointing that Motorola went with the ultra big size. Everyone's running to those bigger sizes, and although I understand that there is where they probably make the most profit, it's still a shame that Motorola should not ...
(continues)
Dimple
Is the dimple on the back as deep as it looks in the pics?

On the original X it's such a great thought and position, not intrusive and perfect function
It's pretty big.

It's technically only 0.8mm deep, but it feels like a bottomless pit to my finger.

I prefer the dimple, too, but I think you'd get used to the new "pit" pretty quickly. I can't think of any good reason it should be a deal-break...
(continues)
new sample photos
I just added some additional camera samples.
thanks for the additional pics... .low light shots are not great. Looks like the zoom pics were hit and miss
Ear piece volume?
My biggest complaint with the original X is the ear piece volume. I cannot get it loud enough to hear clearly in most situations and I have to use the speaker phone. It gets frustrating

Have you had a chance to test the volume? If so, how does it compare to the original?