Apple Shows Off iPhone 6 and iPhone 6 Plus
Article Comments 57
Sep 9, 2014, 12:10 PM by Eric M. Zeman
updated Sep 9, 2014, 2:02 PM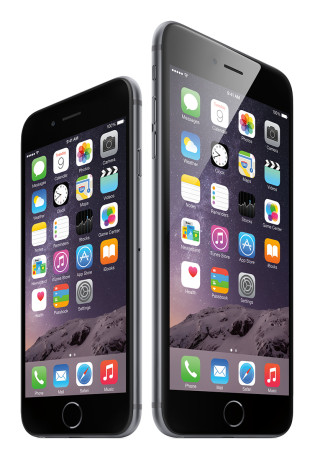 Apple today revealed new iPhones during a special event held in California. The new devices have curved designs, a protruding camera module, and Apple's signature metal design. The phones have a glass front, aluminum frame, and a steel Apple logo on the back. The iPhones have Retina HD displays that measure 4.7 inches and 5.5 inches, respectively. The smaller screen has 1334 x 750 pixels and the larger one has 1920 x 1080 pixels. The iPhone 6 measures 6.9mm thick, the 6 Plus measures 7.1mm - both are thinner than the iPhone 5s. The iPhone 6 Plus offers a wide array of landscape-optimized apps, such as a two-panel view in messaging, along with a wider keyboard. A double-press of the home button will move the UI elements normally positioned at the top of the screen down so they are easier to reach with one hand. Apple said content designed for the different iOS screen sizes and resolutions will now scale up to match whichever device is being used. The phones feature a 64-bit A8 processor that uses a 20nm processes that Apple says is 20% faster than the iPhone 5s' A7 chip, and provides a 50% bump in graphics performance. The iPhones also use Apple's M8 Motion coprocessor to help manage sensors for fitness apps. The sensors are able to differentiate between cycling and walking, and can calculate speed and elevation changes. The new handsets feature 20-band support for LTE networks, and include carrier aggregation, VoLTE capabilities, and Wi-Fi calling (from select carriers). The iPhone 6 and 6 Plus both feature an 8-megapixel camera with an aperture of f/2.2 and what Apple calls True Tone flash. The cameras can shoot panoramas up to 43-megapixels. Thanks to a new image signal processor, the cameras are faster to focus, and faster to detect faces/blinking. The 6 uses digital processing for image stabilization, but the 6 Plus uses optical image stabilization. The cameras can shoot 1080p HD vide at 30/60fps, as well as slow-motion video at 120/240fps. The user-facing camera, which Apple calls FaceTime, has an all-new sensor that is faster at detecting faces, allows in 81% more light than the 5s, and can capture selfies in rapid-fire bursts. The iPhone 6 will cost $199, $299, or $399 for the 16-GB, 64-GB, and 129-GB models, respectively. The iPhone 6 Plus costs $299, $399, and $499 for the 16-GB, 64-GB, and 128-GB models, respectively. Those prices are available only with two-year contracts. Both iPhones go on sale September 19, with preorders beginning September 12. The iPhone 5s will remain available for $99, the 8GB iPhone 5c will be available for free.
The Ford,Chevy and Dodge of Generation 2K
People like what they like. I have had both products apple and Android, and with that I say if you are happy with what it does for you then get it, and if you are not get something else. I get a good laugh at the fan boys of each side! Apple must make a good phone because people buy them. They all have their problems and no company ever wants to own up to that.
I will say that I have had fewer problems with the iPhone and the main reason I went back to android is because of the battery not lasting very long on the iPhone. Like I said if you are happy with it use it and if you are not don't!
I don't see the point of bashing all the time. I mean do you really think you cussing out apple or android will make someone buy something else? Peopl...
(continues)
Apple must make a good phone because people buy them.


By that logic Justin Bieber must be a good musician because people buy his records.


Look, no one is claiming that the iPhone is BAD, what we are doing is mocking Apple for bragging about ...
(continues)
Verizon
First question: Will the iphone 6/6+ for Verizon be capable of voice/data simultaneously, independent of the VoLTE?
Isn't that up to verizon?
Catching Up
So Apple is making progress in its efforts to catch up to Android.....the problem is that in the next 12 months, new Android phones with new features will continue to be produced, while Apple will wait another year to update their products. It looks like every new feature and design that Apple is announcing were available on Android phones back in 2012.

And iOS 8.0 = Android 1.0

There was a time when Apple used to be able to make credible claim that a new feature they were introducing had never been seen before on any phone....now they are content just announcing that 'you know feature x you like on Android phone y? Now we have it too!' How long will iPhone users continue to be satisfied with that?

Oh what am I talking about, they...
(continues)
Android 1.0 didn't even have a full virtual keyboard. And uh, yeah, willing to guess you haven't really used an iPhone extensively.
I'll begin by saying I think Apple are a bunch of jerks in how they do business. I'm not a fan.

So I've used both, Android and an iPhone. I've found that while Android is light years ahead in specs and features, my iPhone does a better job of doing...
(continues)
wait for it on Iphone9 . haha
Samsung, HTC, and LG cant compete
the only android phone that can compete with this is the New Moto X,

I honestly think both Apple and Moto should have stuch with 4.7inch screens, Iphone 5s was to small and note 3 is way to big, i have owned both i think my original Moto X is better then either one

Tech spec wars are overrated, apples A7 chip out performs every android phone out there, with less cores and slower clock speed, why becuase when they do somthing they make sure they do it right, sure NFC has been around for yrs, but it was dieing becuase not enough places supported it

i like android(as long as its stock android), i like iPhone and i like windows phone 8, they each have there own place
>>the only android phone that can compete with this is the New Moto X,

I've had my Note 3 for almost a year and it completely blows their sorry attempt at a phablet out of the water. Not to mention that the Note 4 has already been announced, will r...
(continues)
Actually my HTC ONE m8 runs circles around your iPhone. Any day of the week.
wow the same as android
everything about the new crapple 6 is the same as android I was hopeing to be wowed but once again nothing to be excited about. unless you are a sheep.
That's basically what I said below....neat features, but all cribbed from Android....nothing truly innovative.

It's a shame really....we need all mobile OS's to be innovative, not just one.
Oh by the way iSheep on T-Mo...
No LTE band 12. Bummer
iSheep be like....
"Samsung phones are way too big. 4 inches are perfect".

Today: "What? IPhone 6 plus with 5.5 inch screen? Amazing! Revolutionary!!! I love it. "
It is funny the way that iPhone users bash features popular on other phones, but then praise those same features to the hilt when they come to the iPhone a couple years later.