Review: Nokia Lumia 635 for T-Mobile
Article Comments 2
Aug 1, 2014, 7:00 AM by Eric M. Zeman @zeman_e
updated Aug 1, 2014, 4:40 PM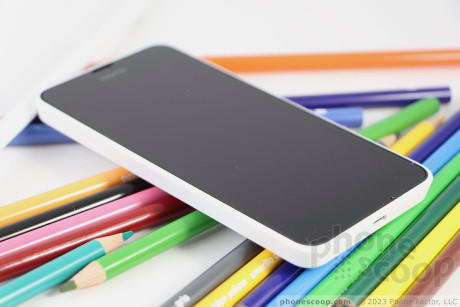 Nokia's entry-level Lumia 635 is a solid little phone, especially when you consider just how inexpensive it is. It is among the first to run Microsoft's Windows Phone 8.1 platform, which shines on this tiny titan.
AD article continues below...
Form
Is It Your Type?
The Lumia 635 is an entry-level smartphone for T-Mobile. If you're a fan of Microsoft's mobile operating system, the 635 is noteworthy as being the first device in the U.S. to ship with Windows Phone 8.1 — with Cortana — on board. That and its low price point should find the Lumia 635 plenty of fans.
Body
The Lumia 635 is a plain-looking phone that follows in the design language set by Nokia as far back as 2010. Nokia's devices are often colorful, but they each have their own identity. This is worth cheering for in a world that often produces an endless array of black slabs with no personality.
The 635 is a mid-sized device that has a comfortable, if somewhat blocky, footprint. A polycarbonate shell forms not only the back cover, but the sides as well. This shell is removable and interchangeable, something that few other smartphones can claim. The 635 may be simple, but it is solid.
Thanks to its footprint, the 635 is easy to hold and use. I had no problem carrying it around and using it over the course of a week. It slips easily into pockets, but the sharp angles of the side edges will let you know the phone is hugging your leg.
The front of the 635 is black. I found it was prone to collect fingerprints and other grime, which sometimes made it hard to see the screen outside. The Nokia logo at the top is so faint you can hardly tell it's there. There's way too much bezel around the screen, but that's pretty typical for a Nokia handset. There are no physical buttons on the front. The Windows Phone controls appear and disappear at the bottom of the screen as needed. Since the polycarbonate shell wraps fully around the chassis of the 635, it forms a lip around the screen. The lip serves to protect the screen when the 635 is placed on a flat surface.
The side keys themselves are excellent. They stick out quite far and work well. The volume toggle, positioned on the right edge, has great travel and feedback, as does the lock button. As is typical for Nokia handsets, the volume toggle is closer to the top and the lock is closer to the middle. The buttons may work well, but locating them is another matter. The 635 has a trapezoidal shape, which means the side edges are not perpendicular to the front, but slanted at an angle from the front face. This makes the buttons harder to reach. There is no dedicated camera button, which is a bit of a shame. The headphone jack is positioned on top and the microUSB port is on the bottom. There are no buttons or controls on the left edge.
The back shell needs to be peeled off to reveal the battery. The plastic has a matte texture that feels nice, and it snaps into place quite firmly. The SIM and memory card slots are only accessible with the battery cover removed. The battery itself has to be pulled to access the SIM card.
Performance
Screen
The Lumia 635 has a 4.5-inch 854 x 480 screen. It uses the Nokia's ClearBlack LCD technology and manages to look good despite the relative lack of pixels. I found the screen to be bright in all but the sunniest environments. The lower resolution is helped a lot by the design of Windows Phone 8.1, which uses a lot of straight-edged UI elements. Even so, pixels are readily visible to the naked eye. There's a little bit of brightness loss when the phone is tilted side-to-side, but colors still look good. It's a passable screen for this price tier.
Signal
The 635 performed exceptionally well on T-Mobile's LTE 4G network. In areas where T-Mobile offered LTE, the 635 latched on tight. The 635 was able to connect all calls on the first dial, and never dropped or missed calls. Call set-up times were generally short. Data speeds were consistently good when LTE was available. I noticed some slight slow-downs in data when LTE network coverage was at its weakest, but it was never anything to complain about.
Sound
Call quality was quite good. Voices came through the earpiece clearly. Voices sounded natural and warm. You'll be able to hear calls most anywhere thanks to the potent volume. I rarely found the need to set the volume any higher than 60%. Setting it up all the way easily overpowers nearby noise. The speakerphone is also incredibly loud. Call quality suffers a little bit thanks to some distortion, but the speakerphone is very useful. Callers said I sounded good to them. Ringers and alert tones come screaming through when set all the way up. You can keep them set about halfway most of the time. The vibrate alert was plenty strong.
Battery
The smaller, low-res screen and mid-grade processor mean the Lumia 635 provides solid battery life. The 1,830 mAh battery is rather small when compared to many of today's phones, but it provides more than enough juice to get most users from breakfast to bedtime. The phone consistently lasted an entire day and never showed any signs of weakness. You should be good to go with the 635.
Basics
Menus
The Lumia 635 is among the first phones to include Windows Phone 8.1. If you want the skinny on all the new features, Phone Scoop reviewed WP8.1 exhaustively here. The updated platform runs well on the 635.
The lock screen is much more useful than before. It now plays host to a rich array of notifications, changing wallpapers, and even select apps. The lock screen is easy to manage, and provides access to the camera, but no other shortcuts. I was easily able to set lock codes to protect the device. I'm really pleased with the improved notifications.
The notifications tie in well with the all-new Action Center, which is a drop-down tool much like the notification shades seen in Android and iOS. The Action Center holds all of the notifications, where they can be dismissed or acted upon. It also provides quick-setting-style toggles for some of the radios.
The Start screen is a much more interesting place in WP8.1. The 635 can be set to display two or three columns of Tiles. The benefit of using three is that you can cram more Tiles in the same space, though they are each a bit smaller. WP8.1 also adds background images to the Start screen, which are visible through newly translucent Tiles. The Start screen has become much more flexible and more useful.
The main app menu and settings tools are more or less unchanged from earlier versions of WIndows Phone. Apps are listed alphabetically and cannot be rearranged, though they can be placed on the Start screen — and even in folders there — if you wish. The Settings menu is a rather boring white-text-on-black-background affair, but it's functional and makes sense.
Some of the notable tools include Kid Mode, so users can safely hand their phone over to others. WP8.1 also includes Data Sense, Storage Sense, and Wi-Fi Sense. These help you manage and keep track of your mobile data as well as how much storage is available on the handset. Wi-Fi Sense makes it easier to share your own Wi-Fi, as well as connect to public Wi-Fi networks.
Windows Phone 8.1 runs quickly enough on the Lumia 635, which has a 1.2 GHz quad-core Snapdragon 400 processor and just 512MB of RAM. I will say that it is not the fastest Windows Phone I've seen, but it doesn't feel slow, either.
Calls and Contacts
The phone app functions the same way across all Windows Phones and it wasn't really improved with the 8.1 update. It's a stark and simple app that's easy to use. When opened, the call history is the default view. There are four main functions: voicemail, dialpad, contacts, search. During a call, the buttons are laid out plainly and include the features most people expect these days, including the ability to mute or hold calls, merge calls, or route them to the speakerphone or Bluetooth.
The 635 supports T-Mobile's Wi-Fi Calling service. It takes a few moments to set up, but is free and worth it if you live in an area with questionable T-Mobile service. It can be used to pass calls over Wi-Fi rather than the cellular network. I found voice quality of Wi-Fi calls to be excellent. The service also allows for text messages to be sent over Wi-Fi.
Windows Phone doesn't have a "contact" app, it has the People Hub. The People Hub is your contacts list on steroids. Rather than serve as a simple list of names, the Hub hooks into Twitter, Facebook, and LinkedIn account details to provide a richer, more interactive space. It provides a virtual flood of status updates and posts to go along with the faces and contact info.
Messaging
The 635 covers all the messaging basics, which include email, SMS/MMS/IM, Skype, social networking, and so on. There is only one email app, but it can handle any type of email account, including POP, IMAP, and Exchange. Perhaps its best feature is that it lets you pull multiple email accounts into a single inbox.
The messaging app is still rather spartan, but it did gain some new and useful features. The messaging app within Windows Phone pulls double duty if you want it to, packaging together both SMS/MMS conversations as well as Skype. One feature added in WP8.1 is the ability to mute conversations. If you want to avoid distractions, you can mute individual threads to cease active and noisy notifications. Messages still arrive, but the notifications don't bother you. The messaging app now also makes it easier to jump into a contact card to initiate an email, call, or other type of message. Last, messages can be muted thanks to Cortana and Quiet Hours. The Quiet Hours (more on that later) allow you to set times when you're not to be disturbed other than by select people under certain circumstances.
Other WP8.1 messaging tools include Groups and Rooms. These are both subsections of the People Hub. They essentially let you manage, communicate with, share photos with, and coordinate calendars between small groups of people.
Though the People Hub incorporates Facebook and Twitter for basic messaging, you're better off using the full Facebook and Twitter apps. Thankfully, both are pre-installed.
Last, Windows Phone 8.1 makes typing in all these messaging apps better with support for trace input. You can now swipe your finger around the keyboard to type out messages rather than peck at individual letters. The prediction engine works well, and it does a good job of figuring out which word you might want to use next.
Extras
Media
The 635 offers a fairly straight-forward set of media applications and services. To start, the native WP8.1 Music App is on board. It used to be called XBox Music, and in fact the app itself still says that when you open it. The Music app is a one-stop-shop for your music needs. If you've sideloaded music or added some to a memory card, it shows up here. The Music app also acts as a storefront for Microsoft's music service. You can buy individual tracks or albums if you want. This app also includes an FM radio, which requires headphones (for an antenna) in order to be used.
The 635 also includes Nokia MixRadio, Nokia's own content store. It, too, lets users purchase music, and also includes 150 streamable radio stations, personalized music recommendations, and a tool for searching local live performances. Premium features, such as an unlimited number of track downloads, cost $3.99 per month.
The 635 also has T-Mobile's Live TV app. This app streams TV shows and movies to the handset. It has been redesigned for Windows Phone and actually works pretty well (over LTE). Too bad it costs $10 per month.
Camera
The 635 includes both the base Windows Phone camera app and the more feature-rich Nokia Camera app and several of Nokia's camera add-ons.
The basic WP camera app is simplistic to a fault. It includes only the most basic shooting functions and modes, but it opens, focuses, and shoots photos quickly. It's a bummer there's no dedicated camera button.
WP8.1 did introduce at least two new features: burst mode and a customizable viewfinder. The burst mode is capable of capturing photos even before you press the button. The burst mode captures a number of images and then lets you pick which one you like best from the bunch. The functionality makes it easier to get those fleeting moments that can escape in a jiffy. In my tests, burst mode worked well. The same goes for the customized viewfinder. This tool lets you arrange the camera controls so that your five favorite settings are always under your fingers. I like that you can tweak the layout of the controls; it really helps reduce time you might otherwise waste futzing with the settings menu.
The Nokia Camera app is a professional-level application that is beyond compare. It's not suited to beginners, yet here it is on an entry-level phone. It gives users full control over all the possible settings through a unique, ring-like user interface. For example, ISO can be set anywhere from 100 to 4000, shutter speed can be set anywhere from 1/16,000th of a second to 4 seconds, and focus can be set to toggle between macro and infinity. The long exposure tool is particularly interesting because it opens up a wide range of creative nighttime imaging. For people who understand how each of these factors interacts with the others to produce a result, the level of control is unparalleled on a smartphone.
The camera add-ons, or "lenses" in Windows Phone parlance, are Cinemagraph and Glam Me. Nokia Cinemagraph is for creating animated GIFs and Nokia Glam Me is for taking glorified selfies. There's only one problem - the Lumia 635 doesn't have a user-facing camera. You have to aim the main camera at yourself and hope for the best if you want to take selfies. This could be a deal breaker for some.
Photos
The 635's 5-megapixel sensor produces average results at best. This phone is not one of Nokia's finer efforts when it comes to imaging. The sensor manages to get exposure right, and the lenses are capable of dialing in focus, but I found white balance to be all over the place. In particular, it had a hard time coping with bright sunlight and often overcompensated. I was able to fix the problems on my PC, but most people won't bother. When the stars all aligned over the 635, though, it managed to take a few perfect shots. It suffices for daily photography needs, but please use something else if you go on vacation.
Video
The 635 is limited to capturing 720p HD video. The video results were better than the picture results. Specifically, the video camera was better able to resolve the white balance issues and produce accurate color. Focus was mostly good, as was exposure (with the exception of really dark and really bright spots.) The 635 suffices for casual use, but not for creating your cinematic masterpiece.
Photo Hub
The Photo Hub stores all images captured on the phone itself, but also syncs with social media accounts, most notably Facebook. The Hub itself is an active place where you can view your own images as well as peruse those of your social networking friends. The photo-managing features are typical for most phones and it's easy to move images between folders or share them with others.
Microsoft made a minor adjustment to the Photo Hub in WP8.1. The camera roll now automatically sorts photos into groups based on data, location, and activity. This makes it easier to see separate events, rather than just a long string of photos in a gallery. The Google+ Photos app does this to a certain degree, as does the iOS gallery app.
I like how easy it is to back up photos to OneDrive. It takes a couple of clicks and every photo/video you take will be uploaded at full resolution to your OneDrive account. This only happens via Wi-Fi so as to avoid potential data charges. Of all the photo backup services, I think Windows Phone's is the easiest to use.
Editing features in the Photo Hub itself are limited to rotate and crop. This is where Nokia's Creative Studio app comes in play. Creative Studio lets users apply various filters and effects to change the tone/appearance of their photos. Creative Studio has a pretty good feature set for those who like to tweak their images after the fact.
Apps
T-Mobile kept the number of preloaded apps to a respectable level on the 635. There's the typical set of Windows Phone basics, which are joined by a handful of Nokia-branded apps and just a couple T-Mobile apps. One thing I like about Windows Phones is that you can easily delete any app that you might consider to be junk.
Bluetooth
I didn't have any issues with the 635's Bluetooth radio. It connected to other devices easily. The phone calls I made through my favorite headset were good. Music sounded good when pushed to a Bluetooth speaker, but short of excellent since it doesn't support the aptX profile.
Browser
Windows Phone 8.1 updates Internet Explorer to version 11, and it's the best version yet. Truthfully, it adds a lot of features that Safari and Chrome have offered for years, but that's a good thing. For example: private browsing. You can now open private browser tabs that are not saved or tracked. Ditto with syncing favorites, tabs, and history between desktops, tablets, and smartphones. Live Tiles now support dynamic headlines from web sites. If you pin a web site — such as phonescoop.com — to the Start screen the Live Tile will update throughout the day each time a new article is published.
The 635 was quick to browse the web, on both 4G LTE and Wi-Fi. It renders both desktop and mobile-optimized web sites just fine.
Clock
As this model lacks Glance, the only way to check the time is to press the screen lock button to wake the 635 up. Once you do, the time and date is clearly displayed on the screen along with notifications. The appearance of the lock screen clock cannot be changed, however. For example, you can't set it to an analog clock face.
Cortana
One of Windows Phone 8.1's biggest features is Cortana, Microsoft's voice-activated assistant. Cortana is similar to Google Now in Android and Siri on the iPhone. You can use Cortana to perform voice searches, dictate messages, and keep track of your flights and/or calendar. I've been using Cortana for several months now and have come to really like it. The reminders feature is one of the best. For example, you can have Cortana remind you to ask about a friend's health the next time you talk to them. When you call that person, the reminder will pop up. Cortana also parses the internet for items related to your interests, such as news headlines, sport scores, the local weather, and more. Cortana controls quiet hours and inner circle. Quiet hours are used to silence notifications during set periods of time, such as at night. The inner circle represents the closest of close contacts, typically family members. You can use Cortana to offer the inner circle access to you even during quiet hours. Last, Cortana can be used to listen to a song and search for it on the internet. I find Cortana isn't as good at this as other third-party apps, though. In sum, Cortana is a great feature worth exploring.
HERE
Nokia's HERE navigation suite is an incredibly powerful set of tools that not only helps map out directions, but lets you search your surroundings. HERE Maps offers a wealth of features that go head-to-head with Google Maps. Some of the associated apps include HERE Drive and HERE Transit. These are individual apps that perform specific functions. HERE Drive plots point-to-point driving directions, while HERE Transit helps manage mass transit route planning.
The GPS radio of the 635 itself performs perfectly. It pinpointed me quickly and accurately no matter where I was.
Microsoft Apps
Some of the useful tools on board most Windows Phones — the 635 included — are Office and OneNote. Office needs no introduction. On the 635, you can open/edit Word, Excel, and PowerPoint documents, as well as sync them to your personal (or corporate) computers. OneNote is Microsoft's extensive note-taking and -managing app. It functions similarly to EverNote.
Wrap-Up
The Lumia 635 is a good little phone. The hardware is decent, if somewhat boring. It feels solid and the exchangeable covers are a nice option to have. The screen isn't the best ever, but battery life is quite good. The phone does a great job connecting to T-Mobile's LTE 4G network, and voice quality is really good.
Windows Phone 8.1 functioned perfectly on the 635, despite the limited RAM and middling processor. All of the main OS features, including the Cortana virtual assistant, performed exceptionally well. New features — such as Action Center, notifications, the trace keyboard, and others — make the 635 a solid contender with today's inexpensive Android phones. Perhaps the biggest failing is the camera, which only rates "adequate" in my book.
T-Mobile is offering the Lumia 635 at a rock-bottom price point. If pricing is a major concern, the Lumia 635 is the budget phone for which you are looking.
No front camera
The issue I would have with it is that it has no front camera, making Skype / Google+ video chats impossible as well as "selfies" for those into that.

Maybe I'm cranky, but I think in 2014, no "smart" phone should be made any longer that doesn't have at least a very basic VGA front-facing camera on it.