Google Reveals Android "L" Features
Article Comments 5
Jun 25, 2014, 11:48 AM by Eric M. Zeman
updated Jun 25, 2014, 11:57 AM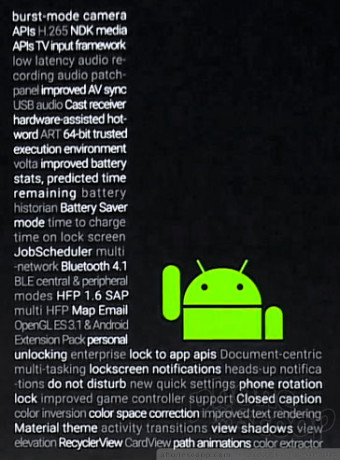 Google today talked about some of the new features that will eventually appear in the L release of Android later this year. Google has re-envisioned the lock screen to incorporate more of the notifications, as well as the ability to automatically unlock the device when a trusted wearable is nearby. Android L also brings the Material Design language to the web to improve the overall experience, such as overlapping cards to represent open Chrome tabs. L will also offer a new keyboard design. Moving forward, Android L will rely on the ART runtime engine instead of Dalvik, which has served for several years. Google says ART offers a two-times improvement in app performance across the platform. ART is also more memory efficient, and is optimized 64-bit processing. The platform includes the Android Extension Pack to improve graphics performance. Google took time to improve the platform's efficiency, too. Project Volta, for example, took aim at helping OEMs and developers improve battery life by more optimizing their apps. Further, Android L adds its own Battery Saver tool to help extend the life of a battery when it reaches critical levels. L builds in more malware protection and ways for Android users to secure their device and make sure apps are scanned for safety. Google said the L release will arrive in the fall, though developers will have access to it earlier.
source: Google
Lollipop?
Someone just told me that this might be the new name for the latest Android.
I like how Lemon Drop sounds.
What makes you think they'll stop using the name as a way to make even more money? It'll probably be Laffy Taffy or something.
When.........
When will this version be released?
All we know currently is "In the Fall".