Review: Samsung Galaxy S5 Active for AT&T
Article Comments 3
Jun 14, 2014, 8:00 AM by Eric M. Zeman @zeman_e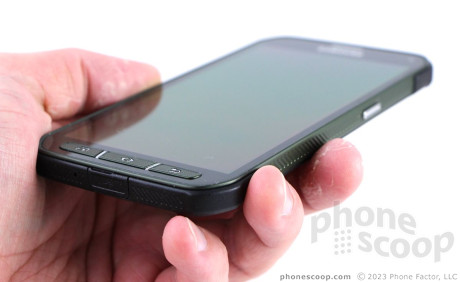 The GS5 Active is a tougher Android smartphone from Samsung. It carries over most of the GS5's attractive features, but wraps them in a stronger body for protection from daily abuses.
AD article continues below...
Form
Intro
The Samsung Galaxy S5 Active is just what the name implies: It's a variant of Samsung's flagship smartphone that's more able to shrug off the daily bumps and bruises commonly experienced by today's handsets. It offers all the same features as its daintier cousin, but is packaged in a sturdier shell for better protection. If you're the adventurous type, or just prefer a sturdy phone to a delicate one with a case, the GS5 Active is a better bet than the standard model.
Body
I'm just going to come out and say it: The Active is what the Galaxy S5 ought to be. The Active trades in the GS5's vanilla design for one that's altogether superior to my eyes. It may be heavier and bulkier, but the Active won't require a case of any sort. It has far more personality and utility than the GS5, and will surely be a better day-in and day-out companion for those who pick it over the less-sturdy model.
Fully ruggedized phones are often built like tanks and generally have the chunky footprint to match. The GS5 Active doesn't go quite that far. It's able to withstand moderate drops, dunks in the pool, and some roughhousing, but you can't drive your car over it or smash it with a hammer. The Active trades the GS5's chrome exterior rim for a rough polycarbonate shell that wraps around the side edges and forms a protective lip around display. The shell creates angled corners that give the Active its own look. Gone is the dimpled battery cover. In its place is a solid, textured plate. Our review unit is colored in camouflage and looks like it would be at home on a paintball range. Other colors are available. I like the design a lot.
For an apples-to-apples comparison, the GS5 Active measures 5.72 x 2.89 x 0.35 inches and weighs 6 ounces. The standard model measures 5.59 x 2.85 x 0.32 inches and weighs 5.1 ounces. In other words, the dimensions are different, but not by an appreciable amount as far as I am concerned.
Like the GS5, the Active is a big phone. People with small hands may find it too big. The angular sides mean it doesn't rest comfortably in your hand, it doesn't nestle into your palm. You can feel just how wide the phone is. On the positive side, it is incredibly solid and strong as hell. Nothing about the Active is wimpy or delicate. It should fit into most pockets without too much trouble, but the rim protecting the display means the phone is easy to feel against your leg as you move about.
The front surface is mostly screen. There's a chrome-colored strip above the display for the earpiece speaker. The Active ditches the GS5's capacitive control buttons and fingerprint sensor for three regular buttons: multitask, home, and back. The buttons are easy to find with your thumb thanks to their good profiles. Travel and feedback is excellent. The lock button is on the right edge, just above the center. It has an excellent profile and travel and feedback are practically perfect. There are two buttons on the left edge, which is a change from the standard model. The first is the volume toggle, which has a great profile and superb travel and feedback. The second is much smaller and activates the Active's "Action" apps (more on these later.) The button itself may be small, but I didn't have any trouble finding or using it.
The battery cover takes some effort to peel off thanks to the gasket that protects the innards. It needs to be snapped firmly in place to protect the GS5 from water. The battery itself is removable. The battery cover needs to be removed in order to access the SIM card and microSD card slots, as well.
The microUSB port is on the bottom and has a hatch to protect it. The Active isn't water resistant unless this hatch is firmly closed. I found this hatch to be a little bit of a pain to use day-in and day-out, but it's a worthwhile tradeoff. The headphone jack is on top and doesn't need a hatch.
The Galaxy S5 Active lives up to its name. I bumped it around for several days and it's still working just fine. I dropped it several times (on purpose) onto concrete, kicked it, and held it under running water. I banged it on my desk, pounded it with my fist, and threw it high in the air allowing it to land on my grassy yard. It's still ticking.
Performance
Screen
The Active has the same 5.1-inch Super AMOLED full HD display that the GS5 does. I held the Active side-by-side with the standard model and couldn't see any difference at all between them. The display is fantastic through and through. I have no complaints whatsoever. It is large, pixel-rich, colorful, and bright. I didn't have any trouble using it indoors or out. All of the graphics and UI elements are smooth and show no signs of pixelated edges. It's a truly good screen.
Signal
The GS5 Active is an exclusive for AT&T. I used the Active throughout the NYC metro area and it performed very well. The phone never lost AT&T's network entirely, even in weak coverage areas. I was able to connect most calls on the first dial. The Active didn't drop any calls during my review period. I was pleased with the Active's data performance. LTE speeds were generally zippy and the Active only rarely dropped down to HSPA+. I had no trouble updating apps, posting pictures to Twitter, or checking email while out and about, even in congested areas of New York City. The GS5 Active lacks Samsung's Download Booster, which combines Wi-Fi and LTE to speed up downloads.
Sound
The Active is a very good phone for making voice calls. The earpiece produces clear, loud voices that I had no problem understanding even in a raucous bar during a World Cup match. There were no problems or interference of any kind and no background noise; only the other person's voice. Volume is much improved versus the standard GS5. The Active is quite loud when cranked up all the way. You can set the volume at about 50% or 60% for most calls. Reserve the full-blast setting for when you're at sporting events or other noisy spaces. The quality of calls dips a bit when sent to the speakerphone, but the volume is still very good. The Active supports background noise elimination, which means the people I spoke to through the device said I sounded great. Ringers and alert tones offer plenty of volume to get your attention. The vibrate alert is particularly strong. What's better, you can control the intensity of the vibrate alert for calls, messages, and so on. The Active includes 6 pre-recorded vibrate patterns and allows owners to create their own.
Battery
I am pleased to say the Active offers battery life that is equal to that of the GS5. In other words, battery life is very, very good. The device easily lasted from breakfast to bedtime and often had power to spare. Most owners should have no trouble with the Active's battery.
The Active also includes a power saver mode - and an ultra power saver mode - that can be used to extend the useful life of the phone. The power saver can be toggled on manually - or automatically - once the battery reaches 20%. Users can opt to block background data, restrict performance (ramp down the processor), or set the display to grayscale mode. Ultra power saving mode takes it a lot further. It sets the screen in grayscale mode, turns off all data when the screen is off, turns off Wi-Fi and Bluetooth, and only permits six user-selected apps to function, three of which are phone, messaging, and email. Power saver mode and extreme power saver mode will provide estimates (when switched on) of how long the phone will continue to function based on the remaining charge.
Bottom line: the battery rocks.
Basics
Menus
Hardware aside, the Active differs very little from the GS5 when it comes to the operating system, apps, and services on board. It runs Android 4.4.2 KitKat with Samsung's TouchWiz user interface on top. It will feel familiar if you're coming from any other Galaxy-branded Samsung device.
The Active's home screen panels are completely customizable, and the app menu can display apps in an alphabetical grid, in a custom grid, or in an alphabetical list. You can make use of folders to keep the app menu (and home screens) organized.
By default, the lock screen includes a shortcut to the camera, but you can add more if you want. The lock screen can show one or two clocks, the date and weather, select notifications, and a series of different locks. The Active doesn't have the GS5's fingerprint sensor and associated unlocking tool, so you have to use a PIN, password, or pattern.
Samsung made a jumble out of the easy-to-use settings tools provided by Google in favor of an icon-laden screen that's ridiculously annoying. I want to find and adjust settings quickly. I don't want to hunt for them. The new settings panel is far too confusing. It attempts to lump certain settings together (such as wireless radios), but duplicates the controls several times throughout. Thankfully, the settings view can be changed to a list or a tab.
The notification tray adopts the settings panel's design language, but the effect is much different. The icons and toggles are easy to read and discern from one another. I do dislike how much junk has become part of the notification tray, though. In addition to toggles for the radios and other controls, there's a brightness slider, another row of controls, and then the notifications. The extra controls take away valuable real estate from the actual notifications.
The Active includes Samsung's Easy Mode, which is an optional, dramatically simplified user interface. It's meant for first-time smartphone owners and helps them get over the initial hump of using a touch screen device. The phone also offers a one-handed mode, which shrinks the UI down by about 25% and lumps it into one corner. The idea behind one-handed operation is to make elements such as the keyboard, dialpad, and other controls easier to reach with your thumb. The one-handed mode can be turned on with a quick (very quick) back-and-forth swiping gesture. It took one or two practice swipes to get it correct, but once learned, it worked without issue.
The Active includes the same quad-core Snapdragon 801 processor found in the GS5. It's a beast and makes short work of any task you assign it. The Active is fast across the board and never felt slow or laggy.
Calls and Contacts
The Active's phone app is more or less the stock version of the Android dialer, but it's reskinned with Samsung's TouchWiz UI effects. It offers plenty of customization options that allow owners to make the phone's behavior suit their needs. When the dial pad is visible, tap the menu button to see an options screen for the phone. Here is where to set rejection behaviors, alerts, answering/ending calls, set up voicemail, and control the TTY functions. You can turn on/off noise cancellation, as well as dial in your own preferences for volume, clarity, and warmth.
The contact app plops favorites in a tab at the top of the phone app. A second tab provides access to the entire contact database. The Active includes home screen shortcuts for direct access to individual contacts on the home screen panel, but there isn't a larger widget for your favorite contacts.
Messaging
The Active includes the native Android communication tools, which are email, Gmail, Google+, and Google+ Hangouts. Neither Facebook nor Twitter is pre-installed. Samsung's own ChatOn app is pre-installed. ChatOn is a cross-platform IM app that uses data rather than SMS to deliver messages, but the Active has the generic SMS app from Google, too.
AT&T's Messaging app is also included. This is a catch-all instant messaging app that bundles together IM functions and SMS into one. The idea is to give you one spot in which to manage your SMS and IM threads. It's an OK service, and accomplishes its main goal without trouble. However, in my opinion, it's a bit clunky to use, and the individual apps it attempts to replace (SMS, Hangouts, Yahoo IM, etc.) are more feature-rich.
My Magazine
The Active includes a new-ish app from Samsung called My Magazine. Like HTC's Blinkfeed, My Magazine consumes one of the Active's home screen panels. By default, it is set to pull down select headlines from a few different sources and create a visually pleasing magazine spread with them. You can adjust the news sources and tie in your own social networking accounts. Both Flipboard and Blinkfeed offer a much larger pool of potential content sources, though. Samsung's My Magazine is limited to generic feeds rather than specific ones. For example, there's a "Music" feed, but not a "Rolling Stone" feed. My Magazine can hook into Twitter, Facebook, YouTube, Tumblr, LinkedIn, Google+, Flickr, 500pix, RenRen, and SINA Weibo. If you're the type who likes to consume content from numerous sources in one feed, My Magazine gets the job done.
Extras
Media
The Active includes the stock Google-made Play apps. The Google music, video, TV, book, and magazine stores are all fine places from which to rent or purchase content. The individual apps to consume them are decent and haven't changed in quite some time. The Active also includes the standard YouTube app, a generic MP3 player for sideloaded music, and a generic video player for sideloaded video. AT&T's crummy Mobile TV app is also on board. This for-pay app lets you stream live and pre-recorded content over AT&T's network. Don't bother.
Thankfully the Active carries over Samsung's Smart Remote app. Smart Remote can both control your home theater equipment and also peruse various content sources for something good to watch. Setting up the remote is a cinch. It walks you through the process of pairing with various devices and doesn't take more than a few moments to lasso control over your TV, cable box/DVR, Blu-Ray player, and receiver. The app's "smarts" come from the Peel engine. Answer a few questions and the app will be able to interact with all the content from your cable provider, as well as view schedules in advance, interact with the DVR, and so on.
Last, AT&T preloaded Beats Music, too. Beats costs $5 extra per month for unlimited streaming. Why Beats is on the Active as opposed to Samsung's own Milk Music app is a curiosity I can't answer. (As an aside, it is worth pointing out that Apple recently agreed to acquire Beats Music. Apple said it will continue to offer the Android app, but it is possible that will change down the road.)
Camera
The Active may not have a dedicated camera button, but the excellent camera application opens in a jiffy from the lock screen.
The viewfinder fills the entire screen; the controls float within. There are some quick settings available on the left side of the screen, including a toggle for the user-facing camera, selective focus, HDR, and the full settings. The action buttons on the right include a dedicated video camera button, a separate shutter button, and access to the various shooting modes and gallery.
The full settings are organized in a grid of icons. It is easy to interact with them and understand exactly how changes you make will affect the outcome. Further, it is customizable; You can drag the icons for the settings around in the grid and arrange them however you like. The Active offers control over picture size/resolution, metering modes, stabilization, timer, white balance, exposure, guidelines, shutter sound, and on. Basically, everything you need is there.
The Active has six different shooting modes preinstalled. They are auto, beauty face, shot & more, panorama, virtual tour, and dual camera. There is also a link in the mode listing to the Samsung app store where you can download more modes if you want, such as sports mode, which isn't preinstalled.
Samsung was smart to make the HDR feature accessible all the time. You can turn it on or off quickly when needed, and I find that really helpful. The same goes for the selective focus control. Like Nokia's ReFocus tool or a Lytro camera, selective focus lets you blur the background while the foreground is in focus and vice versa. You need to have a clearly defined subject and background in order for the feature to really work. Images turn out best if you are really close to the main subject. In fact, Samsung recommends you be about 1.5 feet away, with the background object at least 5 feet from the foreground subject. You can set the foreground to be in focus, the background to be in focus, or both to be in focus after the fact. This shooting mode also takes a little bit of practice to use properly, but the results are cool.
Just like the GS5, the Active has the picture stabilization tool on by default. I suggest you deactivate it because it really bogs down the speed of the camera. Every shot takes several seconds to focus and capture. When turned off, the Active's camera will focus almost instantly and can take pictures as fast as you can press the shutter button.
Photos
The Active captures images as large as 16 megapixels in the 16:9 aspect ratio or 12 megapixels in the 4:3 ratio. I was pleased with the shots I got. I didn't see any appreciable difference when compared to the results I obtained with the regular GS5. The Active delivered razor-sharp focus, good exposures, and accurate white balance. In general, the pictures are better than those I got with the HTC One. Most people will be pleased with the shots they take, even if all they ever do is use the automatic mode. Active owners who take time to explore the different shooting modes will be rewarded with images that go beyond the ordinary.
The front camera does a good job, too.
Video
The Active can shoot 4K (Ultra HD) video, but it's wasted without a 4K TV on which to view it. Skip recording in 4K entirely unless you have a monitor that can show it or you need the highest possible resolution. The 1080p HD video that I captured looked great. I was really impressed with the quality of focus, exposure, and white balance. The results accurately represent the real-world scene I recorded. Your YouTube fans will be impressed, no doubt.
Gallery
Samsung's gallery app offers some fun extra features. The Active will automatically sync thumbnails from your Google+ and Dropbox accounts, but you can thankfully turn these off. There's a drop-down menu accessible from a button at the top of the screen for sorting between albums.
When you dive down into the individual galleries, the Active goes into a split-screen mode: a vertical list of other galleries forms a strip along the left edge of the screen, and the rest is reserved to show larger thumbnails of the images in the gallery you chose to view. You have to press one of the thumbnail images to go into a full-screen view of that image. The entire screen of thumbnails can be pinched to make them smaller or enlarged. Once you open a single image, you can swipe through photos and share quite easily thanks to the numerous options in the gallery app.
The editing features are extensive. Not only does the Active offer crop, resize, and rotate, but it includes a number of handy tools for making OK photos exceptional. It allows users to adjust brightness, contrast, saturation, and red/green levels. It includes a number of Instagram-like effects. There's a suite of tools for touching up portraits, such as red-eye reduction, airbrushing, and blurring. Now you have no excuse to look like an unkempt mess in your selfies.
The Active also includes the Google+ Photos app, which can be used to sync and backup images to your Google account. Google+ Photos also includes the nifty Auto-Awesome feature for making GIFs and other improvements.
Activity Zone
The one significant new app on the Active that's not available to the standard GS5 is the Activity Zone. This app lets you tap into the Active's outdoorsy sensors, and more. The basic info screen shows you the elevation, barometric pressure, and compass. There are two large buttons that toggle on/off the flashlight or stopwatch. Them there's a dropdown menu accessible from the top-left corner that lets you drill down into each of these individual tools to get more detailed readings and measurements.
The Activity Zone also automatically finds other apps that tie into activities, such as Samsung's own S Health. The two can share information to enhance your view of your activities, exercise, and health. For example, it might be helpful to know that perhaps you're more winded than normal because you're at a higher elevation and the humidity is nearing 100%.
Apps
The Active includes a Samsung app store where you can download all the silly Samsung apps you want. AT&T has 11 different apps on board, most of them useless duplicates of stock Android apps.
The Active carries over features such as Air View, Smart Stay, S Finder, S Voice, and multi-window for running two apps at a time. Samsung included a data usage tool so you can monitor how much data you consume in a given day, week, or month. Sharing content from the Active to other screens is easy thanks to a screen-mirroring tool. Music and video content can be pushed to TVs and stereo systems via Samsung Link. It is brain-dead easy to use and can connect to most any nearby device.
The phone comes with what Samsung calls Blocking Mode. It's basically a Do Not Disturb function. It lets you set times when notifications are turned off. The app allows you to select certain contacts who will be able to reach you even if all others are blocked. Blocking Mode can be controlled manually, or set to turn on and off at certain times each day.
Bluetooth
The Active supports Bluetooth 4.0 LE. I was able to pair it successfully with a number of different devices, including headsets and speakers, as well as other smartphones and PCs. Phone calls routed to a headset offered excellent quality - much better than the standard GS5. Since the Active supports the aptX profile, music sounded amazing coming from aptX Bluetooth speakers.
Browser
The Active ships with an AT&T-skinned version of the stock browser, and Google Chrome. The AT&T app has toolbars that come and go as you browse through sites. One at the bottom offers basic back, forward, home controls, as well as a link to your favorites and a notepad. The top navigation bar lets you type in web addresses as well as manage tabs and so on. The browser does a fine job of rendering web sites and was quick over AT&T's LTE network.
Chrome is Chrome. It looks and acts the same way as it does on other Android devices. It performed well on the Active and AT&T's network.
Clock
You can choose to put a clock on the lock screen or not. It's your call. If you do, it'll be a large, white, digital one. The weather can be paired with it, which shows the current conditions wherever the Active happens to be. I wish you had more control over the lock screen clock.
GPS
AT&T Navigator and Google Maps are both preloaded. The Active performed excellently as a navigation tool. It pinpointed me in about 5 seconds consistently, and had no trouble plotting routes and finding nearby points of interest. Google Maps is free and Navigator carries a monthly fee. Maps offers all the same tools as Navigator and more, with features such as Street View.
Private Mode
The Active includes Private Mode, a special, sealed-away part of the OS that is password protected. Private Mode is mainly meant to protect sensitive files. It can interact with the photo gallery, the Google+ Photo app, the MP3 and video player apps, as well as the file browser. You can, in effect, hide pictures, songs, and videos you don't want others to see or hear. Though privatized pictures will technically exist in the gallery app, they can only be viewed when in private mode. Private Mode can come in handy for those who may want to keep some adult content on their device and take comfort that others won't be able to view it.
S Health
S Health taps into a bevy of sensors and can be used as a fitness pal and diet planner all in one. S Health forces you to create a profile, including your age, sex, height, and weight. It automatically calculates your body mass index and asks how active you are in general. You can use the app to track walks, runs, hikes, and bike rides. The Active has a built-in pedometer and heart rate monitor. Pair these with the calorie tracker and you really have a good idea of your fitness level. I found the pedometer to be fairly accurate at counting steps and measuring approximate distances. The heart rate monitor was also accurate, as it delivered the same result that my treadmill did. The one bummer is that you have to be still to track your heart rate. This means you can't track while you're actually working out. You have to stand still for 30 seconds with your finger on the sensor to get an accurate reading.
The food tracker is highly detailed and lets you be explicit in monitoring your diet. For example, I was able to pick out the exact brand of yogurt I ate for breakfast, including the flavor! The food tracker can find nearly anything you search for, which is very helpful if you're monitoring calories strictly. You can track breakfast, lunch, dinner, and snacks. The software automatically knows how many calories you need to consume to maintain your current weight. It can help you set limits if you actually want to lose weight.
Wrap-Up
As far as I am concerned, the Samsung Galaxy S5 Active is better than the standard model. It's a bit thicker and heavier, but the added protection from drops and more-appealing design are worth that small sacrifice. The only major feature missing is the GS5's fingerprint reader, which I found to be inconsistent and ultimately useless anyway.
The Active is tough, water resistant, and good looking. The screen is fantastic, phone calls sound great, mobile data is speedy, and it takes great pictures. Few other phones offer the same mix of features and performance. The phone may be over-stuffed with apps, but that's a problem shared by all Samsung devices.
The Galaxy S5 Active is a better competitor with the HTC One and LG G3, and is worth considering if you're an active person who values its innate strengths.
Camara
I would only work on the camara, outdoors is great but not indoors 😲
comparison
if you're planning on looking what's best... http://www.imoney.my/mobile-plan-comparison try this out.. I've bought my phone through this website... pretty updated..
I recently bought my own Samsung Galaxy S5 and I loved it. I love all the features and photo resolution is the best. Everytime I bought a new smart phone, I make sure that I keep it protected. I always trust Roboshields screen protector because of its...
(continues)