LG Reveals QuickCircle Case Ahead of G3 Debut
Article Comments 5
May 22, 2014, 7:01 AM by Eric M. Zeman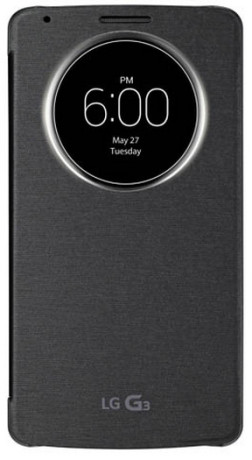 LG today showed off the QuickCircle case, an accessory for the G3 smartphone that will be announced next week. The QuickCircle case handles several different tasks. First, the case has a circular window to the G3's screen through which users can view the time, place calls, send text messages, take photos, or listen to music. The case includes circular smart lighting to accentuate the design, and includes a Qi-based connector for wireless charging. LG says the case was designed to protect the G3, but also to show off the device's shape. It will be available in black, white, gold, aqua, and pink. LG didn't say how much the QuickCircle case will cost, nor when it will go on sale.
Isn't this kind of pointless?
It's an LCD screen so there's little power saving by using the circular display as the entire panel will still light up. And aren't you carrying around this HUGE phone with it's HUGE screen for a reason? If people like smaller screens, why not make SMALLER PHONES PLEASE????!
I'm gonna have to agree with you on this one,
Well, if it is a OMLED display, like the Moto X, black pixels are off so they don't take energy to display. Also, and correct me if I am wrong, this isn't full screen on the case, it's just a "Window" in the same spirit as the HTC Dot Matrix case.