Huawei Intros Ascend P7 Flagship Phone
Article Comments 1
May 7, 2014, 7:52 AM by Eric M. Zeman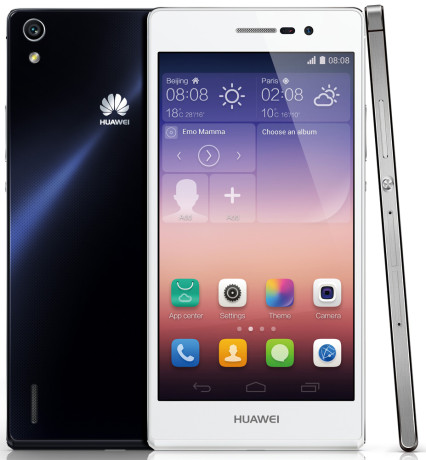 Huawei today unveiled the Ascend P7 at an event held in Paris. The P7 is a successor to the P6 and is Huawei's flagship device for the year. The P7 features a full HD 5-inch display protected by Corning's Gorilla Glass 3. The phone has glass on the front and back, and a metallic band on the sides. The phone is very thin and measures 6.5mm. The P7 includes a 13-megapixel camera with a Sony sensor inside. The Sony sensor makes use of back-side illumination and has a wide aperture of f/2. According to Huawei, the P7 can be ready to shoot pictures in 1.2 seconds - even from the lock screen. Huawei created a feature for the camera called Voice Photos, which will record a 10-second audio clip to accompany a series of pictures. The P7 also includes an 8-megapixel user-facing camera for self portraits. Huawei says the user-facing camera can shoot wide panoramas. The P7 runs Android and has Huawei's Emotion user interface. Huawei added support for worldwide LTE 4G networks. The Ascend P7 launches in a wide number of markets this month, but Huawei didn't specify if or when the P7 might arrive in the U.S.
8 MP user facing camera ?
Becuase those selifies that James Franco is constantly taking need to be that much clearer, right? I also don't understand the user-facing camera having a wide angle lense. Last time I checked, my head was not so wide that it wouldn't fit into a picture.