LG Updates Pair of Phones for Verizon
Article Comments 3
Apr 14, 2014, 11:28 AM by Eric M. Zeman
updated Apr 14, 2014, 5:10 PM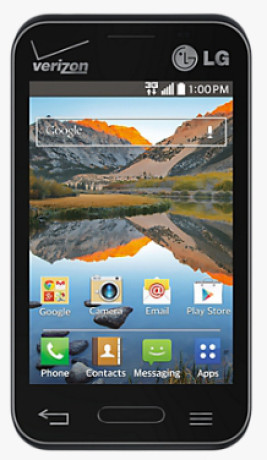 Verizon Wireless has added two refreshed LG handsets to its lineup of inexpensive phones. The LG Optimus Zone 2 and Extravert 2 are both sequels that improve specs and features. They are limited to Verizon's 3G network, as neither supports LTE 4G.
Zone 2: This entry-level smartphone (pictured) runs Android 4.4.2 KitKat and includes a 3.5-inch screen with 480 x 320 pixels, 1.2GHz dual-core processor, 3-megapixel camera, 1,700mAh battery, Wi-Fi, GPS, and Bluetooth 4.0. Some of LG's software and apps are aboard, including QuickMemo and Guest Mode. The full retail price is $200, but Verizon is offering the device for just $50.
Extravert 2: This updated feature phone is a sideways slider that includes a touch screen on the front and a full QWERTY keyboard underneath. It has a 3.2-inch display with 400 x 240 pixels and LG's touch-based user interface for feature phones. Other features include a 2-megapixel camera with video capture, Bluetooth 3.0, media apps, Verizon content, and the Opera Mini web browser. The Extravert 2 costs $200 with no contract, $80 with a two-year agreement, or $8.33 per month with Verizon Edge.
Both phones are available from Verizon's web site.
I am annoyed by this.
Not because there are these 2 devices, obviously. But because this cheap, entry level Android device has KitKat. But my Note 3 still does not. I'd like to know why Verizon refuses to send out updates to its devices. UGH. 👿
LG Zone 2 is only for prepay service
The LG Optimus Zone 2 is only available on prepay service and not on a Two Year plan.
OMG...I need my eyesight checked. For a minute there, I thought you typed p?#$y service....LMAO.