Review: LG G Flex
Form Performance Basics Extras Wrap-Up Comments 12
Media
Both the AT&T and Sprint G Flex variants come with the stock Android media apps. The Google Play Store is the central location from which to buy, rent, or otherwise access apps, music, movies, TV shows, books, and magazines. The individual Play apps are there to help you consume those various pieces of content. These apps have all been around for a while and function fairly well.
The Flex includes an IR port and LG's QuickRemote application. Set-up takes about 30-60 seconds per device, and you can store up to five different "rooms" (living room, bedroom, your friend's living room, etc.) Each room can then control its own set of devices. The app and IR worked fine. This is a feature I really like.
AD article continues below...
The AT&T variant has just a handful of third-party apps for media consumption, including Amazon Kindle, Beats Music, a simple MP3 player, and a simple video player. These latter two apps are best for side-loaded content (via USB).
The Sprint version includes CBS Sports, NextRadio, Sprint Music Plus, and Sprint TV & Movies. CBS Sports provides breaking news, video content, and analysis about sports. NextRadio is a streaming music service. Sprint Music Plus is a music store run by Sprint (pro tip: skip it,) and Sprint TV & Movies lets G Flex owners rent/buy movies and TV shows.
Camera
The G Flex's camera, which carries forward many of the features from the G2, can be launched from the lock screen or the app icon. There is no physical camera button. The camera launches quickly.
As with most modern smartphone cameras, the G Flex's software offers two sets of controls, down the left and right sides, though there's still plenty of room on the screen for the viewfinder. The left is where all the interesting settings and features are located. Five quick action items appear here. Four of them can be customized.
In terms of shooting modes, the G Flex offers HDR, Panorama, VR panorama, burst shot and beauty shot. The VR Panorama is similar to Android's Photo Sphere, but it doesn't produce quite the same results. Photo Sphere images are easy to view and share via Google+, but the VR Panorama shots are not. In short, you start capturing images both back and forth, and up and down to creative a massive 360-degree shot of your viewpoint. Burst shot takes 20 pictures in a burst and keeps all of them. Beauty shot is sort of an automatic "Portrait" mode and can be used to enhance skin tones and blur the background when shooting close-ups of people. There's another mode called "Intelligent Auto" that claims to automatically adjust the camera's parameters (shutter speed, aperture, etc.) based on the scene at hand. With Intelligent Auto enabled, you can't choose any of the other shooting modes.
The G Flex also includes a sports mode and something called shot & clear, which lets you erase items from the background (provided you've turned on the shot & clear feature). Dual-shot uses both the front- and rear-facing cameras at the same time to capture a sort of virtual postcard of your face merged with whatever you're looking at. There's also a feature called Time Catch Shot, which saves a short burst of pictures that starts before you actually press the shutter button. This helps you not miss a fleeting moment, even if you're late with the button. But you have to be in Time Catch mode already.
I found all the different modes more or less behave as advertised, though your results will certainly vary.
Beyond the modes, there are tons of normal controls that photogs might expect to find. The settings allow you to adjust the brightness level, the focus mode, resolution/aspect ratio, ISO (or speed), white balance, color effects, timer, and so on. It's a robust set of tools. I like that the tools are all laid out in a single easy-to-see grid and not buried in painful menus and drop-down lists.
Photos
The G Flex has a 13-megapixel sensor that LG says has been improved compared to the G2. The images I captured with the G Flex looked pretty good. I took a handful of shots outside on a late sunny afternoon in the snow, which is a challenging environment given the angle of the light. Despite the various bright/dark spots in my subjects, the G Flex did a good job of getting the right exposure. White balance was generally good, and colors were accurate. I didn't see any issues with focus. Some of the shots had a bit more grain than I wanted to see.
The various shooting modes let you be creative, but they take time to master. The VR panorama mode, for example, takes a lot of practice. The other modes are meant to make certain things more automatic, but it can be clunky to turn them on if you're in a hurry. The most fun is perhaps the dual-shot mode, that lets you insert your face into any shot. The performance of these extra modes varies, but they start with a good foundation thanks to the G Flex's capable sensor.
Video
I was generally pleased with the 1080p HD video I captured with the G Flex. Exposure was good, focus was good, but I saw white balance and grain issues from time to time. That said, most users should be happy with their results the majority of the time. I'd say the G Flex produces YouTube-worthy videos with ease.
Gallery
There are far too many apps for controlling your photos on the G Flex.
First, there's the out-going stock Android Gallery application that's been available on most Android 4.0+ phones for some time. It's easy enough to use and includes tools to edit and share photos.
Second, there's the newer Photos app from Google. This app carries over much of the design and many of the features from the older gallery app, but it ties more directly into users' Google+ accounts. It's a bit easier to use and looks somewhat fresher. It lets users edit photos as well as share them without too much trouble. Photos also has Google's Auto-Awesome feature, which automatically enhances your pictures and turns burst-shots into animated GIFs.
Then there's LG's QuickTheater application. This app automatically pulls in not only the photos and videos you've captured with the G Flex, but those you've uploaded to your YouTube account, as well. This app is mostly meant to be a viewer and/or slideshow generator. It doesn't include editing or sharing functions. If you're in a hurry and want to show people a mix of photos and/or videos, this is the app to use. It has a nicer user interface than either the gallery or Photos apps.
Last, there's a stand-alone video editor. This app is rather light in features, but it lets you trim video clips and paste them together in a rudimentary way.
Apps
Both the AT&T and Sprint G Flex have way too many applications on board. We're talking 70 apps/services, which means about 20 to 30 apps that are pure bloat. Thank goodness the G Flex lets you delete the carrier-installed apps. The G Flex has a finite amount of storage - just 32 GB - of which only 24 GB is available to users. The more apps you can dump, the better.
Bluetooth
The G Flex's Bluetooth radio functioned without issue. I was able to pair it with PCs, headsets, and speakers. Calls sounded OK via Bluetooth, but shy of great. Music sent to stereo Bluetooth speakers was also good, but not great. I've heard better.
Browser
Both the AT&T and Sprint G Flexs include both the standard Android browser and Chrome.
On the AT&T variant, the standard browser has been hijacked with a skin developed by AT&T. The skin forces Yahoo on you as the homescreen, but provides a neat little dock at the bottom of the screen that makes it easier to share/bookmark pages, as well as navigate through web sites. Chrome behaves just as it does on every other Android device. Browsing speeds over AT&T's LTE network were good. I never had any trouble loading web pages, even in my local supermarket, which is usually a total AT&T dead zone.
The browsing experience was a bit mixed on the Sprint version. When LTE was available, the G Flex performed well at loading web sites. Browsing over 3G wasn't nearly as rewarding, and sites were definitely slower to find their way to G Flex's screen.
Clock
The G Flex has a simple digital clock that adorns the lock screen. I could not find a way to alter its appearance. It's white, but big enough that it is visible no matter what else you have on the screen behind it (except for many a snowy wallpaper).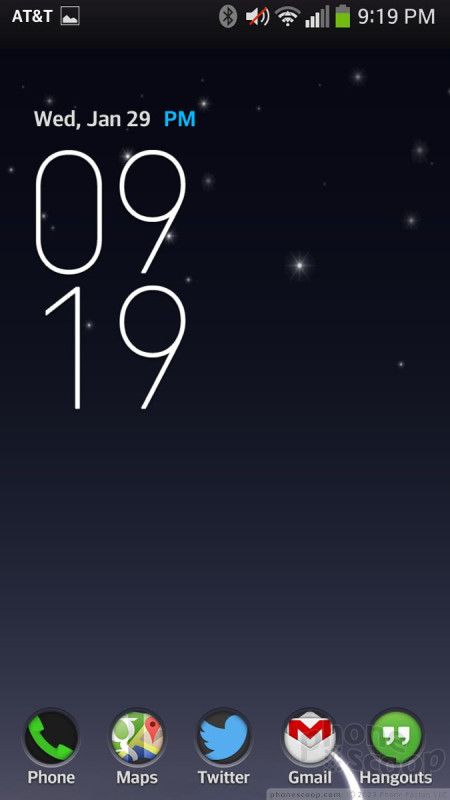 GPS
The Flex comes with Google Maps. Paired with the G Flex's GPS radios, I found Maps to work perfectly. It was able to pinpoint me in less than 10 seconds and to within about 25 feet on both versions.
The AT&T version also packages in the AT&T Navigator app. AT&T Navigator costs $10 per month. AT&T Navigator is fine for plotting directions from point-to-point, but Maps is better for related searches and alternate travel methods (mass transit, etc.). The Sprint version offers TeleNav's Scout app. Scout is free to use. It offers point-to-point navigation in addition to tons of information about local places (gas stations, banks, restaurants, etc.).
Guest Mode
Guest Mode is meant to safely protect the owner's data and settings while lending the phone to someone else (read: a kid.) Guest mode lets people play games or listen to the media player, for example, but not access email, messaging, or settings. It is a cinch to set up and helps keep private info private. The mode can be accessed with a dedicated lock screen code (drawing a "G" on the screen.)
QuickMemo
The G Flex includes the QuickMemo app. QuickMemo lets users capture a screenshot and then open that screenshot in the Notebook app. The Notebook app lets you scribble on the screenshot with various pen styles and in various colors. You can add your own scrawled text, or insert actual typed messages, photos or videos, and send the file via email, MMS or Google+.
QSlide
The QSlide apps, which are accessible from the notification tray, are apps that appear in separate windows on top of whatever else you might be doing. The QSlide apps are resizable and let you adjust the transparency to make it easier to see what's behind them. You can also choose to open the full app by tapping a toggle in the QSlide's little window. The idea is to let you quickly access a few handy apps (calculator, note pad, calendar, videos, phone, contacts, messaging, file manager) no matter what else you're doing. LG recently offered developers the tools they need to create their own QSlide apps, so the selection may improve over time.
Smart Screen / Smart Video
The Smart Stay feature can be used to keep the G Flex's display on for as long as you're looking at it. It doesn't always work. For example, it is more or less useless if you're reading a Twitter update in the dark. There's a similar app called Smart Video that keeps the video player playing as long as the front-facing camera can see your face. It'll pause the video if you look away and resume when you look back.
Voice Mate
Voice Mate is LG's version of Siri and S Voice. It can be used to perform a number of tasks using your voice. For example, if the G Flex is sitting on your desk and you want to call someone, say "LG Mobile" and then issue the "Call Rachel" command. You can ask the time, perform searches, and open certain apps (email, SMS, etc.). In my experience, it doesn't work that well. I asked it who's playing in the Super Bowl, and instead it showed me the day's college basketball scores. Google Now (which is also on-board) is much better.