Moto G Available Directly from Google As Play Edition Phone
Article Comments 12
Jan 14, 2014, 2:10 PM by Eric M. Zeman
updated Jan 14, 2014, 2:20 PM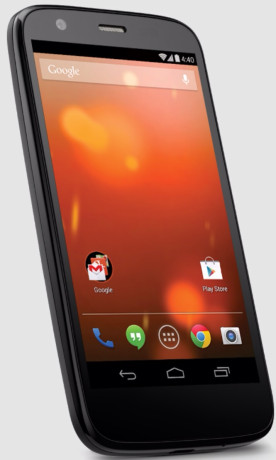 Google today added the Motorola Moto G to the Google Play Store as a Play Edition device. The G, which has a 4.5-inch 720p HD screen, 5-megapixel camera, and 1.2GHz quad-core Snapdragon 400 processor, is being sold unlocked and contract free for $179 (8GB) and $199 (16GB). The Moto G runs a stock version of Android 4.4 KitKat. Of note, the Moto G supports HSPA+ networks, but not LTE 4G. It is available beginning today. The Moto G is available for the same price from Motorola's web site. The phone is also being sold at a discount from several wireless network operators, including AT&T, Boost, and Verizon Wireless.
Can You Say Disgusting?
Verizon is yet again the only vender to not offer the Moto G as part of it's regular line up. Oh wait, I stand corrected... you may purchase it for a great price of 99USD but only as part of Prepaid plan. You may not use the phone in conjunction with a contract line for 6 months after purchase. If you choose to purchase the phone at full retail at 199USD then sure you may use it on a contract line. Keep in mind this is the 8gb model... Hmm... did someone say you can purchase the Google Play GSM 16gb -- double the RAM -- for the exact same amout -- why yes, that's correct!

This is yet another opportunity for Verizon to show its obstinance. Verizon continues to flaunt its market position by refusing to allow Google phones into its eco...
(continues)
Simple solution. Don't use Verizon. Vote with your wallet.
why would you want it anyway? it's only a 3g device. it's perfect for there prepaid market which is only 3g anyway. I'm sorry I don't get your rant. just get the Moto x a better version of the G
T-Mobile doesn't offer the Moto G either...?
Differences?
I am at work right now so otherwise I would research this myself, but is there any difference between the Moto G being sold on the Play Store opposed to the one being sold directly from Motorola?

I doubt it, but seeing as how I plan on buying one soon this is relevant to me!
Sounds like the same phone just Play apps pre installed I assume.
The only differences are that the Google Play Edition is the global GSM variant (it lacks AWS, but has UMTS 900 and 2100) and that it ships with KitKat.

The global GSM variant is also available from Motorola (along with the US GSM variant), but as ...
(continues)
It would be nice if the Play version doesn't have Motorola's stupid start-up cartoons, which are the only thing annoying about it.