Motorola Announces the Moto G for $179
Article Comments 5
Nov 13, 2013, 9:09 AM by Eric M. Zeman
updated Nov 13, 2013, 9:34 AM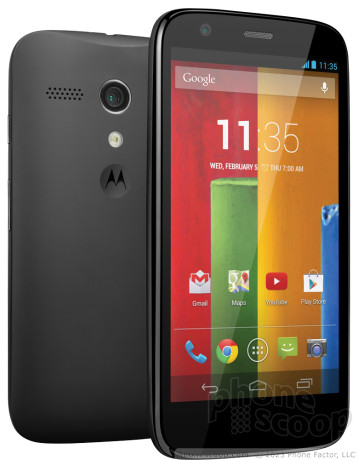 Motorola today announced the Moto G, a device that Motorola says delivers a premium experience at one-third the price of today's flagship devices. The Moto G resembles the Moto X, which Motorola released earlier this year, but is more affordable and targeted at consumers who are on a budget. It has the same curved back, Gorilla Glass, and waterproof nano-coating to protect the internal components from moisture. The screen measures 4.5 inches and includes 1280 x 720 pixels. The G is powered by a quad-core 1.2GHz Snapdragon 400 processor with 1GB of RAM and has a 2,070mAh battery. In includes a 5-megapixel rear camera and 1.3-megapixel front-facing camera. The device ships with Android 4.3 Jelly Bean and Motorola is guaranteeing an update to Android 4.4 KitKat. Unlike the Moto X, the Moto G has removable back covers, which can be interchanged for customization. Motorola is selling the unlocked 8GB Moto G on its web site for $179 and the 16GB version for $199. The device goes on sale in Brazil and select European markets this week, with other Latin American and European markets to follow several weeks later. The Moto G won't be available in the U.S. until January 2014.
Does it have the same low-power processor that's on the Moto X?
The secondary low-power chip that is always watching/sensing/listening and handles those specific behaviors of the Moto X. That would make this device feel a lot like a premium device.
I'm interested in this phone very much...
...to give as a holiday present.

Anyone know if this has the remote function??
(Not much of a deal breaker, but I'd like to know if it does, thnx!)
Vs LG
Argh always something though. Even given the price point why do they have to make it so much thicker and bulky. Anything above 10mm range in thickness is just to thick at least to me. Besides the ppi being slightly better on this too. Dont see much difference in it & current LG F6 im using. Was hoping for bit more..
THIS should've been the Nexus 5.
Or Nexus 4.5 🤨