Hands On with the LG Lifeband Touch
Article Comments 4
Jan 8, 2014, 7:57 PM by Rich Brome @rbrome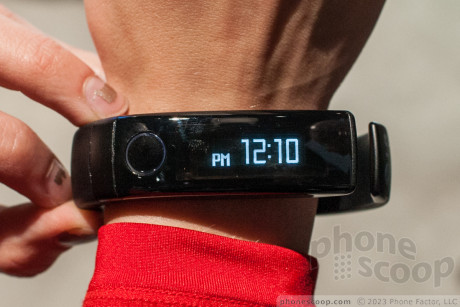 LG is getting into the wearables game with the Lifeband Touch, a sleek watch and fitness tracker. Its standout feature is the OLED touch screen that responds to swipes and touches. It's less ambitious than Samsung's Galaxy Gear, but also less cumbersome to wear. We took a quick look at how it works, including its companion app.
Advertisements article continues below...
The Lifeband Touch has an interesting design that includes one illuminated button, plus the white OLED touch screen.
The device has a rigid "C" shape that almost comes full circle, but not quite, with a flexible tongue at the end. So it clips around your wrist, rather than strapping to it like a regular watch. It therefore needs to fit your wrist well, and so comes in three sizes: medium, large, and extra-large. (Why it doesn't come in small, I have no idea.) Having different sizes instead of something adjustable seems like a strange choice. It means you should really try one on in person to find the right size, rather than buying it online.
The device is operated by pressing the button to wake it up or choose a main mode (watch or fitness) and then swiping the display to cycle through functions. Then, for some functions that have multiple screens, you tap the screen to cycle through those. For example, you can tap the calorie counter to show your goal for the day, and a bar graph of how close you are to that goal. Some screens even make use of the touch screen to show one or two buttons, such as "stop" and "pause" for the run timer. The button is also a multi-color indicator light.
It connects to your phone via Bluetooth 4.0 Low Energy, which lets it stay connected without using much battery. It syncs with the phone every four seconds, so it's always in sync. An app - available for both iOS and Android - collects the data and lets you analyze it. It also lets you set your goals for daily activity and workouts. The Lifeband can then display a summary of that, such as telling you that you're at 75% of your goal for today. The phone also serves as a hub for other devices, such as a heart rate monitor.
The Lifeband can also display incoming and missed call data. But this isn't a smartwatch, so forget about incoming emails, etc. It will let you skip to the next song if you're playing music on your phone, and it will let you know when you have a new text message, but it can't display those texts.
The battery lasts for just four hours of heavy use. With light use, it can last as "two to five days". The charging dock is a small sliver of plastic that snaps to the Lifeband with magnets, and it has a standard micro-USB connector.
Look for the Lifeband Touch in the U.S. in the spring.
Here's a quick video tour:
Reminds me off..
The wrist communicators from the first Star Trek movie.
:/ Who designs these things. They are hideous.