Hands On with SanDisk Connect Flash Drive
Article Comments 5
Jan 7, 2014, 1:01 AM by Rich Brome @rbrome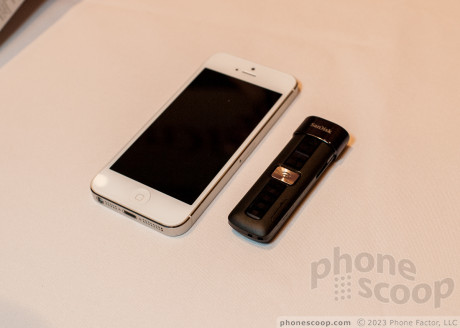 SanDisk has a new USB "thumb drive" that connects directly to phones over Wi-Fi for transferring files between the drive and the phone. It's an interesting option for people with limited memory on their phone. We check it out in a quick hands-on.
Advertisements article continues below...
The SanDisk Connect Wireless Flash Drive looks like a standard 64 GB USB flash stick, and it's no bigger than one. But it manages to pack in a small battery and a Wi-Fi radio. With that Wi-Fi connection, you can connect it directly to a phone and transfer files between the two.
SanDisk Connect Wireless Flash Drive
You simply turn it on, launch the SanDisk app on your phone (iOS or Android) and you see a list of files on the stick. Then you can choose files to offload from the phone to the stick, or vice-versa. If you have an iPhone, (or any phone without a memory card slot,) it's a great way to quickly free up some phone memory on the go without losing any files.
The stick actually has a microSD memory card slot, and that's where the 64GB of memory lives. That means you can swap out memory cards and effectively carry around a huge amount of files accessible to your fixed-memory phone.
Unfortunately, the process of moving files is a completely manual one; there's no auto-upload function. That's partly because the stick's battery only lasts about four hours. The small battery is what makes the stick so portable; it weighs nothing and will disappear into any pocket. But it also means you can't leave it on and connected to your phone all day.
Of course, you can also plug it right into the USB port of any computer to access the files, and charge the battery.
It's not a panacea for iPhone users with memory issues. However, if you're lusting after some new flagship phone, and lack of memory card slot is the only thing holding you back, perhaps this is the stop-gap solution that could make that phone work for you.
please ignore...
*N/A (unable to delete)
Great!... BUT...
Something like this should've been bluetooth capable for transfering when wifi isn't available... jus sayin... still might get it, depending on the cost. hopefully "cost-efficient!" lol
Seems like...
Apple fanboys have now expandable memory. 😎
I wanna buy it for my Nexus 5 🙂
Along with HTC, Motorola, LG users.