Hands-On: CAT B100
Article Comments
Jan 5, 2014, 10:54 PM by Eric M. Zeman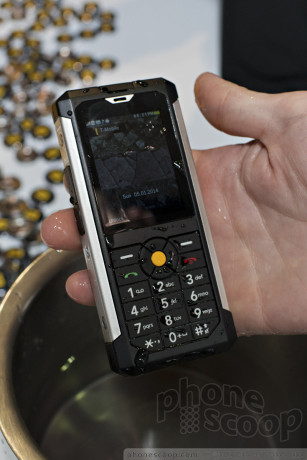 CAT showed off a new ruggedized feature phone called the B100. It is a serious chunk of hardcore, mil-spec insanity. Here are some quick impressions.
Caterpillar, the tractor company, puts its brand on ruggedized phones and sells them in the U.S. and other countries. Last year, it debuted a heavy-duty Android smartphone. This year, it decided to aim a bit lower and announced the B100 - a rugged feature phone that can take a beating.
The B100 is a candybar-style phone that had a 2.2-inch screen and the standard set of controls found on most feature phones. That means a d-pad, soft keys, and a numerical dial pad. What sets the B100 apart is the construction. It is made from aluminum and military-grade plastics. It meets IP67 for ingress protection and mil-spec 810G for toughness. That means it can withstand a 30 minute dunk in 3-feet of water, as well as temperatures as extreme as -25C. You can throw it, jump up and down on it, and toss it like a hot potato with no worries that it will break. Despite the materials, it is not heavy at all. It is as thick as a brick though, at nearly 1-inch from back to front. It is blocky and not meant for pockets. It's the type of phone you expect to see slipped to someone's waist at a construction site.
The screen is a major disappointment. I don't mind the size, but I found the brightness and resolution to be sorely lacking. It's just not that great.
CAT claims the buttons on the front are large enough to be used when wearing gloves, but I disagree. There's no way a gloved hand can use the d-pad and soft keys reliably, though perhaps the number buttons won't be trouble to use. The buttons are made of a rubber material and travel and feedback was rather squishy.
The hatches are all sealed with gaskets to keep water out. That means you have to pull them loose to charge the phone or plug in headphones. There are three buttons on the right for volume control and PTT features. It also has a bright flashlight on the back.
The CAT B100 is really nothing more than a voice phone with some other simple features, such as texting. CAT did not say if or when the B100 would be sold in the U.S.
No messages