Hands On with the Kurio Phone for Kids
Article Comments
Jan 5, 2014, 9:06 PM by Rich Brome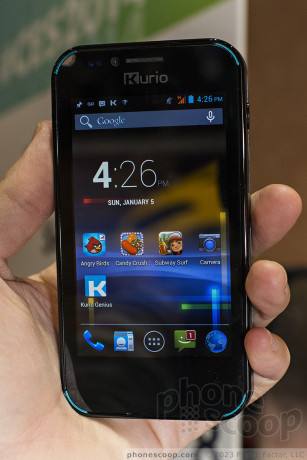 Kurio is readying a new phone for kids with extensive parental controls. It's a standard Android phone, but the remote controls for parents are impressive. Read on for a tour and our impressions.
Article
You may not have heard of Kurio, but they're a major player in kid's tablets, dominating the tablet category in the toy aisle. Now, they're bringing that expertise to phones.
The main feature of the Kurio phone is - as you've probably guessed - the parental controls. Those controls are accessed primarily from the web, allowing parents remote control of their child's phone at all times. The phone itself has minimal custom software visible to the user (the kid.)
The interface is pretty much stock Android 4.2. The phone is designed for kids of all ages, so older kids will greatly appreciate that their parents didn't stick them with a "dumbed-down" kid phone. And as tech-savvy as today's toddlers are, a dumbed-down interface for kids just doesn't make sense any more.
The parental controls allow fine-grained control, letting parents choose to keep a their kids on a tight leash or a long one, and tailor restrictions based on the child's age and the family's values. For example, the web filter gives parents options for 22 specific, possibly sensitive categories, including celebrity news, nude fine art, and birth control information.
There are also the expected options for restricting which apps can be used, limiting hours of use, and even controlling specific app use by hour. You can control the contact list, view live location info, and receive alerts when the phone leaves a certain area.
One thoughtful touch is an alert to parents when the phone is running low on battery or powers off. That's handy if you're wondering why your kid isn't answering the phone.
It also includes extensive options in case the phone is lost, much like Find My iPhone. But it goes a step further, giving parents remote access to the camera. Ostensibly, this is for helping find a lost phone, but the potential for parents using this feature as the ultimate nanny-cam is... interesting.
The only notable app on the phone is an "Emergency" widget on the home screen, which can act as a shortcut to 911, or provide first responders with contact and medical information. Kids can also trigger an emergency alert by pressing home button five times quickly. There's also an app on the phone that lets kids see what restrictions their parents have put in place. But control belongs to parents, via the secure web site.
The hardware itself is about what you'd expect from a phone that will run for $200 off-contract. It does not have any kind of premium feel, and in fact feels a little blocky. But it feels light, and somewhat thin for a phone in this price range. The soft-touch finish on the back does feel nice and helps it stay in the hand. It's small enough to fit most small hands well. The screen is not high-quality by any means, but I've seen worse. It does the job.
Kurio hopes to get this on store shelves in unlocked GSM/WCDMA form in the second quarter for $199 or less. It should work with AT&T and T-Mobile, although it won't support LTE. They also hope to ink a deal with Verizon or other major carrier to bundle it with an appropriate service plan.
If the extensive parental controls are just what you need, this is worth a look.
Here's a video showing the phone and web parental controls:
No messages