Liveblog: Samsung Press Conference
Article Comments 4
Jan 6, 2014, 4:00 PM by Rich Brome @rbrome
Samsung dominates CES like no other company. Some years, they announce new phones. Tune in to our liveblog right here for any and all phone-related news from their press conference the second it's announced.
Advertisements article continues below...
Jan 6, 2014, 6:00 PM: Yep, that's it! No new phones, not even so much as a mention of anything Galaxy S or the Galaxy Round. Just tablets and a Michael Bay implosion. Good night!
Jan 6, 2014, 5:56 PM: Looks like wrap-up time.
Jan 6, 2014, 5:55 PM: Galaxy Camera 2 gets a mention, but that's it.
Jan 6, 2014, 5:55 PM: Now on to cameras... starting with new lenses.
Jan 6, 2014, 5:53 PM: The Tab Pro also comes in 10-inch and 8.4-inch sizes.
Jan 6, 2014, 5:53 PM: These can download over LTE AND Wi-Fi at the same time for maximum speed. Neat-o!
Jan 6, 2014, 5:52 PM: Specs: Android 4.4, 3 GB RAM, and Wi-Fi 802.11ac with MIMO.
Jan 6, 2014, 5:51 PM: S Pen on the 12" Note Pro works just like on the Note 3, including drawing a box to summon a mini-app.
Jan 6, 2014, 5:50 PM: Multi-window feature allows 2-4 apps on screen at once. (This is all for the 12-inch Note Pro and Tab Pro, so far, by the way.)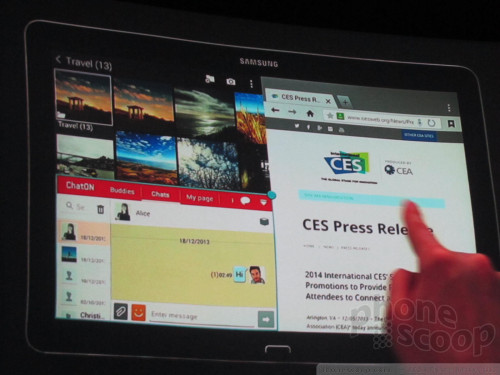 Jan 6, 2014, 5:49 PM: Um, this "Magazine UX" looks exactly... exactly like FlipBoard.
Jan 6, 2014, 5:48 PM: "It all begins with this expensive display." I think he meant expansive...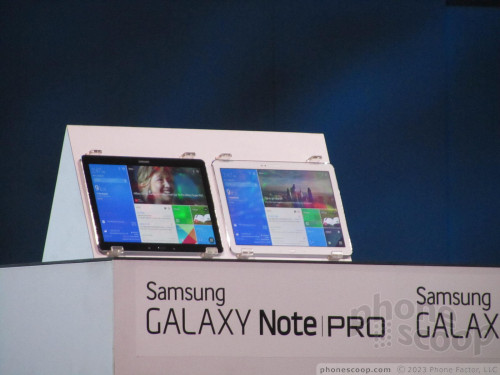 Jan 6, 2014, 5:47 PM: Announcing the Tab|Pro and Note|Pro. Note|Pros have the S Pen, of course.
Jan 6, 2014, 5:45 PM: It's looking like mostly just tablets based on the promo video, and that's the rumor we heard in advance.
Jan 6, 2014, 5:44 PM: Now mobile devices... finally!
Jan 6, 2014, 5:42 PM: "Now on to dishwashers" (loud "woo!" from the audience) (laughter)
Jan 6, 2014, 5:36 PM: Now on to kitchen appliances. Dramatic shot of butter melting, followed by dramatic shot of water boiling. No joke.
Jan 6, 2014, 5:33 PM: Maybe I should start TV Scoop. This stuff is neat. They just announced some impressive partnerships for Ultra HD content. And a bendable TV! You press a button and your Ultra HD flat-screen becomes a curved screen. Neat!
Jan 6, 2014, 5:29 PM: Samsung's 2014 TVs have quad-core processors.
Jan 6, 2014, 5:27 PM: That was reeeally awkward.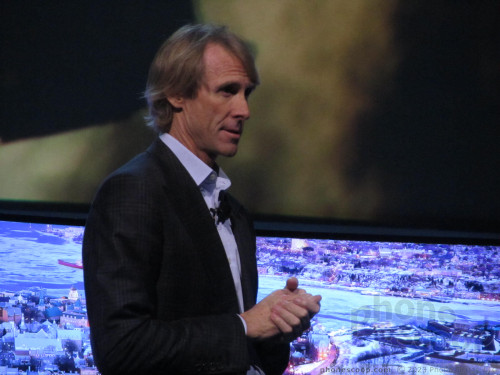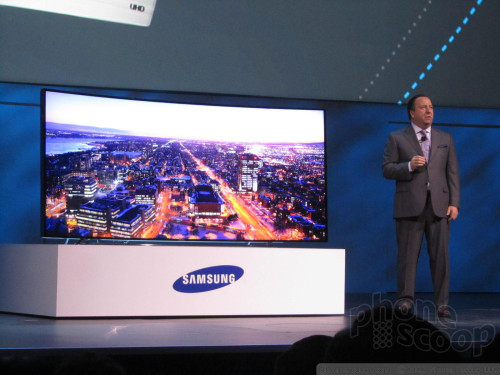 Jan 6, 2014, 5:25 PM: Now Michael Bay on stage, flubbing it because his teleprompter isn;t working. Awkward silence. Michael Bay got weirdly flustered, apologized, and left the stage.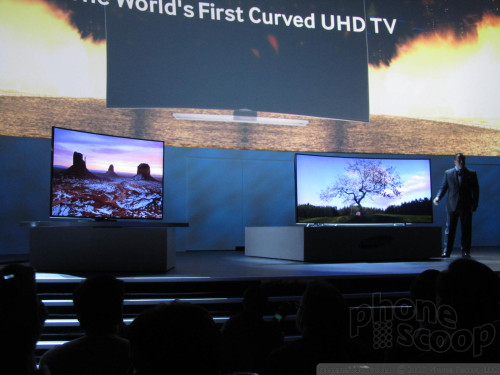 Jan 6, 2014, 5:24 PM: Massive curved TVs are flying out of trap doors and across the stage. The big one is 105". It looks pretty bonkers.
Jan 6, 2014, 5:20 PM: Next up: Joe Stinziano, Executive Vive President, Samsung Electronics America, to talk Ultra HD.
Jan 6, 2014, 5:19 PM: "Second screen and UHD are awesome". Paraphrasing, but that's pretty much all Mark had to say in his 20 seconds on stage.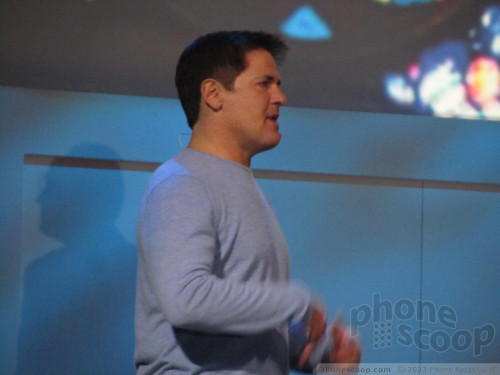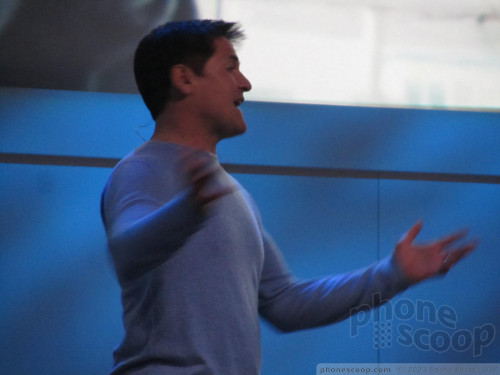 Jan 6, 2014, 5:16 PM: Mark Cuban on stage.
Jan 6, 2014, 5:15 PM: Now talking sports: basketball integration and a PGA partnership for a golf app, for TVs and mobile devices.
Jan 6, 2014, 5:14 PM: "Samsung Smart Home" is an app for Samsung TVs and mobile devices. It accepts pre-defined voice commands like "Going out" and "movie mode". You can trigger it from a Galaxy Gear, for example. It will control your Samsung (and other brand) devices to dim lights, turn off A/C, adjust TV, etc. Opening up the protocol to other manufacturer is a good step, but of course needs partner support.
Jan 6, 2014, 5:11 PM: Tablets are big. People watch TV online. Chromebooks are "a thing" now.
Jan 6, 2014, 5:10 PM: The CEO's remarks were predictably generic. The future will be great, and Samsung will bring it to you. Got it. Next up: Tim Baxter, President, Samsung Electronics America.
Jan 6, 2014, 5:09 PM: The stage is massive.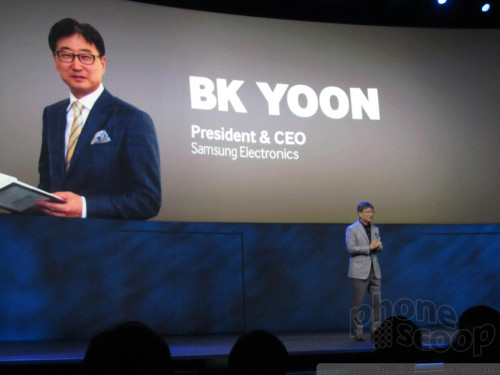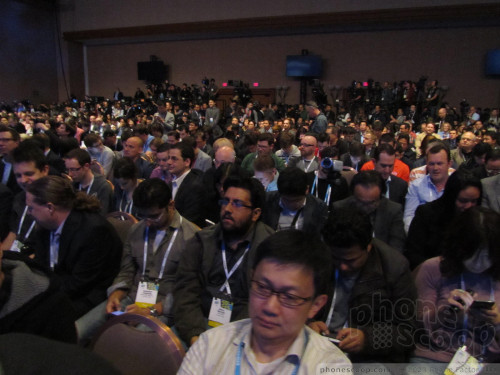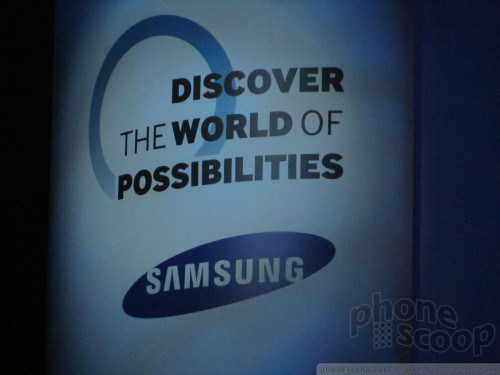 Jan 6, 2014, 5:01 PM: Samsung President & CEO BK Yoon is on stage.
Jan 6, 2014, 5:00 PM: Here we go.
Jan 6, 2014, 4:59 PM: Starting any minute now!
Jan 6, 2014, 4:56 PM: FYI, with a few thousand people in this room, our connection could be iffy. Unfortunately, photo uploading is especially sketchy. We'll do our best.
Jan 6, 2014, 4:36 PM: We're seated up front and ready to go!
tv scoop
😁

In the words of the admirable Captain Jean-Luc Picard:

Make it so!
but it's PHONE Scoop, not TV Scoop... 'tho it's a good idea for the admins to expand their gadgets-review empire... Tablet Scoop would be good too! 🤣 🤣 🤣
Michael Bay
Even his implosions are flashy, wow... 😲 🤣

Btw, what benefits come from a TV that bends?
You can smuggle it across the border easier! 😁 😛 🤣 😈