Virgin Pitches the Supreme as a Media Phone
Article Comments 1
Sep 12, 2013, 7:02 AM by Eric M. Zeman
updated Sep 12, 2013, 11:03 AM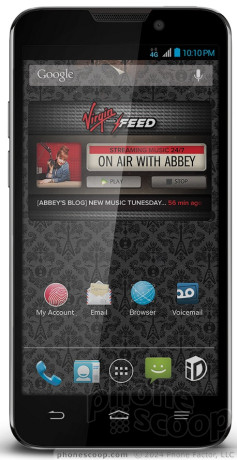 Virgin Mobile today announced the ZTE Supreme, an Android 4.1 Jelly Bean smartphone that features a large, 5-inch 720p HD LCD display that is protected by break-resistant glass. It is also known as the Vital for Sprint. The Supreme has a dual-core 1.5GHz processor, 13-megapixel camera with HD video capture, and a 2,500mAh battery that provides 15 hours of talk time. Other features include support for Virgin's 3G/4G networks, Wi-Fi, and Bluetooth 4.0; 8GB of internal storage with support for microSD cards up to 64GB; and Virgin Mobile iD packs. The device is preloaded with EA Mobile's Real Racing 3. The Supreme is available only from Virgin Mobile's web site. It costs $299.99 and does not require a contract. Service plans start at $35 per month.
Typical if not being sold through well at Sprint...
Move it to the red headed Step child Virgin Mobile...that was the first indication that Iphone5 sales were slowing was when VM picked it up...anyone in Sprint disagree with this?

Curious to know if the Sprint Vital (ZTE) did well at Sprint stores?