Hands-On: ZTE Vital for Sprint
Article Comments 4
Jun 10, 2013, 8:00 AM by Eric M. Zeman
updated Jun 10, 2013, 9:13 AM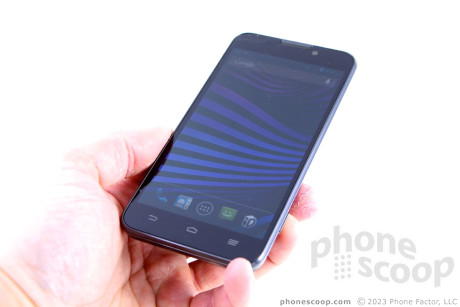 The Vital is an inexpensive phone that's big on features. Phone Scoop spent some time with the device and these are our first impressions.
source: Sprint
Advertisements article continues below...
The Vital fills an interesting spot in Sprint's line-up. The device would appear to be a flagship-level phone, with its large, HD screen and 13-megapixel camera, but it costs only $99 and comes with Sprint's guarantee that it is eco-friendly.
At first blush, it is a pretty nice phone. It is big and heavy, but feels solid and well made. The materials are a combination of plastics and glass, but certainly don't feel cheap or shoddy. It's slightly bigger than the HTC One or Galaxy S 4, and is definitely weightier than both of those devices. The design is somewhat bland and vanilla-looking, but it is by no means ugly. I like that ZTE chose a blue-on-silver color scheme for the Vital, as it stands apart from the black-on-gray sameness that afflicts so many smartphone designs.
The battery cover, which is the blue part, has a soft-touch finish to it that I found pleasant and grippy. It really sticks in your hand, and not in an icky way. The rest of the plastics and glass have a solid feel to them but there's no denying that this is a big device. It will fit in your pocket, but the soft-touch back cover and size make it somewhat difficult to retrieve from jeans pockets.
The display measures 5-inches across the diagonal and it has 1280 x 720 pixels. According to Sprint, the display is "break resistant," though Sprint didn't specify if it has Gorilla Glass. It is a very nice screen. I found it to be sharp and clear, with good-looking colors and easy-to-read text. It's nto quite as impressive as today's best FHD screens, but it still looks really good.
The volume buttons are places on the left edge of the phone. Rather than use a toggle, ZTE chose to use two separate buttons. They are very easy to find, and travel and feedback is quite good. The microUSB port is placed below the volume toggles. Surprisingly, there is a dedicated camera button on the right edge of the Vital, right about where you'd expect to find such a button. It is a two-stage key that has a really nice feel to it. I thought the two stages had excellent definition. The screen lock button is on top, as is the stereo headphone jack. The screen lock button worked well.
The battery cover peels off with ease, and underneath you'll find the battery, SIM card and microSD card. All three can be removed, though the battery has to be pulled to access the SIM card.
As far as the user interface is concerned, Sprint says the Vital runs a near-stock version of Android 4.1.2 Jelly Bean. It definitely has some customizations made by Sprint, which you can plainly see with the way the icons and main app menu are arranged. The lock screen has also been customized with several shortcuts that don't appear in stock Android. Either way, the user interface is easy to figure out and was speedy in the time we spent using the Vital.
Given the Vital's $99 price point ans solid feature list, it won't be a surprise if Sprint does well selling this phone. Phone Scoop will offer a full review of the Vital in the days ahead.
SIM CARD???
article mentions a sim card....why would a sprint phone need a sim card
Well.
So much for not buying Chinese cellphones, eh Sprint?
They can't buy Chinese network equipment, but they can buy Chinese phones though.