Review: NEC Terrain for AT&T
Article Comments 1
Jul 19, 2013, 1:55 PM by Eric M. Zeman @zeman_e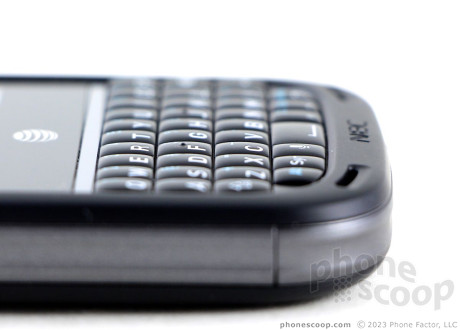 NEC's latest effort for the U.S. market is the Terrain, a rugged Android smartphone that offers push-to-talk and a full QWERTY keyboard. Here is Phone Scoop's full review.
AD article continues below...
Form
Is It Your Type
The NEC Terrain is fairly unique in today's smartphone market: It's rugged, it runs Android, it includes push-to-talk, and it has a full QWERTY keyboard. If you're looking for a device that carries all four of these characteristics, the Terrain may fit the bill. Find out if it does or doesn't in Phone Scoop's full review.
Body
The Terrain has a relatively small footprint for a rugged handset. It also has a somewhat bland and boring design. It's not as blunt as many of today's rugged devices, but it also isn't as interesting to look at (not that looks are everything.) A device such as this obviously shoots for function over form.
There is no doubt that the Terrain is somewhat chunky. Though the length and width are about the same as an iPhone 5, it's thicker by a wide margin. It's mostly black with a few gray accents thrown in for good measure. There's a gray band that runs around the outer edge and a chrome-colored bar that separates the display and the keyboard. All the surfaces are matte with the exception of the chrome bar and a silver-colored ring that circles the camera on the back surface.
The materials are hardened plastics that have a soft-touch finish. The Terrain is a comfortable device to hold and use. It fits well in the hand and all the controls are within easy reach. Everything about the Terrain is tightly screwed together. The seams all fit well and there are no unseemly gaps. Due to its thickness and grippy finish, it doesn't carry well in a pocket. It'll fit, but it's tough to fish out. You'll be better off using a holster of some sort.
The top two-thirds of the Terrain's front form the screen and the bottom third is reserved for the keyboard. The entire front face is rimmed with a thick plastic frame that puts some air between the screen and whatever surface the Terrain might be slapped down onto. The screen is a bit small, and this is amplified by the semi-thick bezel. There are no dedicated Android buttons. The back, home, and multitasking keys appear on the tiny screen when needed.
As far as QWERTY keyboards go, the Terrain's rates below average. It is small, and squashed into a small space, considering how large the device is. The keys are arranged straight across; there is no curve to make typing more comfortable. The buttons are packed tightly, but have decent travel and feedback. Each button has a well defined shape, but because they are so tightly arranged the shape isn't as effective as it should be in helping your thumbs find the right keys. The keys are way too small to use with gloves (as are most of the Terrain's controls).
Speaking of controls, there are buttons and hatches all over the place. There are three buttons on the left edge: volume toggle, PTT key, and speakerphone button. The volume toggle is small. Its profile is just enough that you can find it without looking. Travel and feedback is pretty good. The same goes for the PTT button. It's hard to find, but has good travel and feedback. The speakerphone button is harder to find. It is small, and recessed too deeply. You have to push it pretty far to get the speakerphone to go on. It is really hard to use these buttons when wearing gloves.
The stereo headphone jack is protected by a hatch on the top of the Terrain. The microUSB port is protected by a hatch on the right side. Both hatches have gaskets that protect the Terrain from water. The screen lock button is on the right, and behaves similar to the speakerphone button. It is a bit small and a bit hard to find. Travel and feedback is mediocre at best. This button should be much better.
The battery cover is one of those lock jobs. There's a little switch on the back that needs to be toggled to the side in order to remove the battery cover. The battery cover has a deep gasket to prevent water from getting in, so it takes some work to remove it. The battery has to be pulled to access both the SIM and rmemory card slots.
As far as ruggedization is concerned, the Terrain is rather tough. I let it sit at the bottom of my pool, and sure enough, it is water resistant just as NEC claims. I also used it to play catch with my kids. They had a blast tossing it around the backyard, and the Terrain was no worse for the wear when we were done throwing it around. I also dropped it onto my driveway from waist level a handful of times for good measure. None of these tribulations caused any damage to the Terrain.
Performance
Screen
The screen is one of the Terrain's major drawbacks. It measures 3.1 inches across the diagonal and offers 640 x 480 pixels. The resolution is fine for a screen this small, and the on-screen elements such as icons and test are sharp and clear. The display is also plenty bright, and can be easily read when under a full screen. The problem is the size. Everything on the screen looks and feels squished. The icons, buttons, and controls have all been shrunken in order to fit onto the screen, and this affects usability. I found many of the buttons — especially the Android controls at the bottom of the screen — difficult to use accurately. Further, because everything is so small, web sites and emails are hard to read.
Signal
The Terrain did well connecting to AT&T's network. As I carried it about Northern New Jersey, it latched onto the HSPA+ network and transitioned to LTE seamlessly when it was available. The device never lost the signal entirely, even in areas with known poor coverage. One time it took two attempts to patch a call through, but every other time it connected on the first try. It never dropped a call. The Terrain was always able to load web sites, but speeds were appreciably quicker on LTE when compared to HSPA+.
Sound
Phone calls sounded pretty good on the Terrain. Voices sounded decent in the earpiece and I didn't notice any intrusive interference. I would have liked a bit more warmth, but the semi-robotic tone wasn't abrasive. As far as volume goes, the Terrain is good, but not great. I was easily able to hear calls while walking around a crowded and noisy mall, but I was forced to step outside a bustling coffee shop in order to properly hold a conversation. The speakerphone is also good, but not great. It works very well in an office, or car, but not so well outdoors. Enclosed spaces that have a table on which you can put the Terrain are best. There's no way you'll be able to hear calls over the speakerphone on an active worksite with machinery running. Ringtones and alerts are quite loud, and the vibrate alert is jarringly powerful.
Battery
The Terrain's 1900 mAh battery provides ample power to last through a full working day. It easily held a charge between 7AM and 11PM, and had a bit of power to spare come the end of the day. I was never able to exhaust the battery completely, even on days I used the device heavily to access social networks and email. Like most modern smartphones, it will need to be charged overnight, but owners shouldn't have to worry about losing power before they're ready to call it a day. Lastly, the Terrain includes a feature called Eco Mode, which can be used to reduce power consumption. It can be used to set thresholds to turn off some of the wireless radios, as well as alter screen brightness and time-out settings.
Basics
Menus
The Terrain runs a fairly clean version of Android 4.0 Ice Cream Sandwich. It's a bit of a bummer that it's not on Jelly Bean. Aside from the presence of a few NEC-designed widgets, the Terrain's user interface is close to stock Android 4.0.
The lock screen offers only two shortcuts: one to unlock and one to jump to the camera. You can still open the camera if you use a screen lock, but you'll need to unlock the Terrain before you can go from the camera to any other part of the user interface. The notification tray is accessible from the lock screen, but only if there's no lock code.
The Terrain has three home screen panels out of the box, but you can add/delete home screens at will. There are a handful of NEC widgets spread across the home screens, but obviously users can rearrange these however they like. The main app menu is arranged in grids with four by four apps on each screen. Aside from dropping apps into folders, there's no other way to view the main app menu. You're stuck with the grid. You can't even hide apps.
As expected, the notification tray provides access to toggle controls for the wireless radios in addition to notifications. I miss the interactive notifications available in Android 4.1.
In terms of performance, I didn't have any trouble with the Terrain. The smaller, lower-resolution screen helps keep processor requirements to a minimum, which leaves it free to handle transitions and multitasking with power to spare. I found it to be quick and light on its feet.
Calls/Contacts
The phone and contact applications work exactly as they do on other stock Android 4.0 devices. The phone is dead simple to use and the contact application includes useful widgets and tons of data about your friends, family, and colleagues. It also meshes well with social networks.
Enhanced PTT
One of the more important features on the Terrain is AT&T's Enhanced PTT service. It has a dedicated button on the left side of the phone that can be used to launch the app and make PTT calls.
The application itself is somewhat easy to use, but often frustrating. For example, it doesn't natively sync with the on-device contact app. You can pull contacts from the main contact app to the ePTT app, but it is done one at a time rather than en masse.
There are two different ways to reach out to people. The app supports presence, so you know when someone's phone is able to accept PTT calls. You can send an alert, which basically wakes up the other person's phone and lets them know you want to talk, or you can just fire off a PTT call directly without sending an alert. Either way, the PTT button can be used as normal (just like a walkie-talkie) for controlling the conversation. The app also includes a huge software button in the middle of the screen. The button is green when you are talking and red when the other person is talking. You can press this software button instead of the physical PTT button if you so desire.
The calls connect in a blink; definitely in less than a second. The quality of PTT calls is very good. Any PTT session can be converted to a regular phone call with the press of an on-screen button.
Messaging
As expected, the Terrain offers the stock Gmail, email, SMS/MMS, Hangouts, Google+, and Google+ Messenger apps. Together with their associated widgets, they make an impressive arsenal for reaching out to and connecting with your friends, family, and colleagues.
Neither Twitter nor Facebook is preloaded. You have to download them yourself.
Extras
Media
The Terrain is not meant to be a powerful media consumption device, but it still covers the basics. All the Google Play services are on board, which can be used to purchase/rent content such as music, movies, books, and magazines, as well as consume it. The simple MP3 player and video player apps are present, too, which are best paired with side-loaded content. The stock YouTube app is available to satiate your video consuming and uploading needs, and the Terrain also packs am FM radio for old-schoolers.
While music sounds good through my favorite headphones, the Terrain's little screen is not ideal for watching video. It works, but doesn't offer the cinematic experience available on today's best HD smartphones.
Camera
The Terrain has a 5-megapixel camera that can be launched from the lock screen or the home screen panels. The camera app opens somewhat slowly.
The Terrain foregoes the stock camera application in favor of the most cluttered camera UI I've ever seen. The problem is partly due to the Terrain's smaller screen. NEC decided to cram far too many controls onto the screen despite its small size. The result is a mess. There are buttons all over the place and barely any space is left through which to compose images.
That said, the Terrain does let you adjust a fair amount of the camera's behavior. Basics, such as resolution, brightness, and contrast, can all be altered with a few button presses. The Terrain offers scene modes (auto, portrait, landscape, night, and sports); macro shooting; and control over location tagging, ISO, and effects. The flash can be set to either on or off, but not "auto."
The camera includes tap-to-focus, but still requires users to press the shutter button after you've selected something for it to focus on. The camera is a wee bit slow to capture and process images. It takes several seconds between the time you press the button before it is ready to take another picture.
Photos
I got mixed results with the Terrain's 5-megapixel shooter. Focus was soft as often as it was sharp; white balance was off as often as it was accurate; and exposure ranged from good to bad. It was consistently inconsistent. I got the best results when outdoors with good, bright lighting. The flash didn't help much with indoor shots, and definitely ruined white balance most of the time. Images were also a bit grainy. It gets the job done, but just barely.
Video
The same is true of video results. It may capture full 1080p HD video, but the footage is passable at best. The biggest problems I saw were grain and wildly inconsistent exposure. The Terrain had real trouble transitioning from dark to bright areas.
Gallery
The Terrain uses the stock Android 4.0 gallery application. The app arranges photos into albums and syncs them with online accounts, such as Facebook and Google+. Albums can be viewed in grids or lists. Individual photos can be cropped and rotated, adjusted for exposure and brightness, and well as nixing red-eye. There are a number of filters that can be applied to photos to make them look more artistic. Sharing options run the gamut. Photos can easily be fired off toward a dozen different social networks as well as via email, SMS, and so on.
Apps
The Terrain ships with 43 apps on board, which are a mix of AT&T-branded services and those native to the Android platform. AT&T stuff includes Code Scanner, Drive Mode, ePTT, Navigator, MyATT, and the Yellow Pages. Random extras include QuickOffice and Amazon Kindle. There are no app stores on the Terrain other than the Google Play Store.
Browser
The Terrain comes with the stock Android browser. It worked well with the Terrain's data radio at pulling down and rendering web sites. As noted earlier, the small screen makes viewing web pages a bit difficult. You'll find yourself doing a lot of zooming in if you want to actually read anything. The app has a fair amount of options for controlling its behavior, but alternative browsers offer more.
Bluetooth
The Terrain's Bluetooth features functioned perfectly. It paired quickly with a random assortment of devices. Phone calls I sent to Bluetooth headsets were of middling quality. I wasn't impressed with volume, but tone was OK. Music sounded pretty good went sent to my favorite pair of Bluetooth headphones.
Clock
The clock on the Terrain's lock screen is somewhat small and hard to see. Worse, it cannot be changed. You can adjust the brightness and wallpapers to make it easier to view under the sun, but it takes some trial and error.
GPS
Both Google Maps and AT&T Navigator are installed on the Terrain. Both are mature services that have been around for years. Google Maps is especially powerful, though it ran a tiny bit slow on the Terrain. Google Maps is especially powerful when it comes to searching for nearby points of interest. Navigator is a fine tool for routing directions between two points, but costs $10 per month to use. The Terrain's GPS radio worked flawlessly. It pegged me quickly and accurately.
Wrap-Up
At its root, the NEC Terrain accomplishes its mission: it offers a hardened smartphone with PTT and a keyboard. There's no doubt in my mind that those who work outdoors and need such a device will be pleased with the Terrain's feature set.
The Terrain is a tough device that can survive spills and thrills, but the keyboard and other controls aren't particularly well executed. Worse, the screen is too small and too hard to read, despite my 20/20 vision. But phone calls sound good, it runs well on AT&T's network, and battery life is quite good. The PTT functionality is a bit fussy to set up, but the quality of PTT calls was excellent.
In terms of the software, the older version of Android is a bit of a hinderance to me, but may not be for those who need a device such as this. The Terrain is no multimedia maven, but it covers the basics, and the camera is only so-so.
The Terrain was made for a very specific user in mind. Those users should get out of it what they need.
Would be an ideal device IF..
..instead of the ginormous AT&T logo in the middle we could have gotten hardware Android keys, thereby increasing vertical screen area, and a d-button/trackpad. If you're going to attack the Blackberry segment directly then you might as well include ALL the best features from that platform. Why no company seems to get this is beyond me. With Blackberry committing suicide and the Nokia E-series just a memory you've got millions of potential customers looking for a place to call home. Android, with its wide app selection and powerful feature set, would be an ideal solution: we just need it in the user-friendly and productive form factor that Blackberry pioneered.