Hands-On: NEC Terrain for AT&T
Article Comments 4
Jun 20, 2013, 3:41 PM by Eric M. Zeman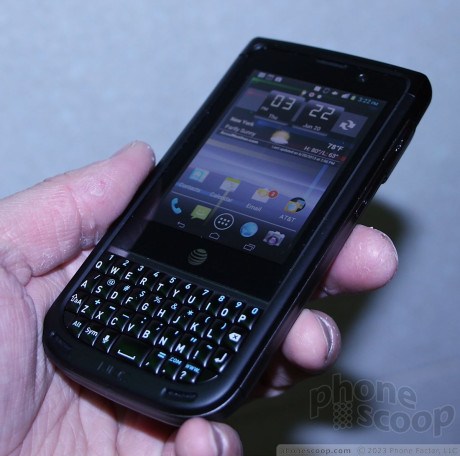 The Terrain marks the first handset NEC has offered to the U.S. market in close to 10 years. Here are our first impressions of this rugged workhorse.
Advertisements article continues below...
NEC, which is based in Japan, is looking to make a comeback in the U.S. market. It hopes the Terrain, a ruggedized Android smartphone for AT&T, will open that door. NEC was last seen in the U.S. about a decade ago. Since then, it has concentrated its efforts on making leading-edge phones for its home market of Japan. It also partnered with Casio about a year ago in order to collaborate on mobile phone designs. It brings some of that design know-how to the Terrain.
The Terrain is a rugged phone. It meets mil-spec 810G for protection from drops and abuse, and IP67 for protection against water and dust. It has all the features you'd expect to find on a rugged device: it is thick, made of tough plastics, and has some serious weight to it. The word "hockey puck" comes to mind, though the Terrain is a whole lot smarter than a puck thanks to its smartphone innards.
It is a black brick, with thick sides and a soft-touch finish that gives it a grippy feel in the hand. The Terrain's ports are all protected by hatches with gaskets to keep water and dirt out. That means you have to pry something loose every time you want to charge the Terrain or listen to music. The battery cover, in particular, has a lock and heavy-duty seal to prevent water from getting into the device. It feels solid as hell thanks to the ruggedization and firm materials.
NEC decided to give the Terrain a physical QWERTY keyboard. NEC made this choice on purpose in order to allow owners to perform tasks such as data entry even when the device is wet or dirty. The keyboard itself is fairly squished. There's no way you could use it with gloves on. The buttons are tiny nubs that are hard to feel out with your thumbs. I much prefer the keyboard on devices such as the BlackBerry Q10. That said, the keyboard is no doubt nice to have.
By including a keyboard, however, NEC was forced to shrink the screen a bit. It measures 3.1 inches across the diagonal, and includes 640 x 480 pixels. It looks small and feels small. The compact nature of the screen means that icons, text, and images on the display look absolutely diminutive. In fact, I had a hard time reading the text on the screen at an arm's length, I had to hold the Terrain much closer to my eyes than I'd normally like to in order to read it. That could be a problem for some people. I found the display to be fairly bright, though.
The rest of the controls are of average quality. The Terrain has a bevy of buttons, most of which are placed along the left edge. The topmost button is the volume toggle. It is too flush with the side surface, and has minimal travel and feedback. The dedicated PTT button is in the middle. It has a better profile and good travel and feedback. Last, there's a dedicated speakerphone button. This button hardly has a profile at all. I found it hard to find and hard to use. Travel and feedback wasn't that great. The screen lock button is placed on the right edge, under the microUSB hatch. As with the speakerphone button, I found it hard to find and use; it is too flush with the surface. Travel and feedback of this key was pretty good, though.
In all, the hardware is decent, though NEC clearly made some trade-offs with the screen in order to squish the keyboard on the device.
The Terrain runs Android 4.0 Ice Cream Sandwich. It is thankfully a stock version thereof, and has no customizations from either NEC or AT&T. The software ran well on the device we used, and all the familiar aspects of Android were present and accounted for.
The Terrain is only available via AT&T's business sales channels, but the company hopes to soon offer semi-rugged devices to consumers that are "life-proof."
Market Penetration
So.. the article says that NEC was looking to make a comeback in the U.S., but I can't honestly believe that if the first device they put out is a ruggedized device like this one... I mean, sure there's definately a market for it, but it seems like a performance-based device with an intensified andoid experience would have a greater market penetration... I suppose it would take more money, more time, and more risk... but I just don't think a device like the Terrain will give them the sort of penetration it'll take to get their foot in the door of most U.S. consumers.
dalius_maximus said:
So.. the article says that NEC was looking to make a comeback in the U.S., but I can't honestly believe that if the first device they put out is a ruggedized device like this one... I mean, sure there's definat
...
(continues)