Review: Casio Gz'One Commando 4G LTE for Verizon Wireless
Article Comments 3
Jul 16, 2013, 8:00 AM by Eric M. Zeman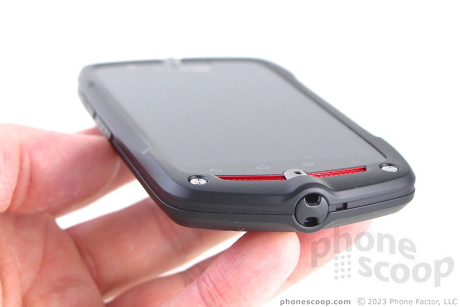 Casio updates its rugged Commando smartphone with a better radio, larger screen, and a more modern version of Android. Together, they make it a much better device than the original.
Advertisements article continues below...
Form
Is It Your Type?
The Casio Commando LTE 4G is the latest rugged Android smartphone from Casio for Verizon Wireless. It's a follow-up to last year's model and makes some key improvements to the original. If you need a tough-as-nails smartphone that is rugged yet still somewhat refined, the Commando LTE 4G can match any active lifestyle.
Body
Rugged smartphones often have a chunky, brick-like appearance. Casio has done a commendable job of reducing the bulk of its devices over the years without skimping on strength, and the Commando LTE 4G is the latest result in this evolutionary progression. It's a good-looking phone that has attitude, and that's what sets it apart from its predecessor.
The Commando's unique look will either turn you on or turn you off. It's a black slab, but it has a pointy chin that is highlighted by a red smile that runs across the bottom from side-to-side. Verizon has long favored the black-with-red look for its smartphones, and the Commando offers its own twist on the tired-but-true theme. There are hearty screws plainly visible on the front and back surfaces that aid in giving it a tough appearance. The textured soft-touch back and side surfaces are angled and shaped such that the Commando almost resembles a spaceship.
Though it is by no means a brick, the Commando is still a weighty, and somewhat thick device. The materials are tough plastics, and it feels incredibly strong. It is obviously designed to take a beating and the heavy-duty materials add to its weight and girth. Even so, it's still fairly compact. You won't have any problem stuffing it into a pocket, but you'll know it's there. It will probably work better in a holster of some sort, especially since the soft-touch surfaces make it cling to the inside of pockets. Nothing about the Commando feels cheap nor wimpy. It is an outdoorsman's phone, ready to handle any conditions to which it might be subjected.
The front of the device is a mish-mash of colors, textures, and shapes. The glass itself is glossy, but is surrounded by a thick, matte rim that encircles the entire front surface. The rim juts out, protecting the screen from damage. There are two metallic cylinders on the front; one up top serving as the earpiece and one down below serving as the microphone. They are unique, to be sure.
My biggest complaint about the Commando's design has to do with the standard Android controls. The Commando makes use of four capacitive buttons below the display for interacting with the Android operating system (Back, Home, Multitask, Menu). This type of device is begging for hardware buttons, especially ones that are large enough to be used when the owner is wearing gloves (like when skiing or snowboarding during the winter). Worse, the capacitive buttons are crammed into a small area and are hard to find and use without gloves on. Add gloves, and this phone is almost unusable. To me, that seems like a significant drawback for a device meant to be used outdoors.
Controls and ports are scattered all around the outer edge of the Commando. The volume toggle is on the left edge. It's a little hard to find, and the travel and feedback aren't all that satisfying. This is another feature that won't work all that well with gloves on. The "accessory" button is below it. It's a user-programmable shortcut key that has a really nice textured surface and good profile. It also has great travel and feedback. It can be set to launch any application on the phone. Often rugged devices with a button in this spot support PTT, or push-to-talk voice services. The Commando does not.
On the top you'll find a beefy hatch protecting the stereo headphone jack, and the screen lock button. The lock button is miserably small and hard to find. It's flush with the surface and has no profile to speak of. Travel and feedback is decent, but you have to push the button below the surface to get it to work. Ugh, Casio. There's a huge hatch on the right edge protecting the microUSB port. It's easy to peel off. Both hatches have gaskets that need to be sealed tight if you want the Commando to survive a dunk in some liquid.
The battery cover has a lock to help keep it in place. The cover has a deep gasket and takes some work to pry loose. Interestingly, the battery itself has its own, separate lock keeping it in place. The idea, I guess, is to keep the battery in place even if the cover pops off in the event the phone is dropped. The battery has to be removed to access the LTE SIM card and microSD memory card.
As far as its rugged features go, I am happy to report that the Commando is still functioning perfectly after letting my kids play with it outdoors over the weekend. It spent some time at the bottom of my pool, getting kicked around a playground, and even thrown across a field. I slammed it on my desk, on a concrete sidewalk, and even jumped up and down on it. It's no worse for the wear than when I first took it out of the box.
Performance
Screen
The Commando's screen is a smidge bigger than last year's model, but keeps the same resolution. It improves from 3.6 inches across the diagonal to 4 inches across the diagonal. Resolution measures 800 x 480 pixels. The smaller size (relative to other Android phones) helps keep the pixel density at an acceptable level, but I still noticed some individual pixels here and there. They are most obvious when looking at text and icons. The screen is bright enough to be used outdoors under the shining sun. Viewing angles are good, though there's a little bit of brightness drop-off when the Commando is tilted from side-to-side. The screen can be used when wearing gloves, but it works best when the Commando is set to Glove Mode (more on that later).
Signal
The Commando was a signal hound. Throughout my testing period, there was no time when the Commando didn't remain connected tightly to Verizon's LTE 4G network (last year's model was limited to 3G, which was a serious hindrance). The Commando was always able to make calls on the first dial and never dropped or missed a call even under the worst network conditions. Data speeds on LTE were consistently quick whether the Commando showed one bar or five. The Commando is a good network performer.
Sound
The Commando is a very good voice phone. Calls in the earpiece were nearly always free of noise/interference, and had a pleasant tone to them. Further, the earpiece produces plenty of volume when set up all the way. I was easily able to hear callers in a crowded restaurant during a busy lunch rush, as well as when walking around the streets of Manhattan with blaring taxicab horns and rattling diesels. Those with whom I conversed through the Commando, however, said I sounded a bit "tinny." The speakerphone loses a little bit in terms of quality, but the volume is quite good. I was able to hear calls in all the same noisy places when using the speakerphone. Out in the quiet woods, the speakerphone came across like a peace-disturbing jet engine, defiling the sanctity of what would otherwise be a calm repose. Yeah, it's loud. The ringers and alerts were all loud enough to get my attention from several rooms away, and the vibrate alert has plenty of strength to it.
Battery
The Commando includes an 1800mAh battery and it was sufficient most of the time. When the device is used normally in a city environment for phone calls, email, social networking, browsing, and such, it easily lasted throughout a full day. But the Commando comes with a lot of outdoorsy features (more on those later) that suck down on battery life if used all at once. Bottom line, be careful. If you need the Commando to act as a pedometer (which also turns on the GPS) for a day, be sure you have a spare battery or access to an outlet. There's a "power saving" mode, but it only controls the Commando's radios and brightness settings.
Basics
Menus
The Commando LTE 4G runs Android 4.0.4 with a heavy skin from Casio and Verizon. The underlying architecture of the operating system is obviously Android Ice Cream Sandwich, but the entire appearance has been treated with a unique design from Casio. Last year's Commando ran Android 2.2, so Android 4.0 is a huge upgrade. Even so, there's no excuse for a device being released in mid-2013 to not have at least Android 4.1 Jelly Bean on board.
The lock screen has two shortcuts (camera and unlock), but it is not customizable. The clock is visible on the lock screen, of course. There's also a compass, which I think is a cool idea to add to a lock screen; one look and you always know which way is north.
There are five home screen panels out of the box, but you can add or subtract them at will. All of them a littered with a ridiculous number of widgets. I've never seen a more cluttered set of home screens on a phone. Obviously, you can completely customize what widgets, apps, and shortcuts appear on the home screen panels. There are five shortcuts available in a persistent dock at the bottom of the home screens. These can be customized as well, though one always has to be the main app menu. The Commando also loses the customizable swipe menu that was part of last year's model.
The main app menu is composed of grids out of the box. Apps can be viewed in an alphabetical grid, or by frequency or usage date. Apps can't be manually rearranged, though they can be dropped into folders. The Commando LTE 4G doesn't want you hiding apps from view, however, and you also can't view the main app menu as a list.
The notification tray and the main system menus function as they do on most other Android smartphones. For example, the notification tray provides access to the wireless radios, notifications, and the main settings menu. The settings are organized as always, with the network stuff grouped up at the top, followed by device tools, personal preferences, and finally system details.
Lastly, there's a separate Menu setting called Glove Mode. It basically rewrites the entire user interface such that only a few functions are available and are large enough to be accessed when wearing gloves, which the Commando's screen supports. It's sort of like Car Mode, but for gloved hands. There are only a few functions available (view notifications, view email/messages, open camera, access phone.) Anything beyond these isn't available during Glove Mode. I have to ask, what's the point? Sometime skiers like to listen to music when carving some fresh powder.
As far as performance goes, the Commando makes improvements over last year's model, but it's still not perfect. The original device had an 800MHz processor and this year's device has a dual-core 1.5GHz processor. The faster chip makes major gains in the performance speed of the system, but it still felt a wee bit sluggish. Screen transitions were sometimes slow, and apps sometimes crashed. It felt bogged down from time to time.
Calls
Casio's phone dialer interface is large and it's easy to sort through call logs, contacts, favorites and in-call features. There's a neat little drop-down arrow that shows you a handful of your most-recently dialed calls that can be viewed from the dialer without requiring you to head over to the full call history section of the phone app.
Contacts
The Commando will import all your Google and Exchange contacts if you have them. Adding Facebook friends is optional. If you choose to do that, the contacts application is smart enough to add the Facebook profile photos to your existing contacts and merge them into one contact. Android and the Commando offer a well-integrated set of tools for managing contacts. I like the widgets available for your favorite set of contacts.
Messaging
The Commando doesn't stray at all from the basic set of messaging services offered on most Android devices. It has the same stock email, Gmail, SMS, IM, and Google+ and Google Hangouts applications, and these apps all behave as they do on other Android devices.
There are no other messaging apps onboard; not even Facecbook and Twitter. You have to download those and others on your own.
G'zGear
Casio has loaded the Commando with a significant number of custom applications, services, and widgets, all housed under the auspices of the G'zGear and G'zWorld names.
The G'zGear applications are meant for the outdoor enthusiast. There are 8 special applications in the G'zGear menu: Compass, pedometer, adventure training, trip memory, thermometer, tides, sun/moon rise and set times, and a star gazing application. They each offer pretty much exactly what you'd expect given their names. Quite frankly, these are some nifty and cool services if you know anything about or care about the outdoor world.
For example, the thermometer captures the real temperature where you're standing in addition to readings reported by official weather stations in the surrounding areas. The pedometer doesn't just rely on your stride length to make calculations, it also takes into consideration your height and weight to offer useful information. I found the compass to be highly accurate, and it tracked direction much, much faster than other phone compasses I've used. The sun/moon rise app shows the time that the sun and moon will rise and set for your location as well as any other that you might choose to type in. What's more, it shows a cool graphic of where the sun should be in the sky at any given time of the day (such as directly overhead at noon, etc.).
In addition to being solid applications, most of them have extremely well-designed widgets that let you access the best features without having to open the full apps constantly. This is great, for example, if you're in the middle of a training run and need to make an adjustment to the pedometer application. Almost all of these widgets are active out of the box cluttering the home screen, so you may need to trim them down here and there until you have the information you're most interested in at hand. When I compared the data generated by the Commando with other tools/services that offer similar information, I found it to provide accurate and timely information. In other words, you can rely on what it tells you.
G'zWorld is a social-minded application that ties in with all the G'zGear apps. It lets you plot where you are on a map, upload photos, show the route you've taken between check-in points, and share it all with other users of the G'zGear and G'zWorld apps/services. I imagine it would be particularly useful to people on geocache hunts and other similar outdoor activities. These details can all be posted to Facebook, Twitter, or Google+, but not automatically. It requires users to log-in and manually share their adventures.
Extras
Music
The Commando uses the stock music player. This is a bit of a disappointment, but not really all that unexpected. The stock music player is easy to navigate and use, though its feature set is lacking. You can sort through artists, albums, genres, as well as playlists. The Commando also includes all the native Google Play services for content purchasing and playback. They are known entities and work the same on the Commando as they do on other Android handsets.
The Commando has a few other options. Slacker is available to meet your music streaming needs, and the Amazon MP3 player is on board if you're looking for an alternative to Google Play Services. The Commando also has an FM radio. The Amazon Kindle and Audible apps are both present for your book-reading needs.
Of course, the native YouTube app is on board, as is Verizon's Viewdini, which is used in conjunction with your TV to find, discover, and watch TV content. Viewdini is basically TV Guide on steroids, as it includes other sources, such as Hulu, BlockBuster, Netflix, etc. Verizon's ringtone app is available, (still?!) if you're interested in over-paying for ringtones. Last, Verizon's NFL app is on board. The NFL app is full of pre-season stuff right now, but will rev up in the fall once the season kicks off with games, highlights, and commentary.
Camera
The Commando's camera software is fairly complex, and offers some advanced tools for creative types. There is no dedicated camera button, so you have to launch the camera via the lock screen shortcut or via the main menu. The user-definable action key can be set to open the camera, but it only does so after the phone is already unlocked. Whichever avenue through which you choose to open the camera, it launches in a snap.
The camera has a user interface that will look familiar to most experienced smartphone users. Shutter controls are lumped together on the right, while menus and settings are all packaged together on the left. There are a lot of little icons on the screen, though, and it takes awhile to learn what they all mean.
The settings menus let users put the phone in an auto shooting mode that will do its best to adapt to the lighting conditions at hand, but the menus also provide for granular control over scenes such as day, night, landscape, parties, sports, and so on. Some of the odder options: cooking and pets. Then there are separate camera modes, which let you switch to panorama, HDR, burst shot, and so on. Of course, most simple parameters can be adjusted as well, including white balance, exposure, resolution, and ISO (sensitivity.) The software shutter button is rather small on the screen, and you have to switch to video mode manually if you want to capture some video footage. The volume toggle acts as a zoom key.
The Commando camera focuses and captures images quickly, but I've seen faster.
Last, it is worth noting that the Commando LTE 4G adds a user-facing 1.3-megapixel camera, something the original did not have.
Photos
I thought the Commando took average photos. Some were very good, the bulk were OK, and some were not good at all. The biggest problem I saw in the not-good-at-all photos was soft focus and improper white balance. All photos showed more grain than I wanted to see, but it was minimal in photos taken under a bright sun. Most people will probably be satisfied with their photos, but power users will benefit from taking the time to tweak the camera's settings before they shoot. A little know-how goes a long way in helping the Commando.
Gallery
The photo gallery is the stock Android option. Albums are organized into folders that are accessed from a drop-down menu at the top of the screen. The individual albums show photos in grids of thumbnails. When viewing separate photos, the gallery app allows users to share them via any social networking or messaging app installed on the phone. Editing features are the same as other stock Android devices, which means you have crop and rotate, red-eye reduction, and a number of filters available to help correct exposure/brightness, as well as add artistic effects. It's not a bad gallery app, but it would have been nice if Verizon or Casio dressed it up a little bit or added a few unique features.
Video
The full 1080p HD video I captured with the Commando was slightly more impressive than the regular pictures. Focus was better, as was white balance. The amount of grain was about the same, but the overall results were more even and usable.
Browser
The Commando LTE 4G uses the stock Android browser. The features of the browser haven't changed in what feels like an eternity, but it's a solid browser. Browsing speeds on Verizon's LTE 4G network range from very good to excellent. As mentioned above, the Commando always maintained a solid connection to Verizon's network. I found many web sites loaded in well under five seconds, with some popping up in fewer than three. Only in the worst areas did sites take more than 10 seconds to render. The browser itself functioned well. If you're not into the stock Android browser, there are plenty of alternatives available in Google Play.
Bluetooth
The Commando supports the standard set of Bluetooth profiles, including mono and stereo headsets, phone book access, etc. I was able to pair the Commando to other devices with no problem. Phone calls sounded very good via mono Bluetooth headsets, and music didn't sound too bad when streamed to a pair of stereo Bluetooth speakers I have.
Clock
The Commando's clock is a digital display that shows up when the phone is woken from sleep. It's big enough to be read at an arm's length, and as noted also includes a compass. I was unable to find a way to adjust the font or appearance of the clock on the lock screen, but you can download a bazillion clock widgets for the home screen panels.
GPS
The Commando includes Google Maps and VZ Navigator. That's a big improvement over last year's model, which had Bing Maps installed out of the box. Google Maps and VZ Navigator are both good in their own right. I find Google is better at searching for local stuff while VZ Navigator is slightly superior at live navigation. It had better be, however, considering that it costs $10 per month to use and Google Maps is free. The GPS radio itself often found me in fewer than 10 seconds and was accurate to within 25 feet.
Wrap-Up
I may have a few quibbles with the hardware, but the Casio G'zOne Commando LTE 4G is a definite improvement over the original. The hardware looks good and mostly functions well. It has a nice screen, excellent signal and voice performance, and decent battery life. The user interface is based on stock Android, but has its own, unique look that should appeal to weekend warriors. The larger screen and faster network performance go a long way to making the Commando a great day-to-day device.
The G'zGear tools, all housed in the rugged Commando shell, are a perfect match for outdoor enthusiasts who'd rather spend the weekend outside tearing up the countryside than providing armchair commentary on whatever sports matches are on TV. The camera does a decent job, as does the video camera, and the multimedia options are just as rich as any other Android device in Verizon's roster.
If you need a rugged device and don't mind sacrificing screen size/resolution for a more hardened piece of hardware, the Casio G'zOne Commando 4G LTE is a solid pick.
C811 Wireless Connectivity Issues
I have the C811 and have had nothing but problems with it. The microphone and speaker setup is too low in volume so that the voice command had constant problems. I returned the first one and the replacement has wireless connectivity problems with certain routers (my netgear WNDR3700 especially). This phone uses Android 4.0.4 JellyBean and the net is filled with forums that complain about the wireless connectivity issues. Oddly, the Verizon Forums do not mention word one about the wireless connectivity issue. But there's plenty on the following posting:
https://code.google.com/p/android/issues/detail?id=3 ... »
Does anyone have the same problem and is there a work around? My Verizon Store suggests that I replace my router (I have a G...
(continues)
Keyboard?
Where is the keyboard--no photo is shown.