FCC Outs Casio G'zOne Smartphone for Verizon
Article Comments 3
Oct 17, 2012, 1:03 PM by Eric M. Zeman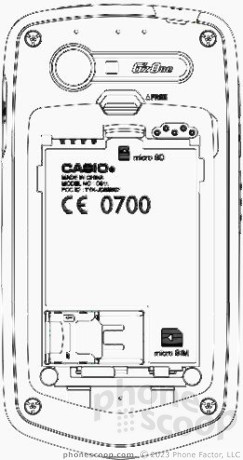 Documents seen on the Federal Communications Commission web site provide details about a previously unannounced device from Casio. The FCC confirms that the Casio C811 runs on an LTE frequency used by Verizon Wireless, in addition to Verizon's CDMA frequencies. The FCC shows that the C811 also runs on international GSM spectrum bands. Other features revealed by the FCC include a microSD slot, Wi-Fi, and NFC. A drawing of the C811 shows G'zOne branding, which is used for Casio's rugged line of devices. Given the presence of LTE, NFC, Wi-Fi, and international GSM support, it is likely that the C811 is an Android smartphone bound for Verizon Wireless. Neither Casio nor Verizon Wireless has provided any details about this device.
I am really hoping for a great phone here.
I Am really hoping for a great phone here. the c711 was a decent option for taking on trips but i hope this new phone will have some nice features. I love nice phones like the gs3 but theres a certain cool factor to having a smart phone that is "rugged". I the "accidental" drop into the lake was priceless.... hopefully they put at least ICS and some decent hardware into this.
Likewise! I'm really hoping for a high end device. When the C711 launched it was our most sold phone out here in Montana, at least within my indirect company.
Obviously this is just a rumor, but I've been reading a lot about a Quad-Core under the ho...
(continues)